Wow Mom Wednesdays:
An Oldie (with a Twist): Cabbage Patch Kids BABIES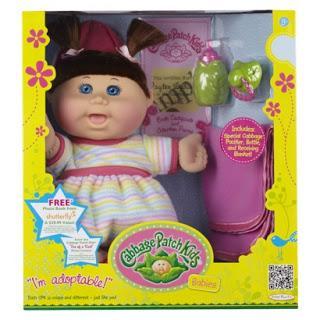 I can remember it like it was yesterday. Lillian Felicia was the name of my first Cabbage Patch Kid. She had brown hair and eyes just like me and I was the proudest little 6-year-old girl in the world when I opened her up that Christmas. Now I get to share the same experience with my baby girl. The Cabbage Patch Kids line has expanded its adoptions to include Cabbage Patch Kids Babies. With six different fashion styles in a large variety of hair and eye colors, silky hair and removable fashions, little mommies will love caring for their newly adopted Babies. Maintaining high standards of quality, each Cabbage Patch Baby comes in his or her own pajamas or onesie outfit, matching blanket and special CPK cabbage leaf, bottle and pacifier.  Also includes a birth certificate with one-of-a-kind-name, birth date and adoption papers (which online purchase on CPK allows you to change your baby's name.)
Additionally, now until Dec. 31, each baby comes with a FREE Shutterfly 8x8 hardcover Photo Book (a $29.99 value) with the purchase of any specially-marked Cabbage Patch Kids product.  You can also enter the Cabbage Patch Kids® One-of-a-Kind Kid Photo contest by uploading a favorite photo of their child with or without their Cabbage Patch Kid at http://www.cabbagepatchkids.com/Shutterfly.  One lucky child will be featured on a future Cabbage Patch Kids doll package plus many other prizes will be awarded including Cabbage Patch Kids and Shutterfly gift cards. Cabbage Patch Kids Babies Ages 2-5 Starting at $24.99 at CabbagePatchKids.com, ToysRUs and Target
A Newbie: Positively Perfect Dolls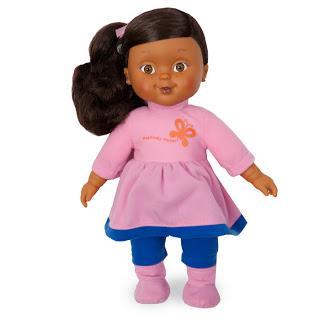 While Cabbage Patch Kids were made with several options to look like your child, there aren't many other options available for multicultural children – until now. Designed by mom and former professor Dr. Lisa Williams, Positively Perfect Dolls are a new line of dolls created to give girls of African-American, Hispanic and Asian ethnicities a doll that that encourages dreams, promotes intelligence, challenges perceptions, and open their hearts to all types of beauty. Each doll is made with specific details in both her look and story. For example: Marvelous Maria is the athlete of the group, and she can jump high and run fast. She plays soccer and basketball, and beats most boys in school sports. She eats healthy food and encourages her best friends Dayna and Brianna to do the same.
         

14" long doll has amber skin tone

         

Gorgeous brown eyes

         

Soft, cuddly body that is ideal for hugging

         

Comes clothed in a pretty pink and blue trimmed dress with silvery earrings

         

Hair can be styled, washed, air-dried and styled again and again 
Positively Perfect Dolls
Ages 3 and up
Starting at $12 at Walmart and soon to ToysRUs, Target, Kmart, Sears, Overstock, HSN
The Big One: American Girl's Caroline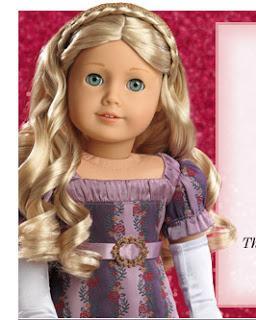 The doll of all dolls, American Girl has written the book on dolls, accessories and experiential marketing. While I thought I was able to hold off before stepping into the world of American Girl, my daughter received her first Bitty Baby doll as a gift for her first birthday, so I'm already in deep as I'm already waiting for our first matching outfits for her and her doll. And let's not even talk about our first trip to the American Girl Bistro for lunch with the girls…
Celebrating the potential of girls ages 3 to 12, American Girl encourages girls to dream, to grow, to aspire, to create, and to imagine through a wide range of engaging and insightful books, age-appropriate and educational products, and unforgettable experiences. And those experiences are what dreams are made of with salon visits, photos and even spend the night packages just for our doll at the Westin Galleria and that's just for starters.
While there are other dolls for sale, this year's doll, Caroline, is a must-buy for Holiday 2012 with Caroline.  She opens up a whole world of imaginative play and comes with authentic styles from 1812 with a soft pink empire-waist dress with a woven floral sash and ruffle trim, details common in her era, lacy pantalettes and ribbed-knit stockings to keep her proper and even cute little pink shoes to match. Each doll ncludes the Meet Caroline paperback book, the first story of this brave, adventurous girl.
American Girl Caroline
Ages 8 and up
$105 at AmericanGirl.com
The Little (and lovely) One: Once Upon a TreeHouse Dolls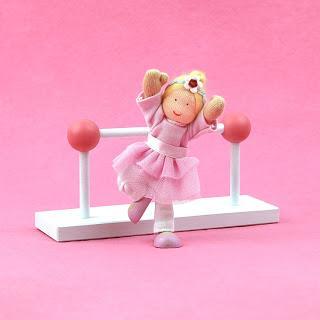 While American Girl dolls have endless opportunities for accessories from head to toe, Once Upon a TreeHouse goes back to the basics with Waldorf doll style, heirloom quality pieces utilizing century-old woodworking techniques from Germany's oldest doll maker. Each doll is handmade with a special story and unique look so that no one doll is the same.
Once Upon a TreeHouse creates handmade toys and interactive ideas for parents and grandparents in efforts to provide enriching experiences with their children and grandchildren. Developed by a mom/sister team, Once Upon a TreeHouse was born to fill the gap between inferior plastic and antiquated dolls and dollhouse toys they felt were typically found in the market today. Offering a range of eco-friendly, high-end custom dollhouse products, the company uses natural materials like wood, cotton and wool, safe paints and stains, and for the dolls' clothes only Velcro closures are used, so no buttons or tying is required. And for every doll Once Upon a TreeHouse sells, they give a doll to a child in need.
Once Upon a TreeHouse
Ages 3 and up
Starting at $22 available at OnceUponaTreeHouse.com
DISCLAIMER:
I received one or more of the mentioned products for the sole purpose of this review. No other compensating was given and all opinions expressed are 100 percent my own. (Accordance with FTC's 16 CFR Part 255, "Guides Concerning the Use of Endorsements and Testimonials in Advertising.")