Getting a decent night's sleep is so important to our health, our moods, and our productivity. When I'm not getting enough sleep, or good quality sleep, I tend to get sick more, have less patience with my family and co-workers, and feel sluggish during the day, so my work suffers. Many people have their own ways of getting better sleep, like using white noise, installing blackout shades or curtains, having a cup of comforting tea before bedtime, or avoiding caffeine or sugar at night. In addition to these things, having a comfortable bed is crucial. Fortunately, Tomorrow Sleep is on a mission to help us sleep better with a whole smart sleep system.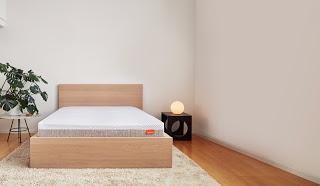 At the core of this system, which includes bedding, pillows, drapes and a Sleeptracker app, is a great mattress. This is really the non-negotiable part of getting good sleep because it doesn't matter how dark or quiet your room is if you're tossing and turning on an uncomfortable mattress. This bed-in-a-box company is backed by Serta Simmons Bedding, which has done more than 100 years of research and development to create high-quality mattresses for high-quality sleep. Fortunately, I was able to put the Tomorrow Sleep mattress to the test.
If you've never ordered a bed-in-a-box before, they're awesome. Check out the photos below to see how my bed arrived. It was delivered in a box and rolled up inside. After carefully removing it from the box and cutting away the plastic, we laid it on our bed frame and watched it expand! In no time at all, we had a king-sized mattress that looked just like we'd bought it at the mattress store. I loved the convenience of not having to visit the store or arrange for someone to get it set up in our home. It was delivered by a regular carrier and we set it up ourselves!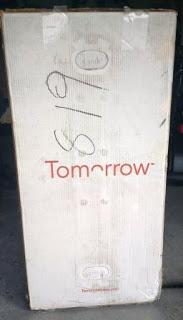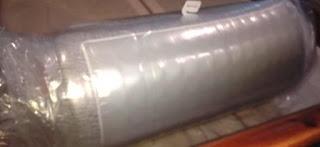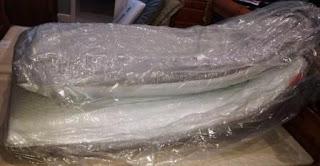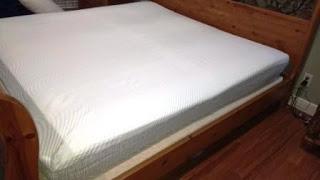 The Tomorrow Sleep mattress is called a "memory foam hybrid mattress" because it combines the best features of both a memory foam mattress and a traditional inner spring mattress. It also contains Phase Changing Gel material (PCM) in the top foam layers of the mattress to help push heat from the body, which makes for a comfortable sleeping temperature.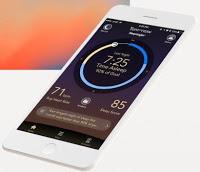 I could go on and on about the unique features of this bed, but what's really important to know is that my husband and I have been getting a great night's sleep on it. We've been using the Sleeptracker app, which measures heart rate, respiration and movement, and provides a daily report of statistics such as the number of sleep cycles, the amount of REM sleep, the exact time asleep and more. It provides a daily "Sleep Score" and even personalized tips for improving our sleep. The app is easy to use, and it's fun to check out our report each day to see if it aligns with how well we think we've slept.
Tomorrow mattresses come in Twin, Twin XL, Full, Queen, King and Cal King sizes, as well as Medium Soft and Medium Firm. They provide 2-3 day shipping and returns, a 100-night trial, a 10-year Serta Simmons warranty and even 0% APR financing. You can also purchase your mattress with other items in their Tomorrow Sleep's "sleep system," such as pillows, sheets, comforter, drapes and more. We have the Tomorrow sheets, and have found them to be extremely comfortable.
If you're tired of sleeping on an uncomfortable mattress and having it affect your sleep, I hope you'll check out Tomorrow Sleep. I think they have the best hybrid mattress around, and we've been thrilled with how well we've been sleeping since our Tomorrow Sleep mattress arrived.
I'm pleased to be able to offer my readers the following promo code:
Offer: $150 off any $500 purchase from Tomorrow SleepCode: SUSAN150Expires: 12/31/2017

Disclosure: I received complimentary product samples to facilitate my honest review, but all opinions are 100% my own.