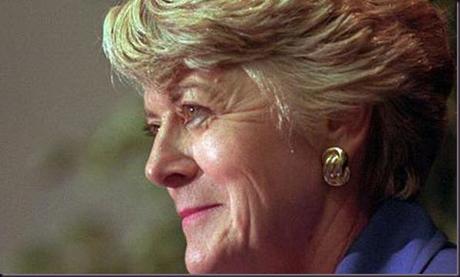 Over the weekend another lady with a huge reputation passed away. Geraldine Ferraro broke the mould by being the first ever woman to run for Vice President of the United States . A fighter for women's rights, a teacher, a lawyer & politician she blazed a trail for more female involvement in US government and society.
Geraldine was born into an Italian American family in Newburgh, New York on 26th August 1935. She was a careful Sun sign Virgo with a proud Moon in Leo and a go ahead Aries ascendant. An interesting combination, although humble and conscientious, Geraldine would like the limelight and that Aries ascendant gave her the impetus to lead and push the barriers forward, Aries never takes no for an answer.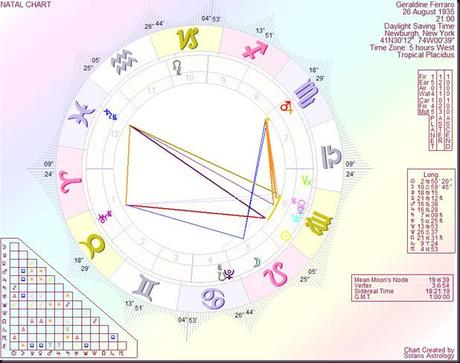 Geraldine's 6th house was full with 4 planets, the Sun, Neptune, Mercury and Venus all in Virgo. in her work she would be meticulous, dotting the i's and crossing the t's and always analysing everything. She would have been very organized, however she would have detested a regular routine and she required a social element to all her work. Neptune, Venus and Mercury are sextile to a very tight Mars/Jupiter in Scorpio conjunction in the 7th house. Mars is energy and enthusiasm, Jupiter rules beliefs and education and the 7th house rules legal affairs; Scorpio is investigative wanting to get to the bottom of any issue. Put it all together and you can see all the motivations for being a teacher and a top lawyer.
The wide conjunction of these planets are opposite administrative Saturn in the 12th house. Saturn is retrograde indicating that her relationship with her father was cut short; he died when she was only 8 years old. Her father ran two restaurants and in his image Geraldine always would have been attracted to running things too. Government would have caught her in general as the 10th house of work and career has Capricorn ruled by Saturn on the cusp and totally encompasses the house, as well as being on the cusp of the 11th house of groups, associations and political parties. Mercury/Venus suggests she had an idealism she was working to, being quindecile Saturn, this became an obsession. Not only the political ideal but  a notion that women (Venus) should be more involved in the process of Government (Saturn). Geraldine also was the founder of the National Organization of Italian American Women and supported numerous other women's groups and associations, another link to Capricorn sitting on the 11th house cusp. Political life and serving people was a goal she must have been working to throughout her whole life. Please note that most of her planets are placed in the Western hemisphere of the chart – Geraldine thought of others before thinking of herself.
There is a lot in this 6th house as the 6th is the house of health. Geraldine would have been very conscious of her health with her Sun Saturn opposition across the 6th 12th health axis on her chart, and she suffered for the last 13 years of her life with cancer. To her eternal credit, she pushed for cancer awareness and it was a cause she championed until the end of her life, never once complaining; typically humble in a Virgo way.
Geraldine was a maverick and had an independent attitude shown by Uranus in the first, she would go out on a limb where others feared to go, backed up by that pioneering Aries ascendant spirit. She also had a burning desire to control things, Pluto in the 4th house is Peregrine (unconnected by aspect to any other planet) so this planet would tend to dominate the chart. With Pluto in Cancer she would have been very proud of her nation and of women in general and the achievements they could contribute. Even though she would have hid the problems in her home-life and in her suffering late in life, her message would have been compassionate especially towards those disaffected and the needy. In the Democratic party, she found a spiritual home and in Geraldine, America found a lady of substance in whom in the future they will forever be proud.