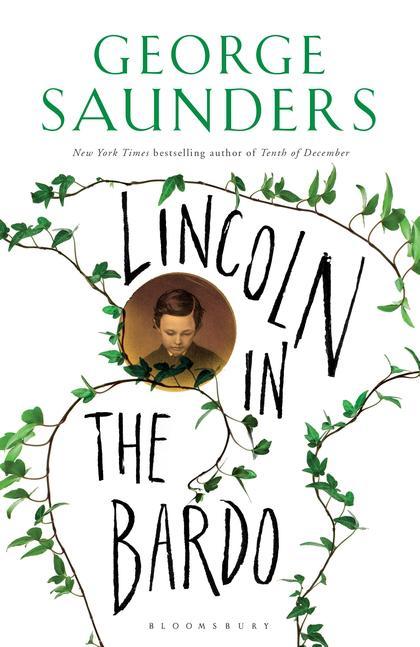 Yesterday's post was a combined report on my first visit to London Book Fair and my ongoing book project; today's is a write-up of last night's interview between George Saunders and Erica Wagner at Goldsmiths College on his first novel Lincoln in the Bardo, spliced with a few of my personal reflections.
This ought to feel like an intimidating task but considering that it would have been worth going even if someone had marched me out of the auditorium after ten minutes, perhaps it doesn't matter that I can't capture it all.   Also, whilst my notes from some literary events leave me thinking 'what did they really mean by that?', that doesn't happen with this author, who is extraordinarily lucid both on the page and in person, as well as generous, modest, funny and incredibly down to earth. I've been lucky enough to see him twice, this time thanks to my friend Claire King, who kindly gave her tickets to me and a mutual friend when she was unable to attend.
George Saunders was born in Amarillo, Texas, raised in Chicago and teaches in the creative writing programme at Syracuse University, New York (students, I hope you realize your luck).  As he explained, he first turned to writing fiction early in his scientific career after gaining a degree in geophysical engineering.  Since publication of his first collection CivilWarLand in Bad Decline in 1996, he has come to be regarded as a master of the short story form, although his work was not widely known in the UK until Tenth of December, which won the inaugural Folio Prize in 2014.   This is when I first discovered him and was knocked sideways, to the point of forcing the book on a bewildered Dutch tourist I met on safari in South Africa the day I finished, insisting that he read it. By the next day I was forgiven.
Erica Wagner, an insightful critic and interviewer, opened with the logical first line of enquiry: George Saunders' personal history with the novel form.  This is considerably longer than one might imagine – in the early years of his long marriage he wrote a 700 pager, curiously entitled La Boda de Eduardo (Ed's Wedding), which went nowhere after failing to impress his wife. It's always heartening to hear great writers admit – although there's no shame – to being as discouraged as anyone else by such setbacks. Two months later in Washington DC, Saunders visited the crypt at Oakhill Cemetery where the body of President Lincoln's third son William lay for three years following his death from typhoid fever at the age of eleven in February 1862.  A friend of Saunders explained that, consumed by grief, Lincoln had returned there several times to hold his son's body.
This devastating image provided the idea for the novel Lincoln in the Bardo and resurfaced many times over the years but Saunders felt unequal to this subject which held 'too much love, too much grief, too much power'.  It wasn't until he was waiting for Tenth of December to be released that he realised he didn't want his tombstone to read Avoided doing that which he most longed to do.
(This is the point at which I could have left happy – fortunately that wasn't necessary.)
Taking place during a single night, this form-breaking and in many ways experimental novel is peopled by a huge cast of ghosts who, like young Willie Lincoln, occupy a transitional realm known in Tibetan tradition as the 'bardo'.  The result is chaotic, eccentric, fragmented and in most hands it would be a recipe for disaster.  With Saunders in charge, it is thrillingly inventive and alive; for a book so profoundly preoccupied with death, grief and mortality, it is not 'only' deeply moving but also funny, joyful and life-affirming.  There were three distinct moments where I was destroyed and consoled at the same time, that felt so true of my own experience of living that it was as if I was not reading writing at all.  I don't know if that makes any sense to you.  (He is the lucid one.)
How did Saunders achieve this? The narrative standpoint was initially problematic – it could not rest with Lincoln.  Hitting on the idea of the ghosts was the breakthrough – a ghost story is like a dream sequence (of which you get no more than three per writing career, it is said).  'The universe of the book has its own rules', which Saunders described as developing 'on the fly'.  The ghosts here can act as a mouthpiece: they can ventriloquise, deliver real or fictional historical monologues and relate the events of the bardo.  Equally, they can communicate, antagonise and empathise with each other (and with Lincoln) and recollect lives they may not perceive to be definitively over.  According to Tibetan culture, a person's lifetime traits are magnified and exaggerated in the afterlife, and this contributes to the exceptionally vivid sense of voice and character – whether or not the ghosts realize they are dead in any given moment, it is almost impossible to think of them that way.
As Saunders says, it would be impossible for one person to read aloud from this book, and the audience was treated to a remarkable performance in six voices of several of the most sombre chapters by Saunders, Wagner and four young actors, including an arresting scene in which a soldier gazes in horror at his intestines spilling from a fatal wound.  It was fascinating to learn that the audiobook required 166 voices recorded in fifteen different studios across the United States, from big names like Ben Stiller, Lena Dunham and David Sedaris to Saunders' own mom and dad – if ever there was a reason to give audio books a try, this must surely be it.
One of the notable achievements of this novel is the way it conveys Abraham Lincoln in every dimension: as a statesman, husband and father but foremost, as a vulnerable and fallible human being shouldering the dual burdens of personal grief and political responsibility as the American Civil War continues. Saunders found him an intimidating figure, not least because so much is known about him, right down to the way he wrote and sounded.  Saunders says writers need to confront their reluctance to tackle a particular topic and I think many will recognise, as I did, that it's often the things we instinctively shy from that most urgently need to be addressed, and where the greatest rewards lie.
It was interesting to hear Saunders on the interplay between fiction and historical fact – all of which looks different again in the 'alt-facts' 'post-truth' era we have entered between the book's completion and release. He decided that verisimilitude was not the goal, and in fact, he appears to have little time for the historical novel as a genre, dismissing the aim or requirement to be 'accurate' as ridiculous and impossible.  Moments of truth are not about factuality – he feels the reader craves what he calls an 'intuitive swerve'.  He blended history and fiction at will, saying the reader shouldn't be able to tell the difference (I couldn't) and, bravely, that he doesn't actually care what life was really like in 1862 (nor do I).
The next phase of the discussion extended beyond the book to the crux of what fiction is. When a novelist makes something up, the reader enters into a kind of contract, agrees to play the game.  This raises several issues which are trademark qualities of Saunders' writing but applicable and desirable far beyond, namely: empathy, distinctiveness, and respect for the reader. It's both noticeable and understandable that Saunders is as frequently described as a great human being as a great writer. He speaks of 'moving towards compassion' in the process of revising text, revisiting some of the examples ('Frank was an asshole' and 'brown couch', etc) given in his excellent piece in The Guardian on What Writers really do when they write, which I urge you to read if you haven't already.  In essence, this is a move from superfluity and banality towards specificity and greater understanding.  The 'God of Fiction' wants to know why Frank is an asshole, and once we know, we feel differently towards him.  Nobody gives a fuck what color the couch was.
I loved what Saunders said about the 'troika' of empathy between writer-character-reader.  As a reader I recognize the excitement he speaks of when you sense that the author trusts you and the 'intimacy' this creates, although as an author it worries me that there should be  anything refreshing in the assumption that the reader is at least as smart and curious as you are.  There's something wrong when the default is otherwise.  He says that out of consideration and respect for the reader authors should focus on what is meaningful, rather than producing banal sentences anyone could write.  Be distinctive.  Don't be afraid to show your 'weird excessive taste', even if it's embarrassing.  Be willing to experiment in the service of emotional truth – I'm going to listen, because I've never seen it done better than in this book.
This was a Goldsmiths Prize event sponsored by The New Statesman – thank you to all involved.
George (yes, I am calling him that now my work is done) took a moment to talk to everyone in the signing queue.  Our little exchange is one I will remember for a long time but that's between him and me.  He is on tour and if you get the chance to see him, don't miss it.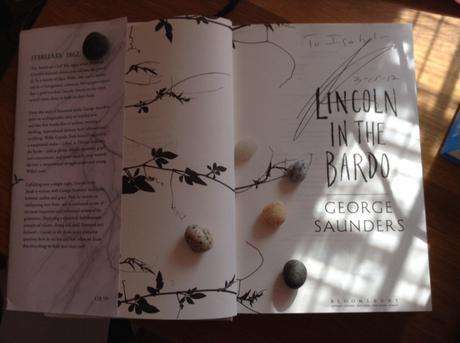 *POSTSCRIPT*
Normal service resumes next week, when my guest will be Laura Kaye, author of Sofa Spotlight title English Animals, on portraying her own country though the perspective of a foreign character.
Advertisements