New to little Indiana? Subscribe for free to my RSS feed. Thanks for stopping by!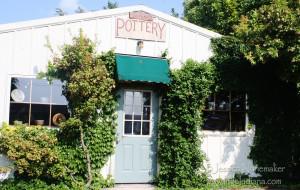 Gene Speicher Pottery in Francesville, Indiana
Indiana towns hold so many fun and marvelous surprises! Imagine our shock when we happened upon an actual potter in the small town of Francesville, Indiana.
Gene Speicher Pottery in Francesville, Indiana
Let me start by saying that I am the opposite of crafty. My parents still love to tell about the note sent home about my lack of scissors skill in first grade.
In my defense, I'm a lefty and was always forced to be a righty! I am so completely in awe of anyone who can make something from nothing when I can't even cut a straight line. And Gene Speicher? Well, creativity simply oozes from every pore.
For starters, his pottery shop is in such a neat ivy covered building right near downtown Francesville, Indiana. It just screams "artist" to me! Inside? It gets better. Oh, man, does it get better!
Useful Not Useless
Gene Speicher is a creator who cares about his things. How do I know? Well, check out the note to his customers posted in his tidy little shop.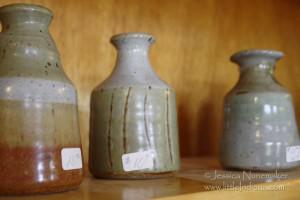 Gene Speicher Pottery in Francesville, Indiana
His work isn't delicate, fragile, and only meant to sit there and look pretty. Not on your life! Gene Speicher creates items that are meant to be used! But not only that, he wants people to use his items creatively.
This Francesville, Indiana shop has amazing items to choose from. Who can resist a one-of-a-kind item? Hubs was in love with the mugs. I loved the pitchers! Classic, beautiful, and made for my kitchen–his color choices are fantastic.
Kid #1 was along and, while he continually freaked me out by wanting to touch things, he thought the pottery wheel was pretty cool to look at. I have to agree.
Road Trip
Anyway. The town of Francesville, Indiana doesn't have a lot–but what it has is certainly worth an afternoon of your time. Check out Gene Speicher Pottery. Eat at Pearlie's Restaurant and later snack on baked goods or homemade chocolates at Five Loaves Bakery. I dare you to walk away empty handed!
You can find more Francesville, Indiana photos and other pictures in Indiana on my Flickr photostream.
Gene Speicher Pottery
4828 S US 421
Francesville, IN 47946
219.567.9584

View Larger Map
little Indiana: Where to Stay, Play, and Eat in Small Towns in Indiana. Discovering Indiana's best small towns! Now get little Indiana on your Kindle.
New! Offering affordable online advertising for your small Indiana business! little Indiana Businesses is the online presence that you've been looking for.