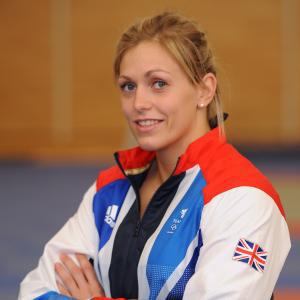 Gemma Gibbons wins silver medal in Judo. Photo credit: Team GB
British Judoka Gemma Gibbons grappled her way through adversity and a host of opponents to take the silver medal in women's judo on Thursday, Britain's first ever medal in the sport – and this guy wonders if watching two ladies wrestling is a "perfectly wholesome spectator sport".
Andrew Brown, The SundayTelegraph's comment editor, blogged shortly after Gibbons's win:
"They both showed pure, naked, fierce, animalistic aggression of a sort that one doesn't naturally associate with women – or girls for that matter. Quite honestly my initial reaction was one of shock. I felt rather as I would if I'd bumped into two drunken women bashing ten bells out of each other outside a Yates Wine Lodge on a Friday night – a bit unsettled. The photographs of the judo women will be all over the papers tomorrow, because they're dramatic and sensational. With those judo contestants – and I realize this will probably sound appallingly sexist – I couldn't help wondering about their soft limbs battered black and blue with bruises."
Seems like that might answer this question: Is there still sexism in sport? What do you think?
More on Olympics

Olympics badminton row: Can the players be blamed for just trying to win?
Bert Le Clos is the world's proudest parent 
Best of the weird and wacky London 2012 Olympic Games news