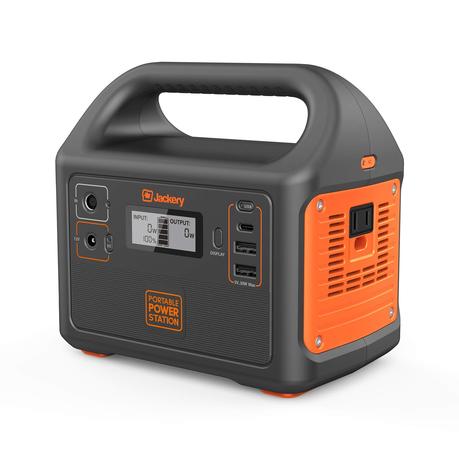 If you read this blog with any regularity, you probably already know that Jackery makes some of my favorite portable battery packs and power stations for keeping our devices charged on the go. In fact, I reviewed the company's Explorer 240 back in June and found it to be one of the lightest, toughest, and most versatile chargers around. But just when I thought they couldn't make a more appealing portable power station, along comes the new Explorer 160, an even smaller and more affordable option that doesn't compromise on performance.
I first got a look at the Explorer 160 at the Outdoor Retailer show back in August. When I laid eyes on it the first thought I had was "its so small!" At first glance, the Explorer 160 looks a lot like the Explorer 240, and that's by design. Jackery is creating a family of products that share many of the same features and capabilities, but in varying degrees of sizes and batteries. To that end, the 160 weighs in at just 3.7 pounds and comes with a battery pack that offers 167 watt-hours (46,400 man) of power. That's enough to recharge a smartphone in the neighborhood of 18-20 times, meaning you'll have plenty of juice to keep you going on your outdoor adventures.
In terms of power ports, the 160 is equipped with a built-in AC wall outlet that accommodates just about anything you want to plug into it. With up to 100 watts of power available, it can recharge laptops, drones, cameras, or even run small LCD televisions. The power station also includes two standard USB-A ports, a USB-C port, and a DC 12-volt 6mm port as well. Each of those charging ports can be active at the same time too, allowing you to power multiple devices at once.
Apparently one of the biggest uses for these portable power stations is for CPAP users who want to be able to go camping in the outdoors but still get a decent night's sleep. The Explorer 160 has no problem running a CPAP device I'm told, making it a great option for those who need such a device to assist with sleeping. And since the 160 is so small and light, it is ultra portable, making it easy to take car camping or even into the backcountry provided you aren't lugging it too far.
As is usual with Jackery's power stations, there are multiple ways to charge the Explorer 160. It comes with an AC adapter for juicing up while at home using a standard wall outlet, as well as a DC adapter for powering it up in your car. Best of all, it is also fully compatible with Jackery's line of solar panels, which help to keep it functioning while living off the grid. It takes about 5 hours to fully charge the device from the wall or DC car port, and roughly 8-10 hours to do so from a solar panel. This makes it an efficient system for use in a base camp situation where stationary solar panels can provide a steady stream of energy all day long.
Other nice features include a built-in flashlight, which is bright enough to illuminate an entire campsite. The light also has an SOS mode for signaling for assistance in an emergency situation. The power station also comes equipped with a small LCD screen that allows the user to monitor the amount of energy coming in and going out, which is handing for keeping tabs on the battery capacity. Jackery even included a nice little carrying case for the charging cables that come with the Explore 160, a nice and much appreciated touch.
What most people are going to love about the Explorer 160 is its size and build quality. It is an incredibly small charging solution that still offers lots of power and plenty of ports. It is difficult to convey just how compact and easy to carry this battery is, but trust me when I tell you that it will fit comfortably into a backpack for longer excursions, provided you don't mind carrying the extra weight. It is not a large device by any means, and yet it offers lots of power for use on the go.
Mobile professionals are particularly going to enjoy what the Explorer 160 brings to the table. It can keep your laptop, cameras, drones, and other devices going at all times. It is also a great option for use at races and other events where portable power can help teams and organizers stay in communication with one another throughout the competition. Beyond that however, it is small enough that you can take it with you even to remote campsites. And since it is built very durably, it can also stand up to the rigors of the outdoors, including dust and rain. While I wouldn't want to immerse it completely in water, I feel pretty comfortable in saying that Jackery has built the Explorer 160 to withstand the elements.
The Explorer 160 even comes with an appropriately sized price tag. The portable power station sells for just $199.99 and is available on Amazon. Considering everything it does, I see that as a bargain, and chances are, if you need portable power you will too.