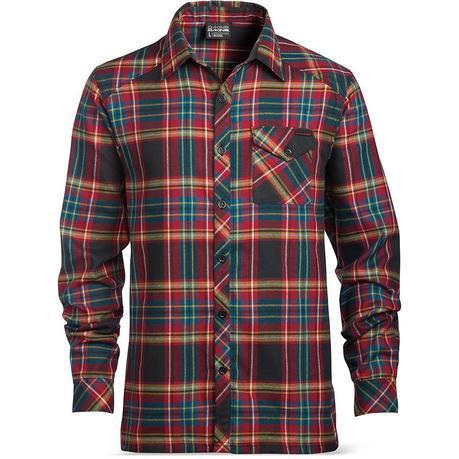 Summer's here and if you're not spending time on the back of a bike, you're not making the most of the season. Of course, the clothes we wear on our rides can have a significant impact on our comfort, which is why the right apparel can make a huge difference in how much we enjoy those outings. Fortunately, we live in an era where outdoor gear is the best it has ever been, and that extends to cycling and mountain biking too.
Dakine makes plenty of great gear to help you get the most out of your rides, including some great cycling shirts that perform well but don't necessarily look like they are meant for the bike crowd. Recently, I had the chance to test out a couple of items from their line-up, and think they'll both make a good addition to your wardrobe as well.
Oakridge Flannel Shirt ($80)
Searching for a good looking, durable shirt to wear both the trail and off? Dakine's Oakridge Flannel looks like something you could wear just about anywhere, but includes some nice features that mountain bikers are sure to appreciate.
For instance, the shirt is made of durable fabrics that provide plenty of coverage, which anyone who has ever had a mishap out on the trail knows can be extremely useful. If you ride often enough, sooner or later you're going to crash, but this shirt can survive those incidences and help protect your arms at the same time.
Made from quick-drying polyester materials, the Oakridge features Dakine's very own Polygenie Odor Control Technology, which is designed to fight off the funk that comes with getting heated up on the trail. The shirt breathes very well, and can wick moisture too. Still, I found it to be a bit warm for my summer rides, as the flannel material is thicker than I'd like in the heat and humidity of my home trails. That said however, I can't wait to wear it in the fall, when things cool off a bit, and the crispness returns to the air.
One of my favorite things about this shirt is that it looks like just about any other flannel shirt you might find someone wearing while just wandering around town. It has a stylish, athletic cut that is form fitting without being overly restrictive, and it there is very little about it that indicates that it is a piece of performance gear designed for mountain biking. That makes it easy to transition from the trail to the pub after a ride, or just wearing it when you want better performance from a flannel shirt. With its classic good looks, the Oakridge doesn't feel like it would be out of place in just about any environment, which is the kind of versatility that I particularly appreciate.
Priced at $80, the Oakridge Flannel is a great option for cool weather rides, hikes, or just running errands on your day off. It is comfortable to wear, looks fantastic, and offers solid performance. I know that come fall, this will be one of my go-to shirts for the days that I want to hit the trail.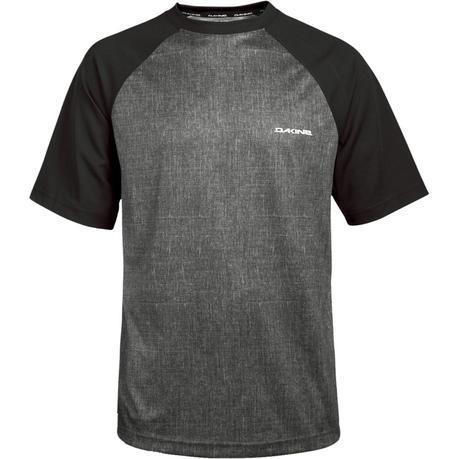 Dropout Bike Jersey ($40)
Dakine's Dropout Bike Jersey is a more traditional looking shirt made specifically with mountain bikers in mind. It uses similar materials as the Oakridge flannel, using 100% polyester fabrics that are quick drying, wicking, and very breathable. The shirt also includes the same Polygenie Odor Control Technology that keeps it smelling fresh even after a tough day on the trail. That comes in handy when you grab a beer after your ride, but don't want to drive away the other patrons at the bar.
The Dropout has relaxed fit that makes it a good choice for a wide range of riders. It also features raglan sleeves and a built-in soft sunglass wipe for keeping your shades clean while out on the trail.
This is the type of shirt that is more appropriate for a warm summer ride. With its quick-drying and wicking performance, you'll stay cool and comfortable even while working hard as you climb hills and bomb down the other side. It even pairs well with a hydration pack to keep you comfortable throughout your ride, allowing you to go further and faster, while staying out for extended periods of time.
The Dropout is a bargain at just $40. At that price, you might want to add two or three of them to your wardrobe, because it is likely to become your new favorite mountain biking shirt. This kind of performance shouldn't come at such a low cost, but you'll definitely be glad that it does.
Find out more about both of these shirts and the full line of Dakine products at Dakine.com.