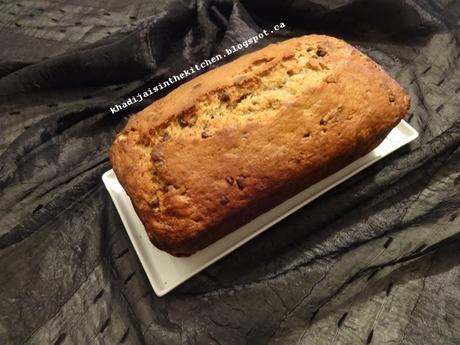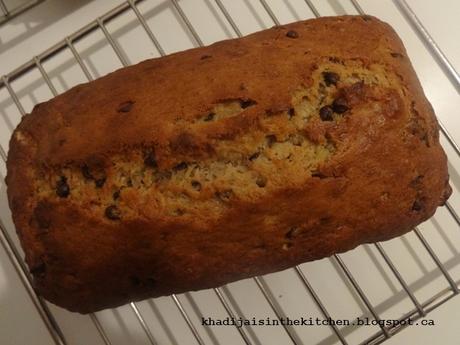 RECETTE /
RECIPE
/ RECETA /
الوصفة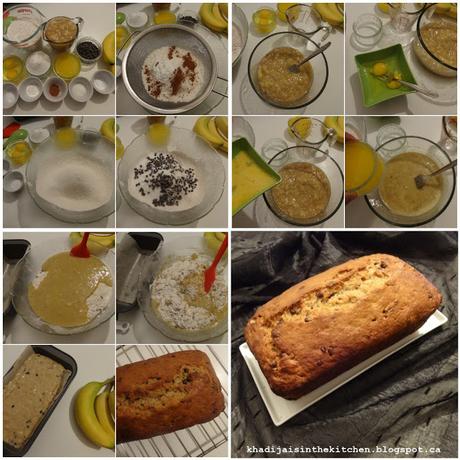 GÂTEAU AUX BANANES ET PÉPITES DE CHOCOLAT
Ingrédients et méthode :
100 g de pépites de chocolat
230 g de farine tout usage
150 g de sucre en poudre
1 cuillère à café de levure chimique
¼ cuillère à café de bicarbonate de soude
¼ cuillère à café de sel
1 cuillère à café de cannelle moulue
3 bananes moyennes écrasées
2 œufs
113 g de beurre non salé, fondu et refroidi
1 cuillère à café de sucre vanillé
1- Dans un bol, tamiser la farine tout usage, le bicarbonate de soude, la levure et la cannelle. Ajouter le sucre semoule, le sucre vanillé et les pépites de chocolat et bien mélanger le tout.
2- Battre les œufs légèrement et les mélanger avec les bananes. Ajouter le beurre fondu et mélanger à nouveau.
3- Ajouter les ingrédients humides aux ingrédients secs et mélanger lentement. Ne pas trop mélanger.
4- Verser la pâte dans un moule chemisé de papier parchemin. Cuire au four à 180 degrés Celsius pendant environ 55-60 minutes (ou jusqu'à ce qu'un cure-dent inséré au center du gâteau en ressorte propre).
*********************************************
BANANA CHOCOLATE CHIPS BREAD
Ingredients and how to:
100 g chocolate chips
230 g all-purpose flour
150 g caster sugar
1 teaspoon baking powder
¼ teaspoon baking soda
¼ teaspoon salt
1 teaspoon ground cinnamon
3 mashed medium bananas
2 large eggs
113 g unsalted butter, melted and cooled
1 teaspoon vanilla sugar
1- In a bowl, sift all-purpose flour, baking soda, baking powder and cinnamon. Add caster sugar, vanilla sugar and chocolate chips and mix well.
2- Beat the eggs lightly and mix them with the bananas. Add the melted butter and mix again.
3- Add the wet ingredients to the dry ones and mix slowly. Don't over mix.
4- Pour the batter into a pan lined with parchment paper. Bake at 180 degrees Celsius for about 55-60 minutes (or until a toothpick inserted in the center of the bread comes out clean). 
*********************************************
BIZCOCHO DE BANANA Y CHISPAS DE CHOCOLATE
Ingredientes y elaboración:
100 g de chispas de chocolate
230 g de harina común
150 g de azúcar en polvo
1 cucharadita de polvo de hornear
¼ cucharadita de bicarbonato de sodio
¼ de cucharadita de sal
1 cucharadita de canela molida
3 bananas medianas hechas puré
2 huevos
113 g de mantequilla sin sal, derretida y enfriada
1 cucharadita de azúcar de vainilla
1- En un tazón, tamizar la harina, el bicarbonato de sodio, el polvo de hornear y la canela. Agregar el azúcar en polvo, el azúcar de vainilla y las chispas de chocolate y mezclar bien.
2- Batir los huevos ligeramente y mezclarlos con las bananas. Añadir la mantequilla derretida y mezclar de nuevo.
3- Agregar los ingredientes húmedos a los secos y mezclar lentamente. No mezclar demasiado.
4- Verter la masa en un molde forrado con papel pergamino. Hornear a 180 grados centígrados por unos 55-60 minutos (o hasta que un palillo insertado en el centro del pan salga limpio).
*********************************************
كيك الموز و حبيبات الشوكولاطه
المكونات و طريقة التحضير
100

غرام

حبيبات الشوكولاته
230 غرام دقيق ابيض
150 غرام سكر سنيدة
1 ملعقة صغيرة خميرة الحلوى
¼ ملعقة صغيرة بيكاربونات الصودا
¼ ملعقة صغيرة ملح
1 ملعقة صغيرة قرفة مطحونة
3 حبات موز متوسطة ممعوسة
بيضتان
113 غرام زبدة غير مملحة، مذابة و باردة
1 ملعقة صغيرة سكر الفانيلا
1- في وعاء، يغربل الدقيق و بيكاربونات الصودا و خميرة الحلوى
 و القرفة. يضاف لهم السكر سنيدة و سكر الفانيلا و حبيبات
 الشوكولاته ويخلط الكل جيدا.
2- يطرب البيض قليلا ثم يمزج مع الموز . تضاف لهما
 الزبدة المذابة ويواصل المزج.
3- تضاف المكونات السائلة إلى تلك الجافة ويخلط الكل ببطء.
 لا يجب الخلط كثيرا.
4- يصب الخليط في قالب للحلوى مغطى بورق الفرن ثم يخبز الكيك
 على حرارة 180 درجة مئوية لمدة 55-60 دقيقة.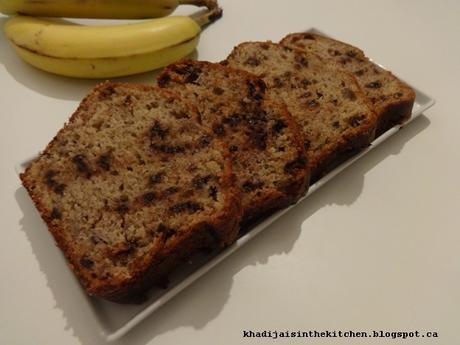 ****************
Hope you'll enjoy!!

****************
Merci de votre visite / Thank you for your visit /Gracias por su visita/

شكرا على زيارتكم
Pour d'autres idées de cuisine / For other cooking ideas / Para otras ideas de cocina /

من اجل افكار اخرى للطبخ

:

Facebook

,

Instagram

,

Pinterest