This year on True Blood there seems to be a new trend going on in terms of the music choices that are being made by it's Music Supervisor, Gary Calamar. The new trend is to take a classic song and re-record it in an entirely new way in order to get a True Blood kind of 'vibe" going.
Gary explains, "I was meeting with True Blood writer-producer Raelle Tucker to discuss music for the 4th season finale airing September 11. This ain't just another brilliant True Blood episode — this is the SEASON FINALE baby.
Now, as all True Blood fans know, each episode is named after a song in the episode. It makes things interesting for a music supervisor. Raelle [Tucker] had thought of calling the episode "And When I Die" and using the Blood Sweat and Tears version of the great Laura Nyro composition, but didn't think the vibe was quite right.
I suggested that we record a new version, True Blood style. Raelle and show creator Alan Ball said "dude go for it.
I immediately thought of The Heavy. I LOVE The Heavy's blend of sweaty soul and crunchy rock and they had a spiritual feel as well. Their neo-soul anthem "How You Like Me Now?" is an all time favorite of mine.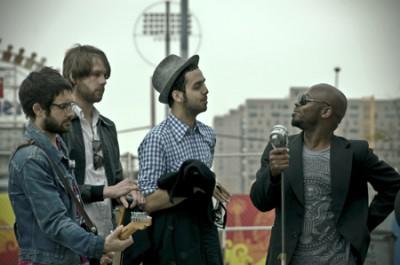 The Heavy by Melanie Swerdan
Listen to: The Heavy — "And When I Die"
The song can be purchased at ITunes in the store.  Type in the search "The Heavy And When I Die" and it will come up.
"They were thrilled with the idea. Next I got on the phone with singer Kelvin Swaby to go over our needs for this recording and how it fit in the show. This comes at a big moment in the series. It appears that one of our favorite Bon Temps characters is about to meet his (or her) maker. Kelvin wanted to know if we wanted him to duplicate the BS&T version or if they could do their own thing with it.
We wanted them to do their own thing, definitely.
These kinds of recordings are always a little risky, as you never really know what the band is going to come back with and if it will work in the show. Also. time was very tight. We needed a quick turnaround, but I had faith in my new Heavy friends.
After a few days I received a demo of their track…sounding fantastic. They said they wanted to add a gospel choir. Brilliant!
Just under our deadline, they delivered this divine version of the song and we all love it.
How do YOU like it…now ?"  Here's my answer: I'm a real BS&T's fan, so the redo really had to be a good one for me to like it.  However, I found it to be entirely new in so many ways that it doesn't infringe on the original at all and I have to say that I really liked it.  Kudos to you once again, Gary!
source: http://blogs.kcrw.com/musicnews/