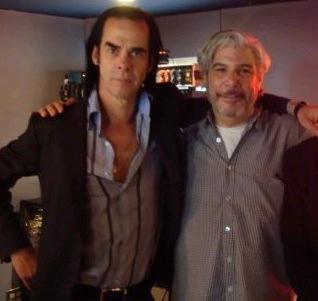 Nick Cave and Gary Calamar
Gary Calamar is someone I admire and envy because he is doing what he always wanted to do, in his role as a DJ and as True Blood's awesome Music Supervisor.
That's no surprise, because he also has gobs of talent for finding THE BEST music that fits True Blood perfectly. The Grammy nominations he receives each year prove it.
Below is a portion of the report that Gary posted about the creation of the new version of the song, "She's Not There" which is the title of Episode 1 of Season 4. Last year, Gary helped with the season 3 finale song, "Evil" by C.C. Adcock and Jace Everett. Now, he continues his inventions by associating musicians together and enabling them to come up with new ways of making old songs sound completely new and have that True Blood slant while still maintaining their original magic.
By the way Gary, I absolutely love the new version as much as I did the one by the Zombies!
Here's what Gary has to say:
I'm a very lucky guy. I have two of the best jobs that I can think of KCRW DJ and Music Supervisor for the best bloody show on TV, True Blood on HBO.
This season, the 4th, is going to kick off with a bang. Not just watching the latest adventures of Sookie Stackhouse and all her supernatural friends but I am so very excited about the new version of The Zombies' "She's Not There" a new collaboration with Neko Case and Nick Cave.
A little background. If you are a fan of True Blood you know that each episode is named after one of the songs that are in that episode. So it's always exciting for me to crack open the script and see what the writer has in mind for the title and the song that I will ultimately need to track down and license for use in the show.
When I received the first script for episode #401, written by Alex Woo, I saw the title "She's Not There", one of my favorite songs by 60′s British Invaders The Zombies.
Alex had suggested that we use the Santana version of the song. I thought well, we've got some time. Why don't we try and produce a new, fresh version of this classic and make it our own? Let's have some fun with this — Bon Temps Louisiana Style.
Stream "She's Not There" featuring Neko Case and Nick Cave
The show's creator Alan Ball gave me his blessing and I was off and running. The brainstorming began. I spread the word. I spoke with one of my friends CC Adcock, the great Louisiana musician and producer about it and he came up with a new arrangement for the song, more dark and sexy. We thought it would be great to make it a sly duet between a man and woman. I loved the idea. Many artists were thrown around in our conversations of who would be the ideal couple, Florence and The Machine, Irma Thomas, Dr. John, The Kills, etc etc etc but scheduling conflicts got in the way. Then, as strange as it may sound, I got a little help none other than The Cars. Yes, those 80′s synth pop new wavers, The Cars!
You see, The Cars have just released a new album, their big comeback.  Recently I received the advance copy of their new album, checked it out, and filed it away in my CD collection. Using the tried and true alphabetical filing system I slipped it it it's proper place in the "C" section. Suddenly something magical happened. My eyes took a little trip further down the C section. NEKO CASE practically jumped into my arms and whispered "I'll do it, call me, let's talk about She's Not There for True Blood".
Read the rest of this article and be sure to listen to this new version of the song by clicking here.