Just recently I have discovered my liking for cream based cleansers because for some unknown reason my C-zone has started to feel much drier than before. It might be due to changing weather in Australia or due to my negligence because honestly I have not been able to regularly follow my skincare regimen. I know I should not be doing this but my toddler is teething and she keeps me on toes and want my company all the time. Due to lack of time I am always on hunt for multitasking products so that I can take good care of my skin without spending too much time.Hence I bought myself this '
Garnier Gentle Cleansing Milk For Dry Skin
' from
Priceline Australia
thinking that it will work both as a cleanser and makeup remover.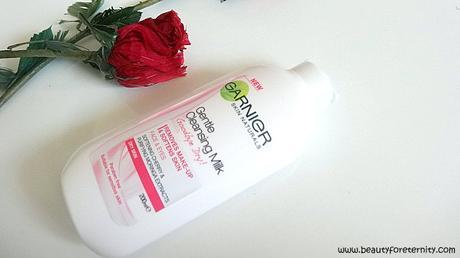 Garnier Gentle Cleansing Milk For Dry Skin - Review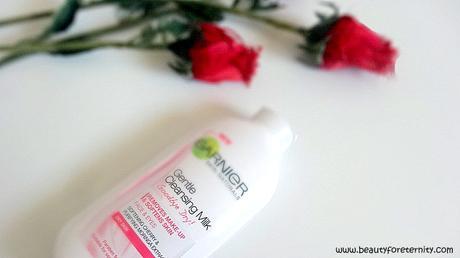 Garnier Gentle Cleansing Milk For Dry Skin - Review
I was about to finish my cream based face wash from Himalaya so I thought of trying something new which was easily available here in Australia because sometimes Himalaya products are difficult to find here. Check out my review of the
Himalaya Moisturizing Aloe Vera Face
Wash
to know more about it.
Product Description
: Enriched with purifying and anti-oxidant Moringa extract, this gentle cleansing milk removes make-up and softens skin. It has softening Cherry and Purifying Moringa extracts. Moringa is a tropical flower and it's seeds are known for their exceptional anti-oxidant and purifying properties. They are so powerful that they are able to clean water and make it drinkable.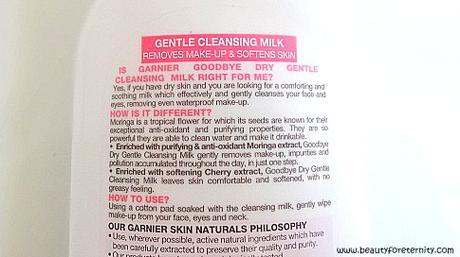 Garnier Gentle Cleansing Milk For Dry Skin - Review
Ingredients: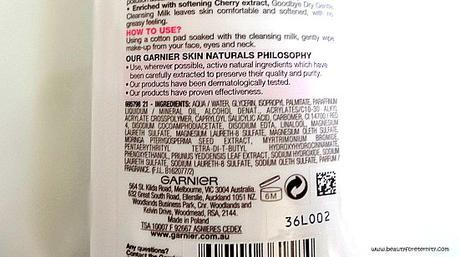 Garnier Gentle Cleansing Milk For Dry Skin - Review

Price: AUD 7.99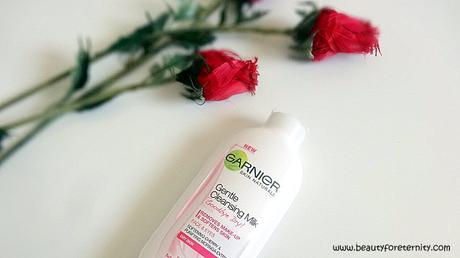 Garnier Gentle Cleansing Milk For Dry Skin - Review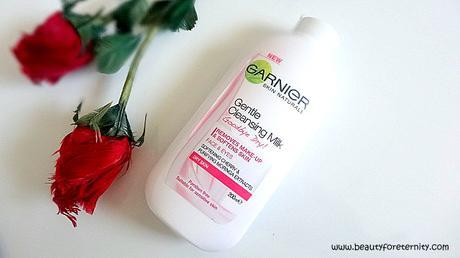 Garnier Gentle Cleansing Milk For Dry Skin - Review
Recommended: Check Out other cleansers reviewed on the blog Lakme Clean Up Clear Pores Face Wash (for oily and combination skin),Biore Balancing Cleanser For Combination Skin
Packaging
: Garnier Gentle Cleansing Milk For Dry Skin comes in a
sturdy
,
opaque
, white colored plastic bottle which has a
flip-open cap
. The cap opens easily and closes very securely and there is
no chance of any product leakage
during traveling. All the information about product description, usage instructions and ingredients etc. is given on the bottle. The bottle looks cute with pink and black letters on white base.
Garnier Gentle Cleansing Milk
is a
white colored creamy lotion
which has
medium consistency
. It
spreads easily
on the cotton pad as well as face. It has a
perfume like strong smell
which feels similar to the one present in Avon skincare products and feels refreshing to me.
It is meant to be used as a
cleansing product
as well as a
makeup remover
so I used it in both the ways. It
works fine as a normal cleanser
and removes the dirt and impurities from the face leaving it
fresh and clean.
It
does not dry out the skin
as it has been claimed by the brand and
feels gentle
on the skin. However
it does feel sticky
and
greasy
as opposed to the claim made by the brand and I have to wash my face or use a toner in order to get rid of the stickiness.
Talking about it's efficacy as a makeup remover, I would like to tell that it
works fine when you try to remove normal non-waterproof everyday sort of makeup
and leaves your skin clean in just one swipe of the cotton pad. However,
I had to use it 3-4 times when I had waterproof makeup on
in order to get every bit of the makeup off my face. It never made my skin dry as it claims and caused no breakouts.  
It did not do a good job to remove waterproof mascara
and I actually had to use it again and again and as a result I got some of the product into my eyes and
caused irritation and made my eyes really watery.
Overall, I would say that this is an average product which does remove dirt and makeup from the face but is not 100% reliable for all sorts of stubborn makeup like waterproof makeup, cream eyeshadows and mascara etc. It also contains a fair amount of denatured alcohol in the ingredients, causes irritation in the eyes and leaves a greasy residue on the skin which no one would like.
Given below are some hits and misses about this product:
Yays':
Travel Friendly packaging
Affordable
Gentle on skin
Does not dry out the skin
Good for everyday gentle cleansing
Paraben free
Nays:
Contains alcohol
Not effective for removing stubborn waterproof makeup
Irritates the eyes
Leaves a greasy film on the skin
'Go for it' or 'No for it':
This product did not live up to my expectations so it's a NO.  It is not a reliable makeup remover. I will neither repurchase this nor recommend this. Also, the presence of alcohol in this is quite bothering because it is meant for dry skin and alcohol and dry skin are not good friends.
BFE Rating: 2.5/5