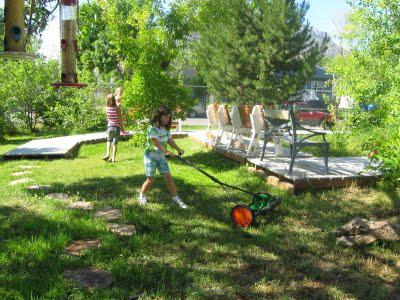 Getting down and dirty in a garden can help you grow nutrient-rich produce for your family and help everyone grow a healthier body at the same time. Add the stress-reducing benefits of fresh air and sunshine - and you've got a win-win-win with fun, fitness, and great-tasting produce from one activity. With young kids, keep the garden space small and expect less than 'perfect' plantings. Children love to play in the dirt, so don't worry about keeping rows straight and tidy.
PLAY
Here's a short list of ways to turn garden activities into active fun for children. If you show them that you are having fun, they will enjoy just about anything you do.
1. Rake leaves: In the garden or on the lawn, piles of leaves are fun for jumping.
2. Build a compost pile: Kids are fascinated by turning garbage into soil.
3. Prepare the soil: Outdoors or in a container, it's fun to mix stuff together!
4. Hoe the rows: Once everything is mixed, it's time to get ready for planting.
5. Bike to the garden center:Use pedal power to go pick out your seeds.
6. Walk around a greenhouse: Stroll around to pick out seedlings or flowers.
7. Dig some holes: Used serving spoons and spatulas make great tools for kids.
8. Water the plants: Moving hoses and carrying buckets is really fun on hot days.
9. Pull the weeds: Children quickly learn which plants stay and which should go.
10. Pick the produce: Definitely the best part of gardening!!
ENJOY
Make it fun, do it together! Whether you garden indoors or out, in the back yard or at a community space, the important thing is spending active, TV-free time together!!
For today's photo, we offer our sincere thanks to Jefferson School SACC (School Age Child Care), Helena School District #1, Helena, Montana.