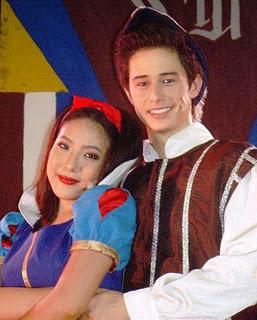 Gantimpala Theater gives cheer and love this holiday season with "Snow White at ang Pitong Dwarfs," now adapted into "Si Snow White at ang Pitong Dwarfs."
With book and libretto by J. Dennis C. Teodosio, music by Frederic John Ferraz and under the direction of Tony Espejo, "Si Snow White at ang Pitong Dwarfs" is a modern take on the life of this fairy-tale princess, filled with adventure, musical numbers and romance.
The cast includes Rita Iringan (Snow White), Ivan Dorschner (Prinsipe Oswald), Ma. Melissa Gigante (Reyna Ines), Michael De Vera (Mara), Elizabeth Barquin (Tootsie), J Young (Herminigildo) and Bham Sumooc (Badong, the talking pet dog).
The seven dwarfs are played by Morris Sevilla, Marvin Mendoza, Darby Dizon), Mark Tulipat, Carlos Niño Percil, Vian Serranila and Julius Davis.
Helping director Espejo realize the fairy tale world of Snow White are Gean Allain de Leon (associate director), Joseph Matheu (lights designer), Jose Jeffrey Camañag (set designer), Albert Figueras (costume designer), Carlos Niño Percil (choreographer), Raymond Talavera (production manager), and Paulo Nino Dimacali (stage manager).
Remaining performances are on December 10, (9 a.m., 12nn and 3 p.m.), SM Southmall, Las Piñas); December 17, (8 a.m., 11 a.m. and 2 p.m.) and December 18 (8 a.m.), Expo Pampanga.
For tickets and inquiries, call 8995911, 8966503 or 9985622, or visit www.gantimpalatheater.multiply.com or www.facebook/gantimpala.