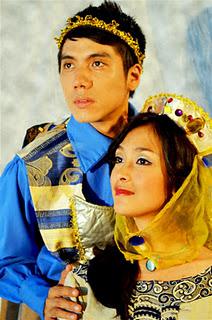 Gantimpala Theater caps its 34th season with Francisco Balagtas' "Florante at Laura", one of the most enduring Filipino literary masterpieces, adapted into a play by award-winning playwright Boni Ilagan, and directed by brothers Roeder and Jose Jeffrey Camañag.
"Boni Ilagan wrote such a superb script!" says Jeffrey Camañag. "His interpretation of the classic focuses on the many facets of love--from its purest form to its most corrupted version. His understanding of Balagtas' words allows audiences the opportunities to witness Florante's encounters with love--his love for knowledge, his love for his parents, his brotherly love for his best friend Menandro, his romantic love for Laura, his love for his enemies, and ultimately, the love for his country and the Higher Cause."
"We are highlighting the beauty of the language and the elements of komedya," he adds. "What we give the public now is a tribute to Florante and Laura, as literary characters, a tribute to Francisco Balagtas and his mastery of the Tagalog language, and a tribute to the komedya, which is a true Filipino theater form."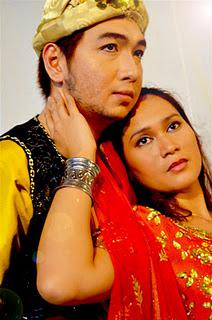 Alternately playing the Albanian prince Florante are Yutaka Yamalawa and Rafa Esplana. Ellrica Laguardia portrays Laura, princess and Florante's sweetheart.
Completing the characters are Arkin Da Silva and Alfred Urieta (alternately playing Adolfo/Makata), Gilbert Bacolod (Haring Linceo/Balagtas), Tess Jamias (Reyna Floresca), Billy Parjan (Duke Briseo), Leo Ponseca (Aladin), Wenah Nagales (Flerida), Benjie Cayetano (Sultan Ali-Adab), Paul Jake Paule (Minandro), Ronald Concepcion (Antenor), Michael King Urieta and Rayond Talavera (Batang Florante/Batang Adolfo alternates) and Julius Empredo (Osmalik).
Helping the brothers Camañag realize the warring world of Moors and Christians are Andy Villareal (lights designer), Joey de Guzman (Set Designer), Toni Muñoz (music designer), Meyo de Jesus (video Designer). Ian de Leon (choreographer), Charyl Chan de Guzman (production manager), Luis Galang (stage manager).
Remaining performances are on November 18 -19 (10 a.m./2 p.m.), AFP Theater, Quezon City; and November 25-26 (11 a.m./2 p.m.) Cinema 3, SM Southmall, Las Piñas City.
For tickets, please call the Gantimpala Marketing Office 8995911/8995745/9985622. Visit www.gantimpalatheater.multiply.com and www.facebook.com/gantimpala.