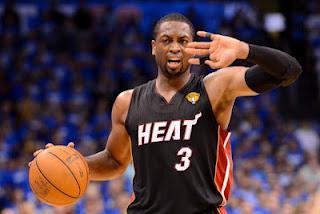 Photo: Getty Images - Mike Ehrman
- Troy Ballard
This series -- whoa. 
There was plenty of 'that never happened before' moments in Game Two: OKC losing at home for the first time this postseason, LeBron James knocking down multiple clutch-shots and free-throws in the late fourth, Kevin Durant not getting a foul call, Serge Ibaka developing an offensive game and the list goes on. 
In what will go down as possibly the most exciting game of the series, the Miami Heat went wire to wire and escaped Oklahoma City, despite a tough and strong Thunder comeback, to even the series 1-1 with a narrow 100-96 victory. 
Here are some quick thoughts from the game: 
Shane MoFo Battier is ON FIRE!
Listen, if someone would have told me that Shane Battier would explode for 17 points in the first two games of the NBA Finals -- I would have laughed. But, Battier's play has been no laughing matter as the former Duke killer has turned back Father Time and has dominated from beyond the arc.
Not only has his offense been stunning, but he has been extremely tough on defense. Battier has been an essential part of the Heat's success, and if he can keep this run going, Oklahoma City is in trouble. 
Kevin Durant -- Monster. Russell Westbrook -- Mini-Monster. James Harden -- Beard. 
The Thunder may have dropped Game Two, but OKC's Big Three were dynamite. 
81 total points between the three of them. 81 of 96 total points. Yowza. 
Durant was more clutch (forget being in foul trouble the entire game) as that pilot who landed the plane in the Hudson, Westbrook started off slow but picked up and turned into a scoring machine in the second half and Harden rebounded perfectly from Game One and was his typical self. 
Not only are these three amazing together as teammates, but it's like watching a highlight reel on every single offensive possession.
Chris Bosh, You Don't Say!
I ripped Chris Bosh after Game One. He didn't show good effort on defense, made poor offensive decisions and his rebounding was abysmal. He must have had thought the same thing. 
Game Two was one of the most impressive performances I have seen from Bosh since he has been in Miami. His offensive performance wasn't mind-blowing, but everything else from his seven offensive rebounds to the excellent hustle on loose balls made him look like he was back at Georgia Tech. 
This is the kind of Bosh that Miami needs to continue to win in this series -- not the half-Bosh that has been banned to the confines Jurassic Park.
LBJ Was Clutch!
Haters are going to hate. 
Here's a news flash -- LeBron James was clutch in the fourth quarter and iced the game. 
Not only was he trusted with the ball to knock down a silky smooth 16-footer with less than 30 seconds in the game, but he also drilled two free-throws which sealed it. LBJ avoided a total collapse and played like it was any other game and he was in any other quarter. 
The Refs Sucked -- We Get It. 
OKC -- we get it. There was a blatant no-call on Durant's last shot when LBJ knocked him in the arm and then the stomach. It sucks that the Thunder didn't catch that break and have a chance of tying with time expiring. 
But, the Heat also got the shaft on several calls -- specifically those involving Harden. Miami may get the edge in BS calls, because of that last play, but all around the game was incredibly poorly officiated. It's been the story of the entire season, playoffs and now the Finals.
Here's Looking at You, Dwyane.
FINALLY. Was anyone else getting sick of D-Wade trying to be Ray Allen?
From the first time Wade had the ball in his hands, he drove to the rim and attacked the paint. He was back in his element of drawing fouls, breaking through double-teams and throwing down nasty slams in transition.
Game One was this weak collection of jump-shots that didn't suit his style, but with him attacking the defense, Wade tallied 24 points -- a much more suitable number for a player of his caliber. 
Thunder Have Another Slow Start -- Cause for Alarm? 
Whenever a team starts out only scoring two points in the first nine-minutes of play -- there's a problem.
The Thunder did manage to bounce-back in the second half (that sounds familiar), despite playing a terrible first quarter and an only average second. OKC seems content with being down big, but then rallying and throwing together crazy runs, but it obviously isn't a flawless art as this game showed. 
This is something that needs to improve and quickly. 
Heat Have The Momentum
Miami just won at a place where no other playoff team has been able to this season. Nuff' said.
Be Sure to follow Beard and Stache on Twitter 
@BeardAndStache
, and also Troy 
@TroyBallards
, like our Facebook page 
HERE
!