Arrow's season finale contained within it a 1-minute teaser video featuring a particularly entertaining training session for Stephen Amell's Arrow and Grant Gustin's Flash:
Game freakin' on!  Gustin's Flash and Amell's Arrow make for a fun on-screen duo, ala the banter The Flash often shares with Green Lantern in the comics.  Stephen Amell's delivery of the line, "Show off," was pitch perfect.  More than that, this is our first look at how Flash's super speed might be depicted on his own show.  There are really only so many ways to do super speed.  This looks vaguely like an update on the Smallville version with the addition of a ton of lightning-like effects to Flash's every movement.  That's how I personally remember Flash's speed being depicted in the comics, but it is curious if they'll really add that much lightning-like visual flair to his every use of super speed on the show.  Lastly, it must be said: that maroon costume is still not growing on me.  I don't love it.
The Flash is being co-created and produced by Arrow writer/DC Chief Creative Office Geoff Johns and Arrow co-creators/executive producers Greg Berlanti and Andrew Kreisberg.  Already introduced on Arrow this season, Flash will see the return of Grant Gustin as Barry Allen, Danielle Panabaker as Caitlin Snow, and Carlos Valdes as Cisco Ramon.  They'll be joined by Barry's love interest (Iris West, played by Candice Patton), surrogate father figure (Detective West, played by Jesse Martin), a prfessional rival (Detective Thawne, played by Rick Cosnett), and a disgraced boss (Harrison Wells, played by Tom Cavanagh).  Plus, TV's original Flash John Wesley Shipp will be around in a mystery role.  
We'll learn more about Flash, specifically when and what night/time it will premiere, at the CW's upfronts presentation this week.  One question which will likely remain unanswered is how long The Flash will go without a cross-over episode with Arrow, presumably to revisit Felicity's short-lived romance with Barry Allen.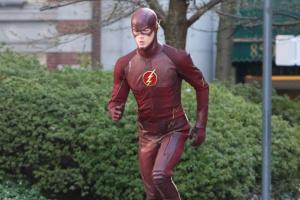 Yet I still can't get into this new Flash costume.
What about you?  Let us know in the comments section.
As a point of comparison, here's how The Flash looks in DC's animated film Justice League: The Flashpoint Paradox:
Source: THR