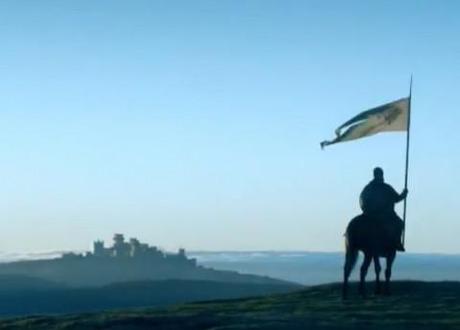 Game of Thrones
The return of Mad Men may have captured critics' attention, but Game of Thrones is the real winner with viewers. Based George R.R. Martin's novel series A Song of Ice and Fire, the medieval fantasy has won admirers on both sides of the Atlantic, spawning a host of online fan sites. Season two premiered in the US with 3.9 million viewers, to Mad Men's 2.9 million, reported The Atlantic Wire.
So what's all the fuss about?
Plot. Game of Thrones follows the political and sexual shenanigans of noble families in the kingdom of Westeros. The multiple plot strands don't exactly lend themselves to a simple summary, so Thrones newbies should check out the Television Without Pity episode recaps to get up to speed – or perhaps just watch season one.
Watch the Game of Thrones season two trailer below.
The Wire with swords. "In my original review of the series, I likened it to a sword-and-sorcery equivalent of The Wire or Deadwood: a plot-packed epic about a whole society that throws a lot of information at you and expects you to keep up. It's still that way," wrote Matt Zoller Seitz at New York Magazine's Vulture. Zoller Seitz praised the scriptwriters' handling of the multiple plotlines and characters, and argued that Game of Thrones continues to inject fresh life into the fantasy genre, "foregrounding its mythic power, and showing that the genre can be brazenly serious, even ostentatiously artful, and unquestionably adult, without killing its simple pleasures".
TV network HBO has already given the go-ahead to season three of Game of Thrones, reported TV Fanatic.
Blood and guts. Game of Thrones is unquestionably bloodsoaked, said Willa Paskin at Salon, warning viewers shouldn't get too attached to their favorite characters. But there's more to season two than gore, even if it does "hit the ground bleeding": "It contains all the necessary, hugely entertaining genre staples — swords and armor, jousts and magic, kings and queens — but also the emotional and physical realism, the blood and guts, the twisted and tragic motivations that characterize TV's other best shows," Paskin said.
Lack of focus. Writing in The New York Times, Neil Genzlinger described Game of Thrones as "meandering" and suggested the series needs a big event to get the action going: "To this point we've seen only a bunch of petty pretenders jockeying for a throne that, frankly, doesn't seem all that desirable to begin with." According to Genzlinger, the show lacks depth: "If decapitations and regular helpings of bare breasts and buttocks are all you require of your television, step right up."