Buy original paintings online:
As the name suggests, Gallerist is an art gallery. It is an online marketplace connecting artists with art lovers. As of now, only works of Indian artists are available on the Gallerist. Users can browse for art by viewing works of a certain artist or using categories like kinds of paintings, material used, price range and even by the room for which they .
Gallerist invites all established and emerging artists to register at the website and sell their art online . There is no registration fee. Gallerist charges a commission of 20% on sale of the artwork.
For new and emerging artists, Gallerist presents a good opportunity to showcase their work and find buyers . They can easily use it to sell their original paintings online.
As mentioned earlier, Gallerist only has artworks of Indian artists so far. Even then, it has a nice collection of paintings on sale. These include Landscapes, figurative paintings, Budha painting, Radha Krishan paintings, modern art, folk art, cityscapes, foil painitings etc. If you are an art lover, you'll enjoy browsing through the paintings on offer .
The user interface of the website is clean and simple. The top bar makes it easy to search for a suitable painting based upon type, price, room, artist and the material used. There are useful links at the footer too, especially for artists. Every painting's page gives clear information about the painting. The details include painting's size, quality, surface, material used and even the return policy for the particular artwork .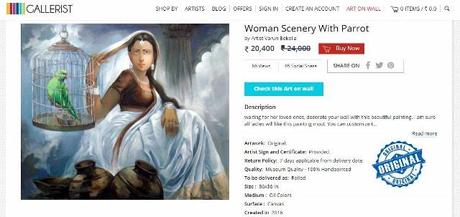 If you want to buy an original art, please don't expect it to come cheap. An original painting is not a mass-printed poster. It is a result of many hours of work, and so deserves a decent price.
The paintings on Gallerist are available in various price ranges. You can get a 9×12 inch original painting for about 1500 rupees. By visiting the Offers tab, you can also check out the paintings available at discount. Here, I noticed paintings selling for as low as 300 rupees. Gallerist also has big and high quality paintings priced at about 50,000 rupees. The Price option in Shop By menu makes it easy to find paintings depending upon the buyer's budget.
So if you would like to sell or buy original paintings online, check out gallerist.in.
buy original paintings, Indian artists, online art gallery, original paintings online