It was the 2012 Sandy Hook hoax that first alerted Americans to a curious phenomenon called crisis actors - actors who role-play as victims, perpetrators, and first responders in simulations and drills of crisis situations such as natural or manmade disasters, including school and other mass shootings. There are even amputee crisis actors!
See:
At the time of Sandy Hook, there was a government-created crisis actor provider in Colorado called Visionbox , which described itself as "a project of the Colorado Nonprofit Development Center" and "of the Colorado Safety Task Force established by Colorado State Senator Steve King."
In a "Feature Story" that had since been deleted from the web , Visionbox described what its crisis actors do:
Active Shooter Crisis Actors Target Mall Shootings via Visionbox

DENVER, CO, October 31, 2012 - A new group of actors is now available nationwide for active shooter drills and mall shooting full-scale exercises, announced Visionbox, Denver's leading professional actors studio.

Visionbox Crisis Actors are trained in criminal and victim behavior, and bring intense realism to simulated mass casualty incidents in public places.

' stage acting experience, ranging from Shakespeare to contemporary American theater, enables them to "stay in character" throughout an exercise, and improvise scenes of extreme stress while strictly following official exercise scenarios. [...]

Visionbox Crisis Actors can also play the role of citizens calling 911 or mall management, or posting comments on social media websites.
For more on Visionbox, see my post of January 1, 2013, " Professional crisis actors simulate mass casualty events". and Memory Hole Blog's " Where Have All the Crisis Actors Gone? ".
We now know that at least three individuals involved in the Orlando gay club shooting on June 12, 2016, have professional acting credits . They are:
Alleged lone shooter Omar Mateen , who was a full-time employee of G4S, an inept federal government security contractor, had two acting credits.
Alleged eyewitness Luis Burbano , had five acting credits.
Alleged eyewitness Christopher Hanson who professional actor Andrew Bowser (more on this in a later post).
Now we can tie an outfit that supplies crisis actors to the shooting.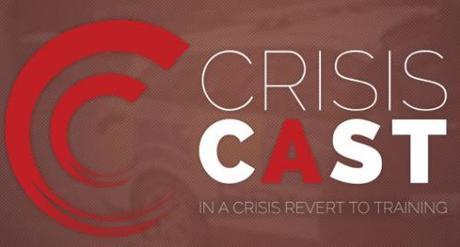 It is CrisisCast , a British provider of, in its words, " Award winning role play actors and film makers specially trained in disaster and crisis management."
This is how CrisisCast describes itself:
We dramatise events for emerging security needs in the UK, Middle East and worldwide. Our specialist role play actors - many with security clearance - are trained by behavioural psychologists and rigorously rehearsed in criminal and victim behaviour to help police, the army and the emergency services, hospitals, schools, local authorities, government, private security firms, shopping centres, airports, big business, criminal justice departments, media and the military to simulate incident environments for life saving procedures.

We use state of the art British film industry techniques, props and special effects to help trainers deliver essential, hands-on, high octane crisis response and disaster management training. We also work with trainee doctors, psychologists and care professionals.
CrisisCast boasts that "We act for a wide range of clients, from private individuals to multi-national organisations, and everything in between," and assures its clients and potential clients that since "Some of the work we do is sensitive," clients can depend on secrecy as "We believe in loyalty and we understand the need for confidentiality."
CrisisAct then provides a partial list of its illustrious clients: "Here are a few of the clients we have been privileged to work with recently".
No. 10 on that list of 20 CrisisAct clients is G4S, the security company that had employed Omar Mateen from September 2007 until his death, presumably by police, at Pulse nighclub in Orlando, FL, on the morning of June 12, 2016.
G4S Security Solutions USA claims to be the world's leading security contractor with operations in more than 100 countries and very lucrative contracts with the U.S. federal government, including DHS. (See " Orlando terrorist-killer Omar Mateen worked for a security firm with DHS contract to identify suspected terrorists ")
Below is a screenshot I took of CrisisAct's client webpage . Please note the time and date in the lower right corner (5:54 AM, June 18, 2016) when I took the screenshot, in case CrisisAct scrubs G4S from its client list. I painted the red arrows pointing to G4S and the time & date.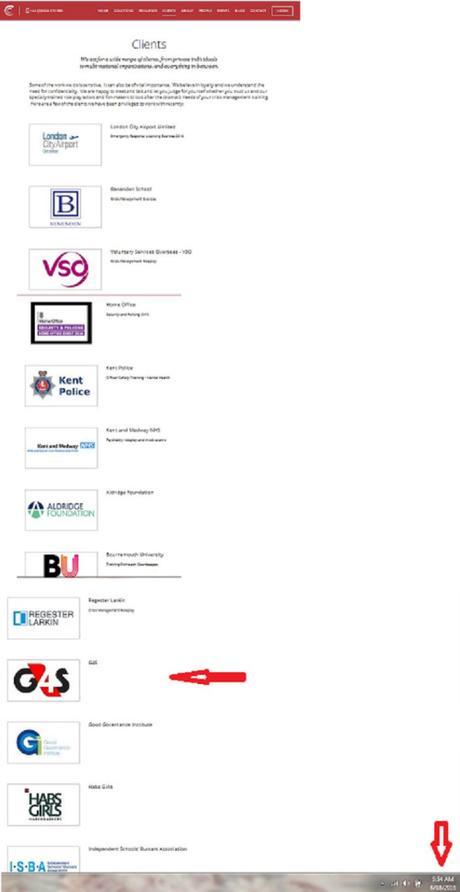 See also: