This week we speak to Marcel Boot, who will be heading out to the Madagascar Wildlife Conservation Adventure project with Frontier in July. We caught up with Marcel and asked him a few questions about his upcoming trip. Here's what he told us...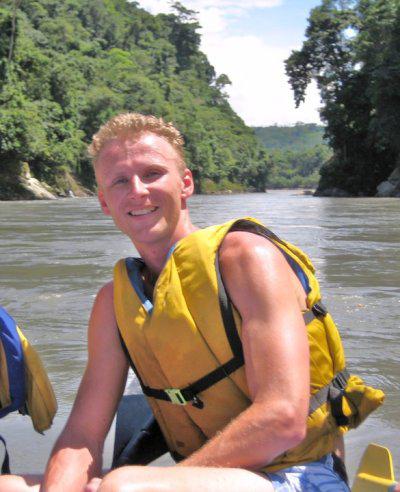 Into the Wild: Why did you choose the Madagascar Wildlife Conservation Adventure?
Marcel: I chose Madagascar Wildlife Conservation Adventure because this project appealed to me the most.
When visiting National Parks you do some trekking, take in the atmosphere, try to spot some wildlife and take photos. Doing so I have always had it in the back of my mind to actually DO something in such a jungle environment. I hope and think taking on this project with Frontier will satisfy this desire.
I also have my Padi and Advanced Diving certificates, so there might be opportunities to side track into the water ;)
Into the Wild: How are you preparing for your trip?
Marcel: My preparations started a few weeks ago by sorting out flights, purchasing necessities, updating my vaccinations, checking insurance policies, but also handing over my responsibilities at work by training my replacement manager.
As I have enlisted for the 20 week program, I was also looking out for possible candidates to rent out my house. My successor was still looking for a permanent rental house, but there is a long waiting list so the solution presented itself.
I have packed and unpacked my backpack several times as my experience over the years is that you always bring too many things you'll never wear or use!
Starting early takes care of these items (I hope ;)
Into the Wild: You call Madagascar the "unofficial 8th continent" how so?
Marcel: I call Madagascar the unofficial 8th continent, because it is called that by many! Obviously it belongs to Africa, but as it has only been occupied by people for approx. 2000 years now it has a unique evolutionary wildlife status. I believe 80% is endemic, which is unbelievable and a must do for anyone who is interested in any level of nature.
I went to Antarctica last November which was my 7th continent to visit, so number 8, even if unofficial, was the most logical step to take.

Into the Wild: What are you hoping to gain from your experience?
Marcel: Enrichment might be the main reason on a personal level as every travels changes you a little. New experiences with local customs and people give you different ideas and mindsets. Not only local people, but also meeting co-volunteers/backpackers can lead to new friendships.
The true hope to gain from this experience is of course to see whether I or we can contribute in the preservation and conservation of Madagascar's unique environment in any significant way possible.
Into the Wild: What do you feel the benefits are of ethical travel or voluntourism as opposed to a holiday?
Marcel: On my backpacking year in Australia I met an English buddy of mine, Allan. He is a biologist and when  he got back in the UK he started his own travel agency called 'TigerTrails', currently 'Wildlife Trails'. His philosophy is also conservation of the wildlife and its environment by involving the local communities living around the national parks. He initiates, for instance, water harvesting, tree plantations and education. So there can be a healthy combination of holiday and ethical travel when booking with the right tour operator!
I have done several trips with him and it is so rewarding to see what you can do on a small scale, but you can actually see with your own eyes that it works!
Into the Wild: What skills do you already have that you think will help you out there? How do you think your degree in Life Science and Technology will benefit you on your trip?
Marcel: I can't say that I have specific skills for this adventure as it will be my first on this level. But like I said before, I have done some traveling and seen some jungles out there in which I've done camping, trekking, exploring etc...
My degree in Life Science and technology might help me in such a way that I know how research works. This study is laboratory based, so I don't have any field research experience. Processing data on the other hand should be somewhat similar and perhaps some other techniques will be come to use...
Time will tell is one of my favorite phrases.
Into the Wild: You've traveled previously in developing countries, how did you find this experience? How do you think a Frontier project will differ from previous experiences?
Marcel: I have sort of mentioned it already, but it is an eye-opening experience and amazing to see how different life can be!
I have seen lots of poverty, but as long as you don't hang out in the bigger cities for too long, I find that it becomes a way of life. People are happy with nothing and can be grateful of the smallest, tiniest gesture or item.
These travels will differ from a Frontier project in such a way that I will not only financially, but also actively contribute to the conservation.
Into the Wild: Have you done any fundraising activities in preparation for your trip? If so how did you find them?
Marcel: I intended to organize a fundraising event in my local bar: The Bottom of the Sea. I have been manager there for the last 7 years, with a total of 14 years whilst studying and working as a research technician.
But as we already had planned fundraising events such as StopAidsNow and Dancing for Cancer I figured that these were more important as my guests might become 'fundraising tired'. I have saved money to pay for the trip myself.
In my line of work I get to meet and speak to lots of people to whom I can explain my intention and what the importance of this volunteer work is. I believe that is what the importance of such an event or activity should be.
My boss was not too happy with my resignation, but as a token of appreciation of my work over the years he offered to sponsor my trip with Frontier.  This is obviously a great gesture! So I have subconsciously been fundraising for the past 14 years ;)
Into the Wild: What do you think the most important item in your backpack will be?
Marcel: The most important item? I reckon that will be the 50% mosquito repellent as missies love me.
Into the Wild: What books or music are you planning to take with you?
Marcel: On my trip to Antarctica one of the crew members was a dutch explorer ,Bernice Notenboom, and she was one of the first female explores to walk to the South Pole. About this endeavour she wrote a book. I ordered the book when I got back home, but so far I never got around to reading it.
I asked my friends for an MP3 player WITH music as a going away present... So that will be a surprise and a test to see whether they know what I like ;)
Questions by Dana Beltaji