How sick is this.
Tony the Tiger, the cartoon mascot of Kellogg's Frosties cereal, is being inundated by tweets of animal porn from furries.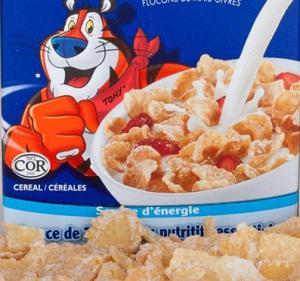 Furries are people who anthropomorphise (ascribe human form and attributes) and identify with animals. They create and role-play as anthropomorphic animal characters, known as fursonas, in MUDs (multiplayer real-time virtual world), on internet forums and electronic mailing lists. Role-playing also takes place offline, with petting, hugging and "scritching" (light scratching and grooming) at social gatherings and furry conventions attended by furries in fursuits. A survey in 2008 found that 17% of furry respondents reported an interest in bestiality. (See my post of a year ago, "New perversity: Furries and the Idaho man who had sex with a cat while dressed as a dog")
Alex Hern reports for The Guardian, Jan. 29, 2016, that being an anthropomorphised cartoon animal, Tony the Tiger is the subject of a fair amount of artwork featuring him, some of which is pornographic, such as depicting an extremely muscly Tony, naked save for his neckerchief, masturbating on an exercise bench.
Tony the Tiger is also the recipient of animal-porn tweets. Things got so bad that on January 27, Kellogg's started blocking tweets from furries, even ones that weren't pornographic: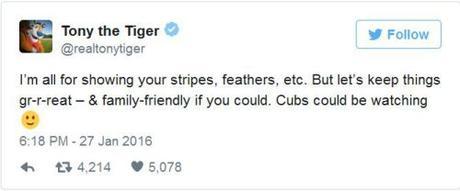 Some furries gave up tweeting Tony and found a new target: Chester Cheetah, the cartoon mascot of Cheetos corn puffs, who is much more welcoming, even flirtatious with the furries: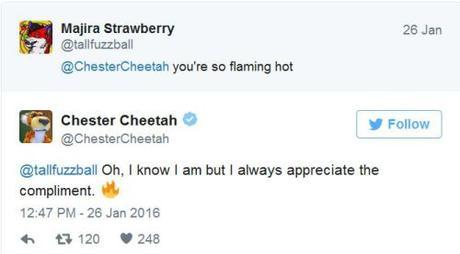 Truly, America today is worse than Sodom and Gomorrah.
See also:
Archeologists find evidence of the obliteration of Sodom-Gomorrah

Defiling God's creation: Scientists are creating animal-human hybrids
~Eowyn