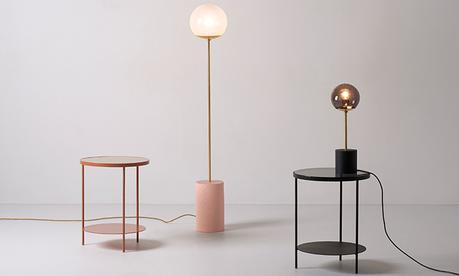 "Coming from a fine-art background, I'm often influenced by other artists. For this collection I have drawn inspiration from Alexander Calder's hanging and standing mobiles," says designer Bec Dowie of Douglas and Bec's new Line collection. "This inspiration is transcribed in all the pieces: the playful urge to elongate lines, explore balance both physically and aesthetically using honest materials."
Image courtesy of Douglas and Bec, Photo by Stephen Tilley.
In 2006, designer Bec Dowie started Workroom Design—her line of understated furniture and lighting—in Auckland, New Zealand. To translate her vision into reality, she turned to her father, Douglas Shelling, who crafted all of the pieces by hand. Since then, the company has expanded year-upon-year to include Bec's husband, Paul Dowie, as well as a team of artisans still led by Shelling. Along the way, the brand changed its name to that of its original team: Douglas and Bec.
The duo have just released their lastest collection, Line, which introduces new materials for the brand, and proves that even as the company grows their partnership is as fruitful as ever. "I still lead the design and ideas but he heavily contributes," Dowie says. "The combination seems to work well."