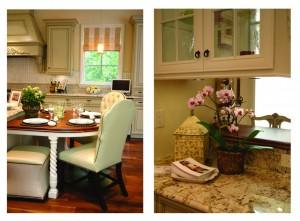 CC: Image Source
If you live in a small house or flat, it is important to carefully consider your choice of furniture and décor to avoid making your living space look cluttered and even smaller. Even if your home isn't particularly small, you may want to create the illusion of a bigger room.
In many cases, your choice of décor and furniture makes a huge impact upon how big a room looks and feels. When decorating your small space, always bear in mind how each element impacts the look of a room.
1 – Remove any clutter
First things first, clear any clutter out of your room. Clutter instantly makes a room look smaller, particularly if there is clutter all over the floor. Try to find a place for all of your household items, even if that means buying some new shelving or organizers.
2 – Invest in storage furniture
Storage furniture is a godsend for small living spaces. A multifunctional piece which works as both furniture and storage is an investment in itself due to the fact it has two uses. Keep all of your attractive items on display, such as flowers and photo frames, whilst keeping all of the messy bits and pieces tidied away in a drawer.
3 – Opt for bright and light pieces
Light colors make everything seem spacious. If you have a small kitchen, opt for light colored work surfaces. If your bathroom is small, go for white or lightly colored tiling and bathroom suites. Keep up the theme by furnishing your room with lightly colored storage pieces.
4 – Purchase foldaway furniture for when you have guests
If you only have a small space to work with, is it really worth filling that space with chairs and tables for guests that only visit once every few months? For example, if you live alone, it is not practical to have seating and dining for four people. Choose furniture which can be folded away and stored when it is not in use, providing you with more space for your day to day life.
5 – Embrace vertical space
In a small room or flat, you are extremely limited when it comes to floor space. Besides buying storage furniture, there is little you can do to make space on the floor. However, think about all of that free wall space you have! Utilize your vertical space. You could purchase thin but long cabinets for storing your DVDs, books and other general items. In a small bathroom, add some floated shelves for storing spare towels without cluttering up your room.
6 – Make it light
Light makes a huge impact on the look and feel of a room. At every opportunity, let the natural light in. Don't cover the natural light with heavy curtains. Blinds work far better to open out a small living space. After dark, don't rely on just one ceiling light. These lights tend to only light one small spot. Have a few lights dotted around the room to give the illusion of more space.
Get professionals bid on your service request for free with BidsByPros.com
Stop searching! Start selecting!
Author Bio Box:
Nisha Mistry is a renowned author of all thing interior design related. Nisha frequently visits www.standland.co.uk to check out the latest in TV stands.