Barnes and Noble has big displays of Pop! Vinyl toys. The shelves are bursting over with stock to sell before the next New York Toy Fair, February 12-14.

Disney Series 1 in abundance. Only Billy Crystal was missing (Mike Wazowski).

Pop! Disney Series 1
01 Mickey Mouse *
02 Buzz Lightyear (Tim Allen - Toy Story)
03 Woody * (Tom Hanks - Toy Story)
04 Sully * (John Goodman - Monsters Inc)
05 Mike Wasowski eyeball * (Billy Crystal - Monsters, Inc.)
06 Pinocchio
07 Jiminy Cricket
08 Snow White
09 Maleficent (Sleeping Beauty)
10 Tinkerbell (Peter Pan)
11 Cruella de Vil (101 Dalmatians)
12 Stitch (Lilo & Stitch)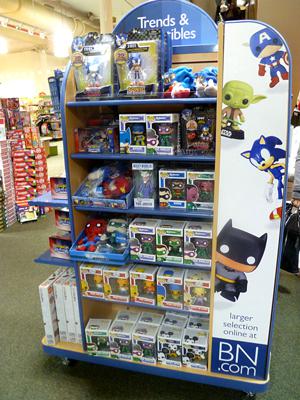 Batman and Marvel Pop! Heroes display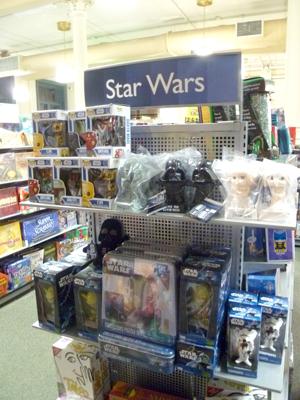 Wacky wobblers, wisecracks and Pop! Star Wars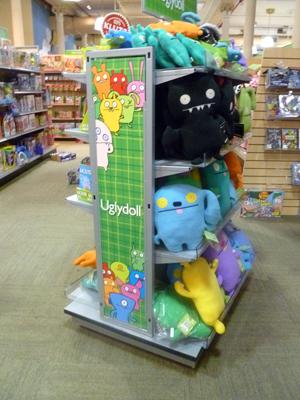 Ugly Dolls

NIBBLER 

Darth Vader and Batgirl will be added to my small collection.
I also got my first blind box from Kidrobot, and it turned out to be my favorite character! What are the odds of that? Well, the odds are printed right on the box: 2/16 for nibbler. 
Each one comes with accessories. The nibbler (who can consume large animals in a bite) has a whole chicken to eat in his food bowl.
The odds of getting the Devil Robot are very low (1/96) - they're selling for $115 - 365 on eBay today. Slurm and Sal are rares (?/??). The Buy it Now price for the complete set is $160. MSRP $9.95 each.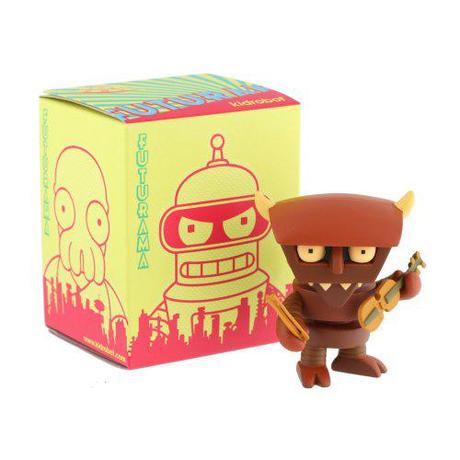 The graphic design of the boxes alone is worth the cash