The results to last week's Fun Online Poll were as follows:
If you were voting in the French presidential election:
Macron - the Europhile, Goldman Sachs-funded former Rothschilds banker and Socialist minister - 7%
LePen - the other one - 93%
I wasn't expecting the result to be nigh unanimous. Perhaps it's partly to do with how I phrased the question. Perhaps it wasn't value neutral enough?
It appears to me that Le Pen is rather more sympathetic towards Brexit, which is why I voted for her. Whether she will be better or worse for France (from the point of view of the French) than the Establishment candidate is not really my concern and I have no strong opinion either way.
A good turnout, thanks to all 129 who took part.
------------------------------
When I was agreeing with Mrs W what to do over the Bank Holiday, she said we're not pencilling in any trips for Monday as it always rains on a Bank Holiday Monday.
Sure enough, it was lovely at the weekend (when we did our outdoor stuff)  and is now chucking it down here.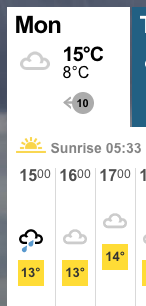 So that's this week's Fun Online Poll.
"Is it fair to say that it normally rains on a Bank Holiday Monday?"
Vote here or use the widget in the side bar.