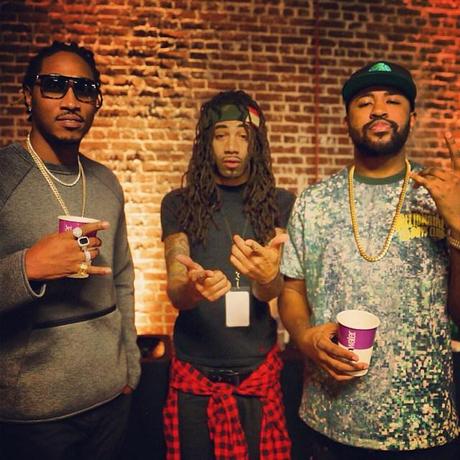 "If ESCO Didn't Love Me, He Would've Been A Drug Ship!!" ...
Well, If You Got A Chance To Listen To Future Hendrix's - "MONSTER" Mixtape & Some Of His Other Previous Projects, You Should Be Familiar With His DJ, DJ EscoMoe City. Their Friendship & Worth Ethic/Talent Speak For Itself! Unfortunately, Ecso Was Recently Locked Up For 56 Days, In A Dubai Prison For Marijuana Possession, After Killin' A Monster Performance With Future At Abu Dhabi Grand Prix, Last Year. Now That He's Finally Home, He Shares His Story & Experience With All Fans! (Check It Out Below!)..
DJ ESCO: "We had been on the European tour for a month and our last show was supposed to be in Amsterdam. My birthday was around that same time, so I was like, I'll wait to celebrate my birthday in Amsterdam. I had never been to Amsterdam, so wanted to go to a cafe and the red light district. Just typical tourist shit, you know? Then we got asked to do an extra show in Abu Dhabi. Once we left from Europe, we were gonna do this one show in Abu Dhabi, then go back to America. At the time, I wasn't really aware of the whole geographics, where everything was at. We're at the end of the Europe tour, and it's my birthday, and we're in Amsterdam, so we're gonna celebrate! I got the weed. But I'm not trying to walk around around with all this weed, you feel me? I was not intentionally trying to bring weed to Abu Dhabi. And if I would have known the rules and laws they got over there, I would have quadruple checked my bag and made sure there wasn't a piece of weed. I swear I would have."
So we land in Abu Dhabi and I'm just walkin' through the airport and I got everybody's bags. Probably, like, 20 or 30 bags. It's a whole buncha bags that we pushin'. And I didn't realize at the time that discrimination might be an issue, so I'm just walking around and thinking everything's normal.
"Our cameraman starts filming me walking in the airport, but apparently there's no cameras allowed in the airport. This is how this whole thing started-now we're causing a scene. I'm on my way out the door and a police officer stops the cameraman first. They're real mean. He's like, "No cameras in the airport! Delete the pictures!" He made our cameraman delete all the pictures right there on the spot. After he did that, I was like, Damn, he's gonna do something. Like, Shit, man, we got him riled up."..
(You Can Read DJ Esco's Full Story: On TheFader.com:.