My recent
obsession with floral pants
is well documented. I found and ordered floral pants from ASOS.  I got them for the bargain price of $35!  I was thrilled but my difficult to fit lower body doesn't always mean that my orders will work. I tried them on and YAAAY! they fit.  They were a little large in the waist, which always happens for me. If pants fits my hips and booty, then they are almost always too big in the waist. I just take them in a bit and they work well.  I know I'm not the only pants challenged girl out there.  We all have issues, shorter legs, longer torso, long legs, and on and on. We all know that pain. 
Today's challenge for Friday's Fancies was "Outfit Crush".  I decided to duplicate an outfit that I pinned to my
"Style I Should Try" board on Pinterest
,
Blair Eadie of Atlantic-Pacific's chic floral pants outfit
.  I couldn't wait to try it using my two new bargain purchases, floral pants from
ASOS
and striped top from
Talbots Outlet
.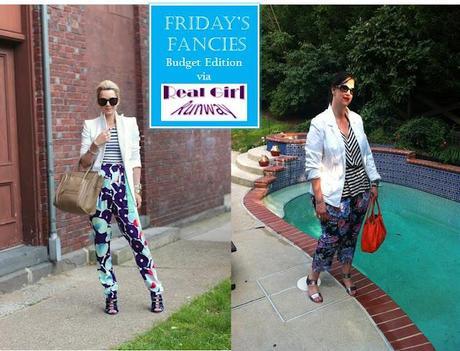 photo credit: Atlantic-Pacific
I have to confess that I have a huge style crush on Blair Eadie.  Plus, she's a Virginia girl (like me) who now lives in Cali (I wish).  What's not to love?  She's taken the polished style of lady like Virginia society and mixed it with the laid back cool of California.This outfit incorporates those elements, statement bag, crisp white jacket, chic updo and designer sunnies combined with the print mixing of stripes and floral with those amazing blue booties. I had to try my hand at recreating this amazing outfit.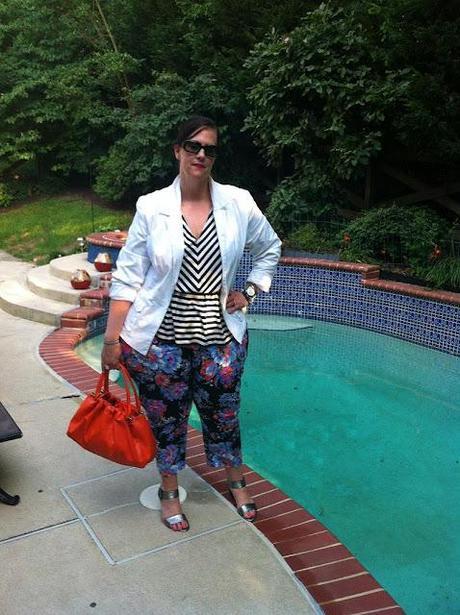 Jacket - Target (similar), Top - Talbots Outlet (similar), Pants - ASOS (no longer available more here), Bag - DSW, Shoes - Nine West via DSW, Sunglasses - Chanel, Bracelets - c/o Stella & Dot, ASOS and Vintage, Watch - Timex (gift), Earrings - Target, Rings - DIY and Engagement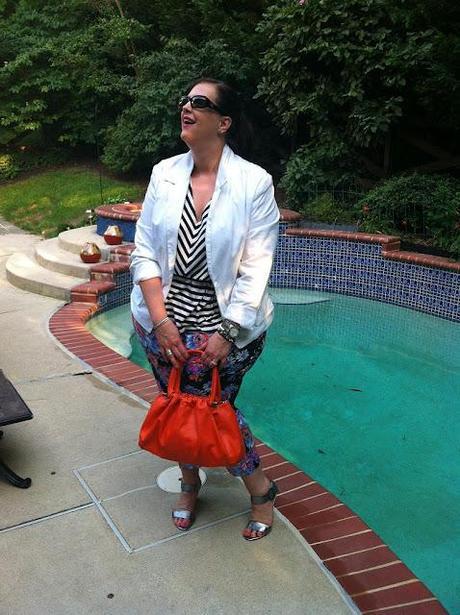 I'm sure you are wondering how this could possibly be a bargain outfit.  This is the breakdown. I purchased the pants for $35 on sale.  The top at the Talbots Outlet for $16 and the shoes at DSW with coupons and rewards for $20.  I have owned the jacket and the bag for many years, so I'm recycling.  The gorgeous Stella & Dot bracelets were a gift from my amazing stylist, Kristin Biggs. I made the ring myself when I took a metal casting class several years ago.  The watch, bangles and my engagement ring were gifts.  The only item I paid full price for was the sunglasses.  I've owned them for eight years and I wear them often so they've paid for themselves many times over (great cost per wear).  They are timeless.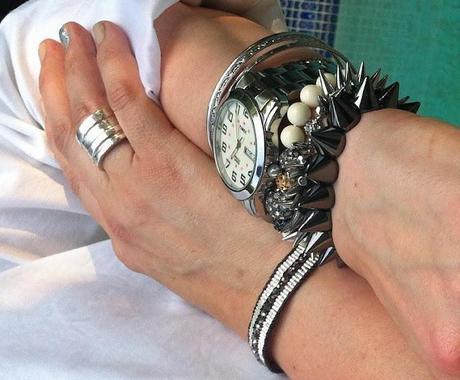 Check out the Renegade Cluster Bracelet, Revival Bracelet, and Toujours Bracelet c/o Stella & Dot
Who is your style crush or outfit crush?  I'd love to hear about your inspiration.
Happy Friday Real Girls!