Chilly weather always makes me look for warmer footwear. I pull out my closed toe shoes and boots. Lately fun booties have been on my radar.  I love their versatility. They can be worn with pants, dresses or skirt. You can dress them down or up. The Peri Ankle-Strap wedge booties by Elizabeth and James are fantastic. They have a simple line but the cut our and decorative ankle strap give them visual interest. I think they are the perfect fall/winter bootie.  However, the price tag is a bit more than I usually like to pay for shoes. I went in search of alternatives.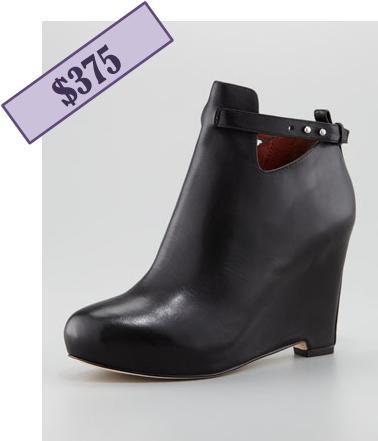 Elizabeth & James Peri Leather Ankle-Strap Bootie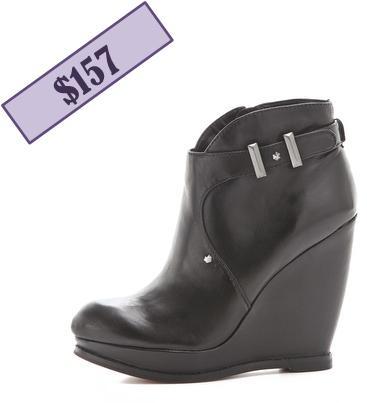 Sam Edelman Dalton Platform Wedge Bootie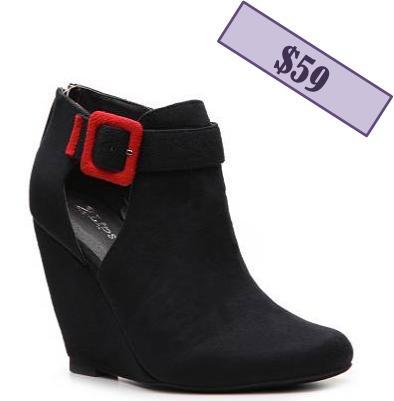 2 Lips Too Too Coupe Wedge Bootie
The Sam Edelman booties are good option but I'm not a huge fan of platforms.  My wobbly arthritic (I have RA.) ankles don't love platforms.  The 2 Lips wedge bootie is a frugal alternative to the Elizabeth & James wedge. The only drawback is the red buckle.  For $59 I could do a little fixer and dye the buckle black.  I could also spend a little money and take it to the shoe repair shop and swap the red buckle for a silver one.  This might up my cost to about  $100.  That is still much less than the $375 price tag of the E&J booties. Which ones do you like best?
I'll be doing some wedding planning this weekend.  Wish me luck, we are in search of economical bridesmaid dresses and we're looking at rentals as well.
HAPPY FRIDAY REAL GIRLS!