Today's Frugal Fashion Friday is really Frugal Beauty Friday. Isn't your beauty routine part of your overall fashion look? I've told you many times about my obsession with trying new beauty products. I decided this weekend that I need to do a clean out soon. My bathroom is full of partially used products. A purge is in order. There are however, products that I use to the very end. They are my tried and true products that if I run out of them, panic may set in. I have been known to cut a bottle open or scrape out the last bit from a tube.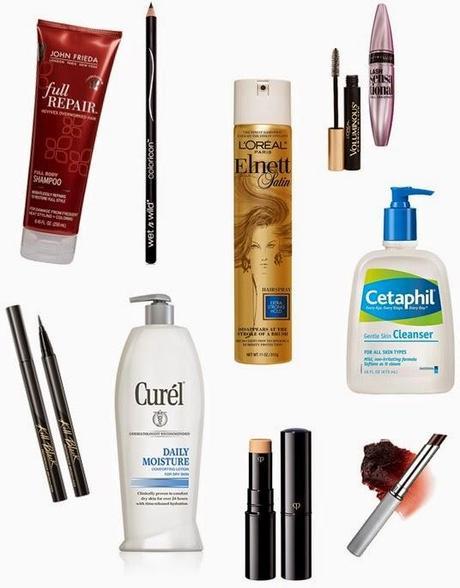 clockwise from top left - 1 / 2 / 3 / 4 / 5 / 6 / 7 / 8 / 9

John Frieda Full Repair Shampoo

- My fine hair is dry but because it's so fine, I have to be careful with conditioner. This shampoo has been a lifesaver, it moisturizes my hair without weighing it down, before I even condition.

Wet n' Wild Brow & Eye Liner

- I have thin brows. I've tried lots of options but this pencil is my best tool. I lightly run it across my brows so that the hairs pick up the pigment and then smudge it with a small brush. It helps to keep my brows from looking drawn on or cakey. Bonus it comes in four different shades of brown and black and it only costs, 99 cents!

L'Oreal Elnet Satin Hairspray

- This is the first hairspray I've ever used that doesn't make my hair feel like a helmet. It brushes out easily for restyling but miraculously it has a strong hold. It rarely goes on sale but you can find $3 off coupons in the paper every few months.

Drugstore Mascara

- Right now I'm loving Maybelline Lash Sensational mascara. You may have seen my post on instagram. Frankly, I'm not loyal to one mascara but there is one sure thing, I always grab it at the drugstore. I've tried expensive mascaras but have never found any that are worth the price. My favorites have always come from the drugstore. Plus if you don't like it, take it back!

CVS, Duane Reed/Walgreens, and Ulta all have great return policies. Cetaphil Gentle Skin Cleanser

- This cleanser is gentle and thorough. It will take off stubborn make up but isn't harsh on my sensitive skin. It's also great for your body if you have an irritations or dry patches.

Clinique Black Honey Almost Lipstick

- This lipstick has been called the universal shade and praised by makeup artists for looking great on everyone. I just know it looks good on me, no matter my skin tone (winter or summer). It's been a never fail beauty bag staple since I bought my first tube in the mid 90's.

Clé de Peau Beauté

Concealer

- If I was only allowed to keep one items in my makeup arsenal, this would be it. I have chronic dark circles and this concealer is my holy grail. Everyone I know says it's way too expensive. For me, it's worth every penny. One tube lasts me almost a year. I only use a tiny bit each day. The coverage is amazing.

Curel Daily Moisture Lotion

- My favorite lotion. The scent isn't heavy. It's a great inexpensive moisturizer and it's never greasy. I always have a back up bottle ready.


Clio Kill Black Waterproof Eyeliner

- This liner is a new favorite. As you know, a nude eye and black liner are my every day eye staples. It's a classic look that I love. I've tried tons of eyeliners, pencils, gel, and brushes. I like pen liners the most because of their precision. I read about Clio Kill Black a month or so ago. A beauty editor said she can't live without it for her signature cat eye. I tracked it down on Amazon and have used it every day since. My first pen is going strong but I already ordered a second one, to ensure I don't run out.   Some of these items may seem on the pricey side. For me, it's worth it to pay a bit more for some items because for me there is no substitute. I know I will use every last drop. It won't be another half used tube in my drawer or a product that I'm tired of using. I believe using a product to the last drop is a frugal trait and economical. I'm sure I've spent thousands over the years on products that I never finished using. In my efforts to streamline my life a little, these tried and true items are rising to the top. I will still look for the latest and greatest but these staples will always be by my side. 

What are your good to the last drop beauty items? 

Happy Friday Real Girls!