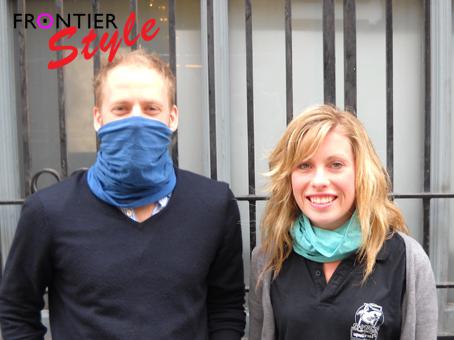 Craghoppers sent us a lovely bundle of clothing for our Care Package competition recently. So for this first Frontier Style tip we are going to showcase one of the things the winning project will find in their prize and an item that you might be interested in purchasing yourselves.
This tube scarf is pretty much perfect on any project and can be worn in a number of ways: round the neck, as a bandana or in the manner of a Ninja as demonstrated by Paul here.
The scarves are made from the NOSIlife material which acts as a permanent insect repellent, making it extra useful in the night-time. It is extremely lightweight and is designed to evaporate any body moisture, perfect for those long hikes.
We would highly recommend getting one of these scarves for you travels as a very simple but highly useful bit of apparel. They come in a range of colours…and the girls one's have nice patterns…boys who like nice patterns could get a girls one maybe.