As a new feature on the Frontier blog, we will be speaking to people around the world working in areas that might induce a little employment envy. So if you're stuck in an office, or ready for a change, these profiles could be just the inspiration you need to pursue that perfect job you've always dreamt of. Today we speak to Mauricio Ugarte-Lewis, a field biologist specializing in ornithology in Peru.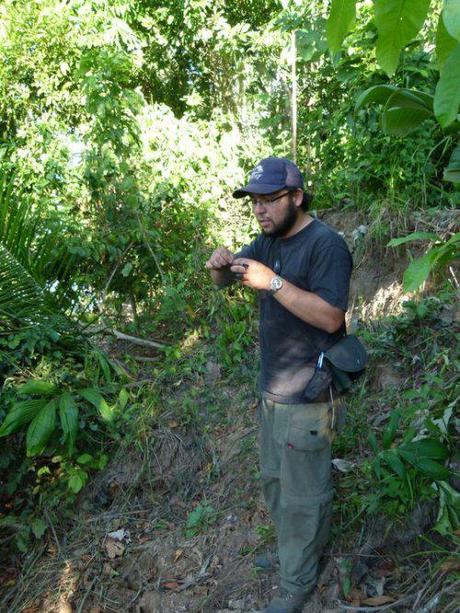 Frontier: What does your job involve?

Mauricio: I am a field biologist specializing in ornithology, which means I study wild birds. I perform two main types of work: firstly the purely scientific work where I do taxonomic and bio-geographic research or biological inventories in knowledge gap areas. Secondly, the technical work as a consultant for developing and investment projects such as mining, gas extraction, oil extraction, tourism, etc.

Frontier: Where does this work take place?

Mauricio: Both types of work take place in remote areas, mainly in Peru. These are areas where little or nothing is known about the biodiversity, such as the eastern side of the Andes in the mountain and lowland rainforest. Peru is one of the most diverse countries (1st or 2nd) for birds, with around 1800 species recorded and the rate of discovery of new species is very high at approximately one or two every year. It is surprising that such a high rate of discovery could still be possible. There is still a lot waiting to be discovered and studied on birds and biodiversity in general.

Frontier: How long might an expedition take?

Mauricio: The field work takes a lot of time, usually weeks or months, and since the places are really far from developed areas, the logistics are very complicated. In most of the mountain and lowland forests the only way to reach these places is by helicopter. They drop us in the middle of a sea of vegetation with all the supplies we might need, like water, food, shelter, etc. The expeditions usually involve a lot of walking to get to the ideal locations, for which we use pack animals such as donkeys, mules or llamas to carry all the equipment.
In some places where I work in Peru, there are tribes of indigenous people, some who have been previously contacted, and some who have not. Dealing with people that can only speak their native language (in Peru there are around 85 different native languages) and with completely different cultures is not an easy thing, and most of the time we have to go to these places with bilingual natives who serve us as guides and translators. In the specific case of the uncontacted people, we're not allowed to approach them. First of all because it can be very dangerous; they can be aggressive in defending their territories. Secondly, we can spread a lot of diseases to which they are not immune; a common illness like the flu could be a potential killer for them.
Frontier: Which methods do you use to carry out your research?
Mauricio: Mist-netting is one of the methods ornithologists use to study birds. The advantage of this method over others is the capacity to catch the birds and handle them. Banding is also possible once the bird has been caught. These techniques enable an ornithologist to gather a lot of information, like age, sex, plumage and moulting characteristics, demography parameters and some other important features about bird populations. If you also have the chance to recapture or sight a banded bird at a later date you will know the dispersion of that individual as well as its habitat preference, behaviour, ecology and some other information. Both are very important techniques in the study of birds.
Frontier: How did you get into this job?

Mauricio: I started as a novice birdwatcher when I was 12 years old; my father used to take me and my brothers to walk in the countryside around my hometown of Arequipa. On those trips I used to spot animals, mainly birds and curiosity led me to look for more information. At home my dad had a magnificent old bird guide called 'Aves del Departamiento de Lima', a book written in 1964 by a German lady called Maria Koepcke, who knew my grandfather and she sent this book to him. Neither my father nor my grandfather ever used the guide since they are an artist and historian respectively, so basically the book was there waiting for me to pick it up.
Later a cousin of mine, Joaquin, began studying biology, and he used to take me as an assistant on his field trips for university assignments. I was 13 at that time. Since that moment I never stopped studying and being interested in birds
Frontier: What are the most important conservation issues for wildlife in Peru at the moment?
Mauricio: The main cause of declining bird populations is habitat loss. The rate at which important areas for birds are transformed by humans is overwhelming. This is the main cause of bird diversity loss in the world; 13% of all the bird species are now threatened, and Peru has the third highest number of these threatened species anywhere in the world. Agriculture and urbanization are the main causes of changes in land use here. Peru is a country with a lot of poverty and big internal migration rate due to the terrorism of the last 20 years. Issues such as biological diversity are very difficult to bring attention to in that they can sometimes sound ridiculous when compared to major atrocities. That's a big challenge conservation biologists have to deal with.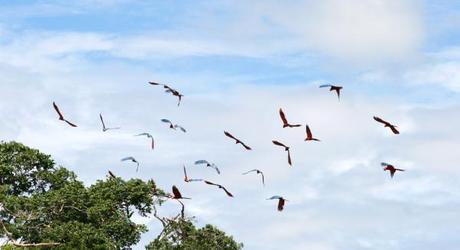 Photo courtesy of pendens proditor
Frontier: Does your job involve travel to other countries?
Mauricio: My work with birds has taken me to pretty much all of South America, some of Central America and parts of North America. I hope to travel to other parts of the world soon, with Africa and Europe being my main interests.
Frontier: What is the best thing about your job?
Mauricio: The capacity to see things and places very few humans have ever witnessed. The chance to discover completely new things for human knowledge is also priceless.
Frontier: What is your favourite bird species?
Mauricio: I really don't have one favourite bird species. My favourite bird is the bird I am studying at any one moment. It really depends on what I am doing.
Frontier: What is the rarest bird you have seen in the wild?
Mauricio: I had the chance to see several new species to science, birds that don't even have a name yet. In some cases I am going to be the author or one of the authors of some of those birds.
Frontier: What is the most amazing animal you have seen in the wild?
Mauricio: I always remember when I saw a male marvellous spatuletail, a very rare endemic Peruvian hummingbird. For a lot of birdwatchers and scientists it is the most beautiful hummingbird in the world. I saw this male displaying in front of two females; he was showing his gorget and upturning his beautiful spatules at the end of those long tail feathers, attracting and seducing these two girls. That was a unique moment.
 
Frontier: What advice would you give to anyone interested in birds who would like to work with them in the future?

Mauricio: Field ornithology is not an easy job. It demands a lot of intellectual and physical effort. For example, sometimes you have to sleep in tents for months, cope with the unpredictable weather, deal with people with completely different cultures, face real danger, solitude, hunger and often witness extreme poverty and social injustice against natives or rural farmers. You will also see the destruction of beautiful landscapes like Peru. But despite all these things, the rewards and opportunities you have to learn and discover are much more important than all the sacrifices you face. You will find it totally worth it.
Frontier: What is your favourite part of Peru/South America/World?
Mauricio: So far:
Peru - pretty much all of my beautiful country, but Laguna Llanganuco is one of my favourites.
South America - Peru and Cordoba in Argentina
World - besides the places I have named, Oregon in the USA. But it would be pretentious to say something definitive knowing there is so much to know and very little known, at least for me.

By Alex Prior