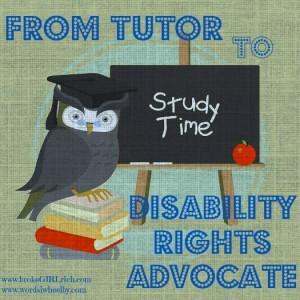 Usually, you'll find my writing on disability-centric websites. But I'm changing things up a little today! I had the opportunity to write a guest post for a blog called brokeGIRLrich. The site, written by an awesome blogger named Mel, chronicles her budgets, finance, and savvy money management adventures. Personally, I'm a big fan. So when I heard that she planned to begin a series on the benefits of making smart choices in student jobs during college, I thought it sounded like a perfect fit for me to write about.
As a recent graduate, I feel I owe much of my budding career success to the jobs I held in school. The work I did taught me not only about money, but also about who I am as a person. Of course, that means I still wrote about disability – just from a different perspective than some of my usual posts. Check out my post, and if you know someone who's in the pre-, mid-, or post-college "I don't know what to do with my life" phase, share it with them to let them know they're not alone! Career paths and desires are a journey. And since mine is just beginning, I hope you'll stick around for the ride!
Click here to read:
From Tutor to Disability Rights Advocate
Image Credit: brokeGIRLrich
Like what you read? Subscribe for weekly updates and be sure to confirm your e-mail!