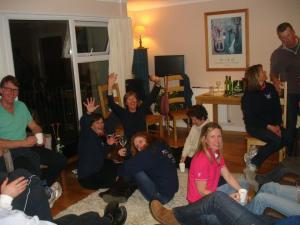 Monmouth RC taking race preparation seriously
All work and no play makes Jack a dull boy, so once a year Monmouth RC goes off on a jolly. Last year we headed to Brugge to row in the rain, eat chocolate, climb lamp posts and generally make whoopee. This year it was Dartmouth's turn to host the boisterous crowd that is the Monmouth Massive.
The Head of the Dart sounded like it could be a lot of fun – and so it proved to be. 15k (ahem – more on that later) from Dartmouth (on the south Devon coast) up the river Dart to Totnes, along a stunning route with just the odd bend to deal with (no one really looked too closely at the map at first…) And the prospect of a weekend away with the gang. What's not to love?
The most important thing to understand is that for Monmouth rowers, race preparation is key. The night before, having checked into our holiday chalets, we ate a sensibly balanced dinner of tofu, vegetables and brown rice, washed down with green tea and performed some gentle stretches before retiring for an early night, as the photo shows. Oh, wait…
The next morning, those steering the boats, having realised exactly what was involved (ferries, concrete buoys, paddle-boards, hairpin bends) were looking a bit paler than everyone else, but the Monmouth ladies were all beautifully accessorised with bags by House of Campion. After 53 trips to the loo and industrial quantities of jelly babies, Monmouth took to the water with a mixed 8, a ladies' quad in fabulous matching stripy socks, an intrepid ladies' double and a men's coxless 4 that was then going to turn back and do it all again in the opposite direction.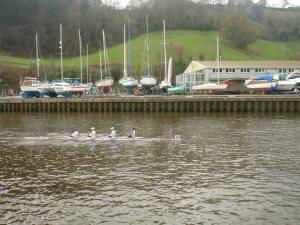 Looking good - and check out those socks!
I think we can say we did ourselves proud. The mixed 8 missed out only to a crew with a higher ratio of men to women (and, it has to be said, young enough to be our children). The women's quad – looking fab in this picture – put in an impressive time, too, despite parking briefly on a buoy (luckily not the giant concrete one). The double claimed to find it "quite easy" and successfully dodged the ferry to make it back in one piece. And the men proudly won the whole thing. Beaten only by three eights who were all disqualified for taking an illegal shortcut, they were proclaimed Head of the Dart. Go Monmouth!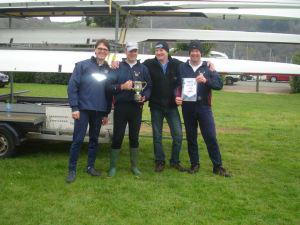 The victorious men's 4- complete with trophy and radioactive splashtops
Our only disappointment was that the race turned out to be 13k rather than the 15 we were expecting, so just as we were gearing up for the final push, the bell rang and we'd finished with a little still left in the tank. Ah well, we'll just have to come back next year to try again.
As for the après-row, it was noisy, it was fun, it was sunny and it was over far too soon. Only the imminent onset of scurvy was enough to tear us away from the lovely beach and blue skies of Dartmouth.
Thanks to all those who coxed, steered, towed, organised, drove, cooked breakfast and entertained. And Dartmouth, be warned. We'll be back!