With great joy I herewith – once more – make my readers and the coffee world aware of a unique way to handle coffee – physically, as well as based on intention.
We could thank a Lady who several decades ago in the beautiful East German city of Dresden, was looking for ways to get rid of the unpleasant feel of coffee grounds in the mouth. The best thing she could find to solve her problem was the paper her son used in school. This gave birth to what we know today as paper coffee filters and inducted Melitta Benz into the Coffee Hall of Fame.
One hundred years later, another Lady has very different reasons to use Paper Coffee Filters. Carol Ann Rice Rafferty intends to achieve mental and physical health through the design and use of dresses made out of paper coffee filters. The importance of her work is now being honored through the inclusion in a new book by Gene McHugh. In "500 Paper Objects: New Directions in Paper Art", McHugh has included Carol Ann's "Dressing Gown for Feminine Warrior #2".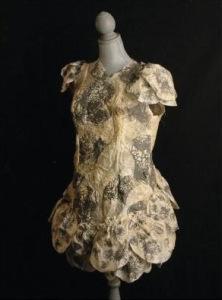 "Dressing Gown for Feminine Warrior #2″ by Carol Ann Rice Rafferty
"My wearable art garment showcases the juxtaposing of tension between weighty subject matter verses feather light materials. It's made as "Body Armor". I created the fabric from used coffee filters silk screened with images of aggressive cancer cells.  The filters are sewn together then constructed into a wearable garment complete with a zipper."

"After I was diagnosed with breast cancer I began researching art pertaining to breast cancer as subject.  To my dismay I could not locate art created by the artist herself.  The art I could locate was always an outsiders response a friend or a loved one who suffered or died from breast cancer."

"It is important to me to create art as a personal response to my experience with breast cancer."
Carol Ann Rice Rafferty
.