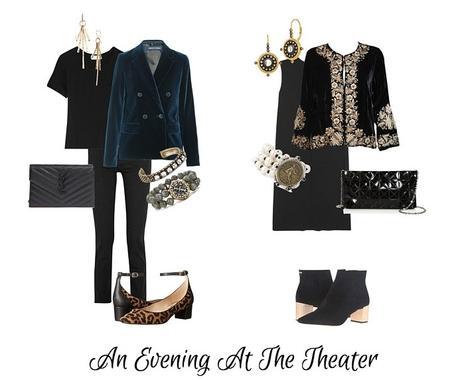 While style has certainly become more globalized over the years, there are still some regional "spins." Earlier this year when I met up with Josephine (Chic At Any Age) in London, we talked about some of the ways that London style differs from that of Southern California. We thought it might be fun to do a series comparing how we'd dress for certain events or activities in each of our respective cities. For this installment, we're going to the theater! (And in upcoming posts, we'll cover an art gallery opening and dinner, as well as a cocktail party.)
People sometimes don't think of Los Angeles as a "theater town." While it's true we don't have New York's Broadway or London's West End, there actually are a lot of large and small theater companies scattered over the area, and theater lovers can always find something interesting. We also have several excellent orchestras and symphonies in the area, the LA Opera, and dozens of live concert venues.
Shown Above
Left: earrings | jacket | tee | bracelet | bracelet | bag | jeans | shoes
Right: earrings | jacket | dress | bracelet | bag | boots
Stage Presence
LA is known for being a "You Do You" kind of town, style-wise. I've seen people in jeans at the opera, and in cocktail attire at a grungy comedy improv. But even when we Angelenos are dressed up, there's usually a certain ease to what we're wearing; you'll rarely see anything fussy or stiffly formal. Matchy-matchy is right out. As with Paris, looking as if you tried too hard is avoided. Black or dark wash jeans dressed up with a jacket and heels are right in our wheelhouse. And yes, we do tend to wear a lot of black here.
For going to the theater or any other live performances, I always keep the following in mind:
Bring a smallish bag…it will usually have to sit on your lap
Avoid bulky layers if you can; unless there's a coat check (not always a given here in LA…) you'll be holding your outerwear during the performance.
During warmer months some theaters or performance halls can be quite chilly as they tend to crank the a/c. I'll often bring a scarf or wrap.
I'll usually wear closed-toe shoes, to avoid having my toes stepped on as people navigate past in the row.
Pop over to Chic At Any Age to see Josephine's take on London theater dressing.
Have you seen any good theater productions lately?
Theater Company…

Turn on your JavaScript to view content