Ritchie Jensen, a friend and former colleague at the Pacific Northwest National Laboratory, has a home in Lincoln City, Oregon. This is his description of experiencing the September 2020 coastal wildfires.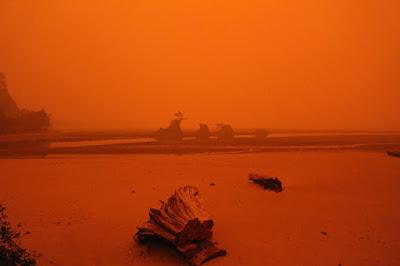 Beach at Lincoln City

Although I didn't know it at the time, my extra-planetary trip was set in motion at 7:30 pm on Monday, September 7, 2020.  At that moment, the winds at my home in Lincoln City shifted 180-degrees and temperatures suddenly jumped from 60 to 80 degrees.  The air began to fill with smoke.  By midnight, strong winds were uprooting trees throughout the area.  Half past 1 am on Tuesday, electric power was lost.  I awoke that morning to a bright red sky.  Looking out my west-facing bedroom window there appeared to be a red sunset.  What on earth was going on? "The end of days" popped momentarily into my mind.
That afternoon, after more than 12-hours without power my wife and I headed to Newport to buy batteries, lanterns and flashlights.  On our arrival, the sky was a jaw-dropping orange.  Outdoors everything had an eerie orange glow to it.  It felt like I was on another planet.  Mars came to mind.  Did I somehow drive through a worm hole and end up in a parallel universe?  On the curvy coastal highway (Hwy101) drive back, I had to try hard not to be distracted by the otherworldly scenery, lest I drive off a cliff.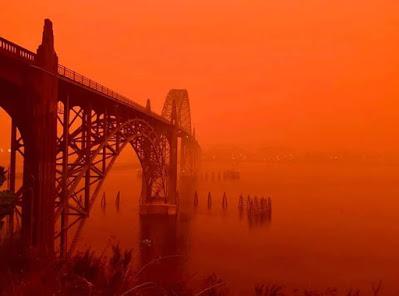 Yaquina Bay Bridge, Newport
 On Wednesday, the strange scenery was gone, replaced with thick white smoke that blocked out the sun.  A slight layer of ash was building on surfaces.  The amazement felt the day before was now replaced with fear and anxiety.  Parts of Lincoln City were being evacuated due to the approaching
Echo Mountain fire
and we were told to prepare to evacuate.  Two nearby homes had sprinklers going atop their roofs. The town was completely shut down; no stores, restaurants, or gas stations were open.  Sirens were constantly blaring. I was back on earth again.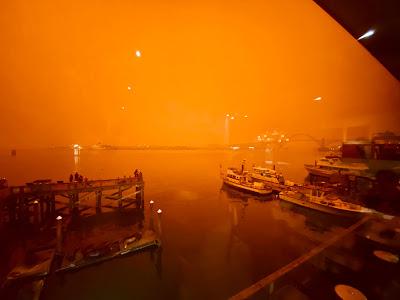 Newport Bay

Around 7 pm, electricity went out for a second 24-hour period. One doesn't realize just how much we take electricity for granted, until it's gone.  So many things that make life comfortable vanish in an instance.  No more lights, TV, internet, microwave, etc.  Just keeping clean is a chore.  I would improvise by washing with a bucket of still warm hot-tub water and then gingerly shower off with cold tap water, praying to avoid cardiac arrest. This, incidentally, is a disadvantage of having a tank-less water heater. 
Thursday morning the wind shifted back to normal and an ocean breeze dropped the temperature 25-degrees and replaced the smoke with fog.  The wind was also tending to push the fire away from Lincoln City.  Nonetheless, a Level-one -- prepare to evacuate -- evacuation status remained in place (Level-two is prepare to leave at a moment's notice, and Level-three is get the hell outta here, now!).
Friday, the evacuation notice was lifted and rain was in the forecast. Thank goodness.  Despite feeling like I dodged a bullet, the fire continued to burn, threatening many others.
In sum, I had the mistaken impression that the Oregon coast region would benefit from global warming.  The summer had been wonderfully pleasant with tons of sunshine and almost no rain.  I was smug in ignoring warnings from scientists of increasing fire risk from drying out coastal forests.  No more.  The exact number of homes lost to fire is unknown, but likely more than 100.
______________________________________________
The official Lincoln City website stated that, "High winds, along with hot, dry conditions resulted in multiple fires igniting in Lincoln County. This has created power outages, road closures, and evacuations. The most immediate threat to Lincoln City is the Echo Mountain Fire Complex." The fire was 45% contained as of September 20th.

If you are interested in making a donation to help with recovery from the fire, here are a list of voluntary organizations active in disaster relief efforts: https://orvoad.communityos.org/cms/