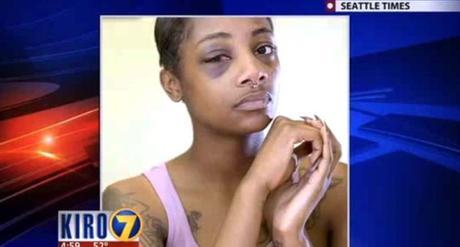 Durden-Bosley
From
MyNorthwest.com
(by Jason Rantz):
A Seattle woman has been rewarded $195,000 in a legal settlement with the City of Seattle for physically assaulting a Seattle Police Department officer.
In June 2014, an intoxicated Miyekko Durden-Bosley was irritated she was being arrested on suspicion of assaulting a family member. She was verbally abusing Officer Adley Shepherd as he was placing her in the back of a police cruiser.
At one point, while handcuffed, she kicked him in the face. His response? One swift and effective punch to her face. Consequently, she stopped her assault.
The interaction between Durden-Bosley and Shepard was recorded. The video can be seen here (warning: strong language).
She sued after suffering a fractured orbit of her right eye. Shepherd, while stunned by the kick, did not suffer any serious injuries.
Federal prosecutors reviewed the case and said they would not charge the officer. Likewise with King County Prosecutor Dan Satterberg. His office, the Seattle Times reports, concluded that he "acted professionally and with restraint up to the point where he was kicked in the head by the suspect as she was being placed in the patrol car."
But she sued because it's easy to find a lawyer who will defend an intoxicated woman who feels she's a victim after physically assaulting a cop. And now, the City of Seattle has settled, rewarding her with $195,000 for kicking a cop in the jaw, so she'll drop the lawsuit.
According to the Seattle Police Officers Guild, it's not even "the first time she assaulted a police officer or resisted arrest."
"Very disappointed that the city has chosen to settle this lawsuit for such an exorbitant amount of money, in light of the fact this woman feloniously assaulted one of my members and has not been held accountable by any investigation or filing of felony charges against her," Detective Ron Smith, president of the Seattle Police Officers Guild, told me. "Kicking a Seattle police officer in the head is not acceptable whether you are a male suspect or a female suspect. This sends the message that crime pays."
So why the settlement? It was likely cheaper than fighting the case and risking a court loss. But it's maddening to realize there are little consequences to assaulting the people who put their lives on the line every day they put on their uniform.
"Her hope is that he won't have the opportunity to punch any more handcuffed girls," her attorney Tomas Gahan told the Seattle PI. "That's our hope too." No word on whether he hopes his client won't have the opportunity to physically assault an officer again.
I won't lie by pretending I wasn't shocked by the punch to her face. He is much bigger than she is. But she made the choice to put the officer's well-being on the line by kicking him in the face. And when you decide to try to hurt an officer, you should be willing to live with the aftermath. Is the cop supposed to get physically assaulted on the job?
There should be consequences for that kind of behavior. But because we live in a city filled with anti-cop activists, she's seen as the hero standing up to police brutality (by assaulting a cop).
DCG