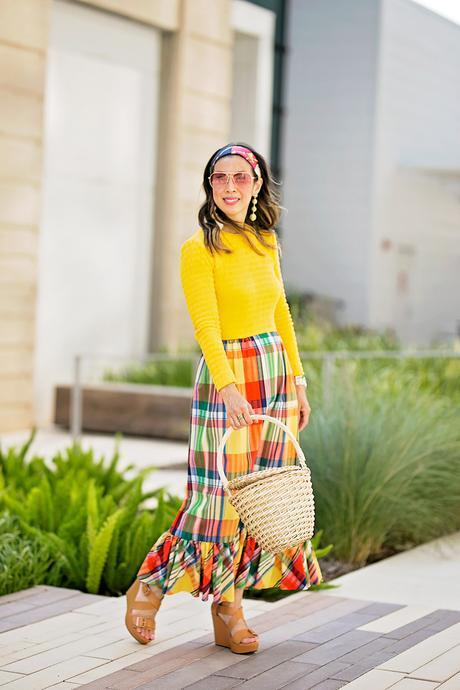 For those of you that just tuned in, From Grandma with Love is a twice monthly series that is one of my faves! I'm lucky to be the recipient of my Grandmother-in-law's beautiful wardrobe. She owned so many unique pieces, and I've had the MOST FABULOUS time styling it on the blog. It's a win-win for me because I ADORE vintage and a fun excuse to wear it! This blog series will be every other Friday (alternating with our Chic at Every Age posts).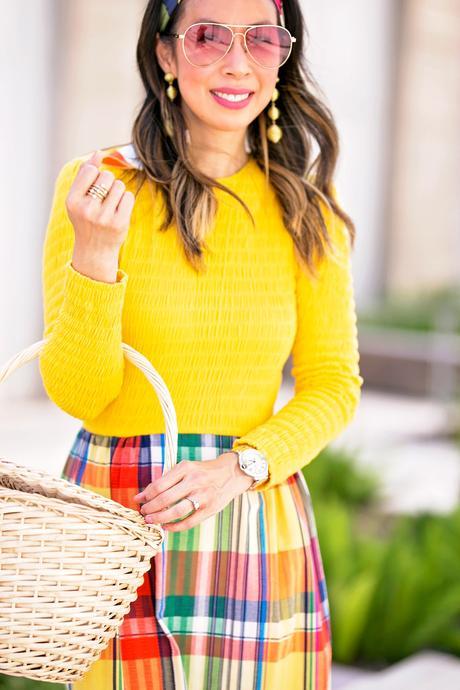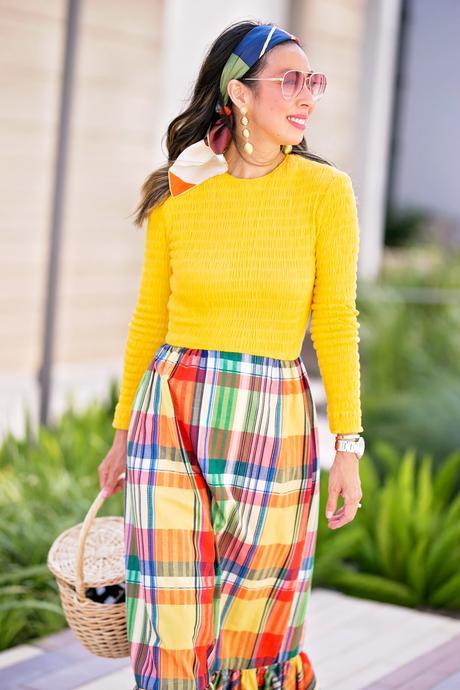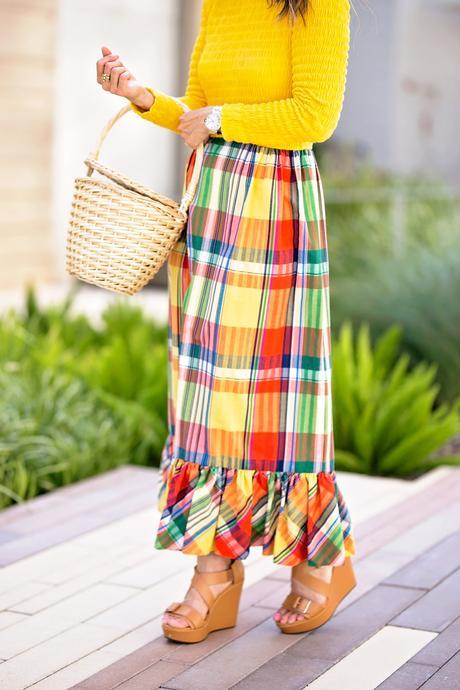 // Photography by Angie Garcia //
This dress is just SO BRIGHT! The yellow and plaid are really in your face! It's always GO BIG or GO HOME for me so I went all in with a retro vibe wearing this dress. It IS possible that I got a lot of looks when we were shooting this outfit. I don't know if it's because I look like I'm in a costume or just because of the dress color.
Although yellow isn't my favorite color, it's a major color player this Fall so I am trying to be more accepting of the sunshine hue! This is a very summery dress but could be transitioned to Fall with boots and a moto jacket or faux fur coat.
Channeling my inner Jane Birkin, I tied a rainbow scarf around my head, wore drop earrings, and grabbed a basket bag. The rose hue aviators add to the retro look. I belong in another decade. (In fact, I found a picture of Jane Birkin in yellow and plaid on Pinterest!)
THE STYLE Rx: Shades of yellow are on trend for the upcoming season. Think citrine, mustard, and gold. Be on the lookout for this hue to make a big impact. Let the color stand out and wear it with neutral accessories.
That's part of the fun when wearing these vintage pieces. You are transported to another era for just a moment. I love to daydream about it and wonder how she wore all of these pieces and for what occasion. I'll have to ask my MIL next time I see her!
Happy Friday Loves. Hope you had a wonderful week. Little M is adjusting to pre-K but tends to be a grouch in the evening since he skips naps. Baby girl has been waking up at night again - never know if it's her ear, or teething, or gas! My friend is starting chemo so please pray for her. Praying that all are safe in the path of Hurricane Irma and Jose. Mother Nature is so beautiful and powerful but can be so destructive.

// YOLO for yellow //

JOIN ME AT POLISHED FORT WORTH //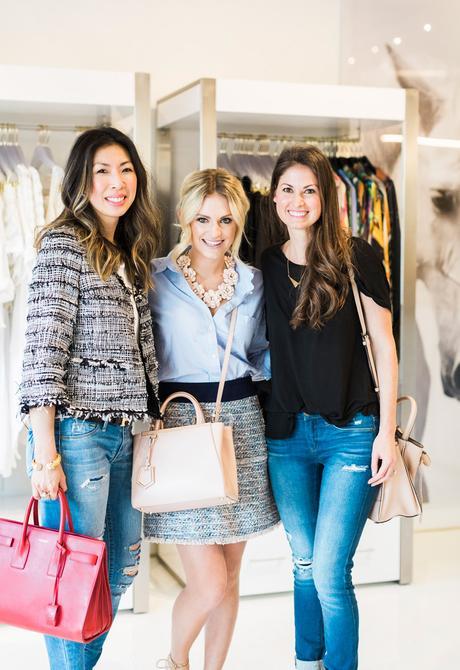 If you are in the DFW, I will be speaking as part of a panel alongside Katey of Chronicles of Frivolity and Kara of Nutrition by Kara (pictured above) at a Polished Fort Worth luncheon. We will be chatting about faith, how it affects our work, and how we attempt to balance our life and business.
Polished is a wonderful organization who spreads the message that faith and careers can go hand in hand. I've walked in their fashion show the past three years!
The luncheon is on Thursday, September 14th from 12-1pm at 5th & Carrol Events (above Blue Mesa). You can purchase tickets at http://www.polishedonline.org/ftworth. Hope to see you there!