This post contains affiliate links which means I receive a commission if you make a purchase using the links in this post.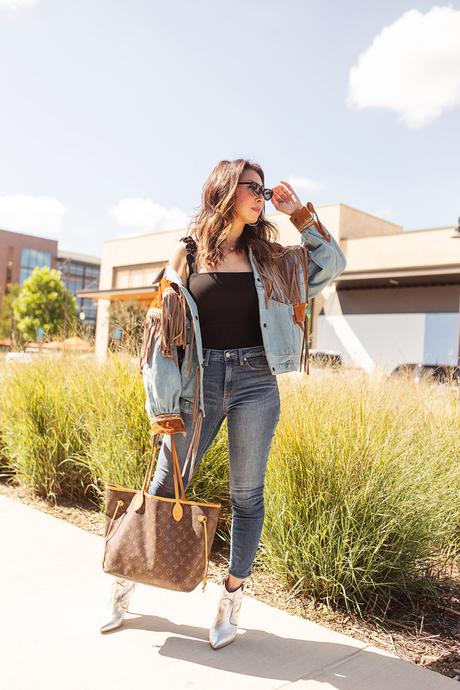 For those of you that just tuned in, From Grandma with Love is a twice-monthly series that is one of my faves! I'm lucky to be the recipient of my Grandmother-in-law's beautiful wardrobe. She owned so many unique pieces, and I've had the MOST FABULOUS time styling it on the blog. It's a win-win for me because I ADORE vintage and a fun excuse to wear it!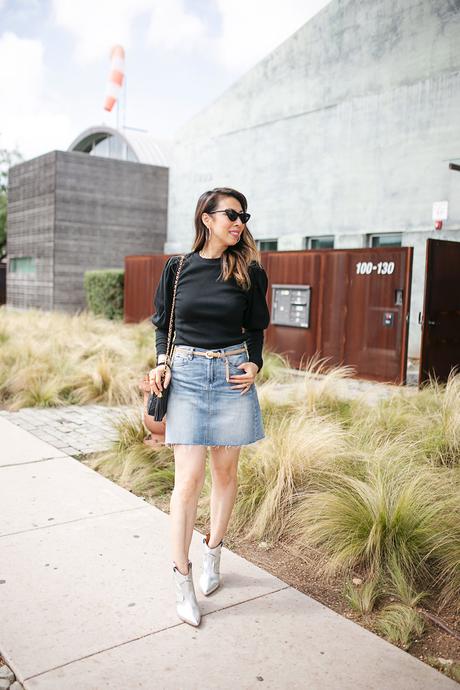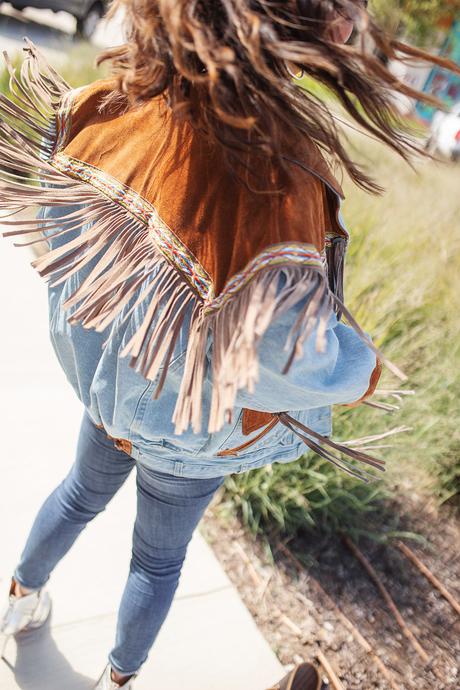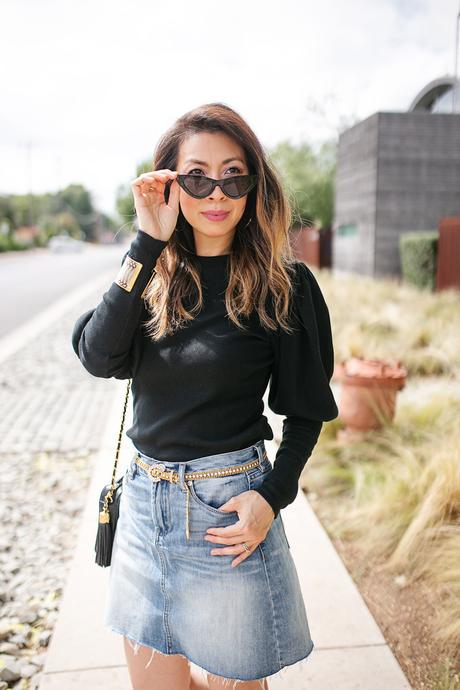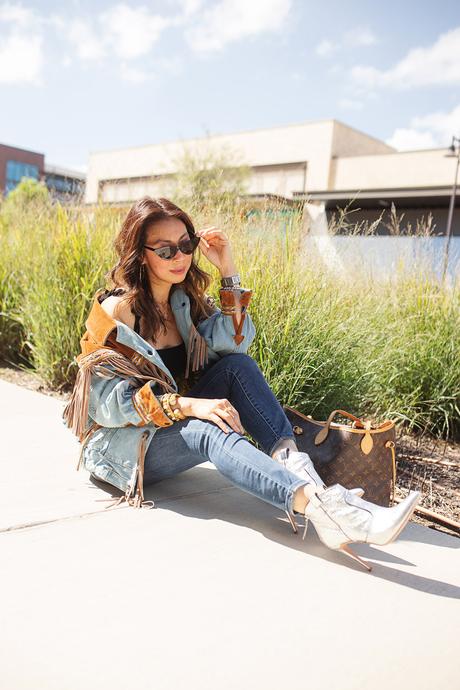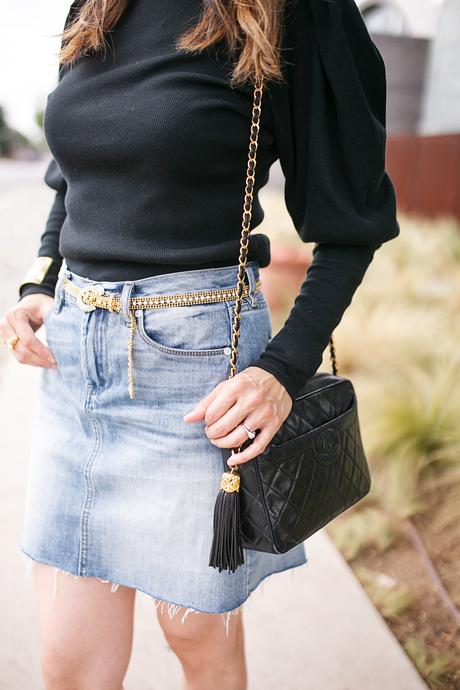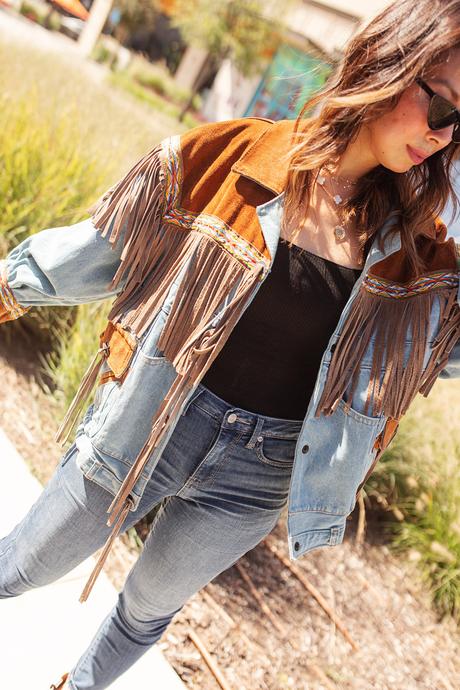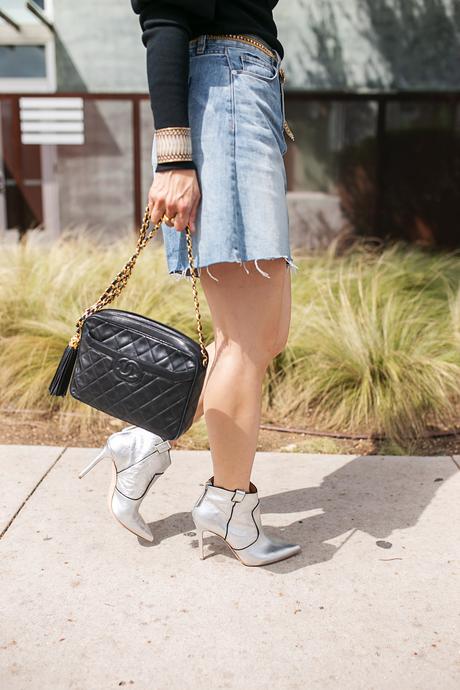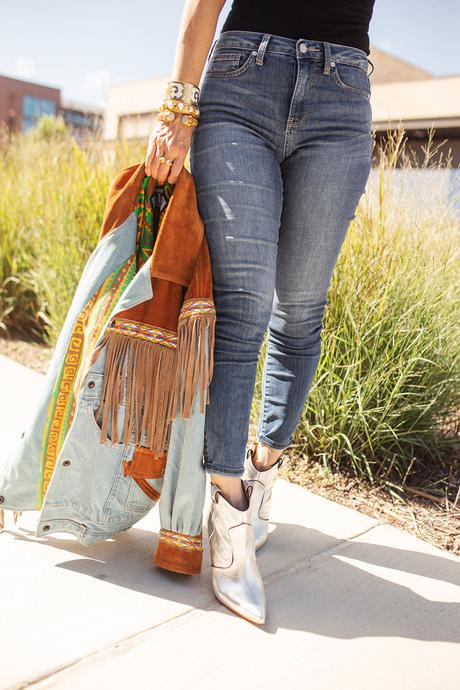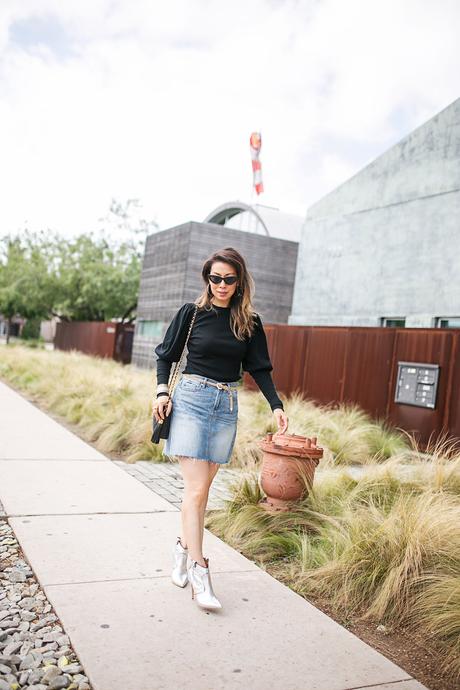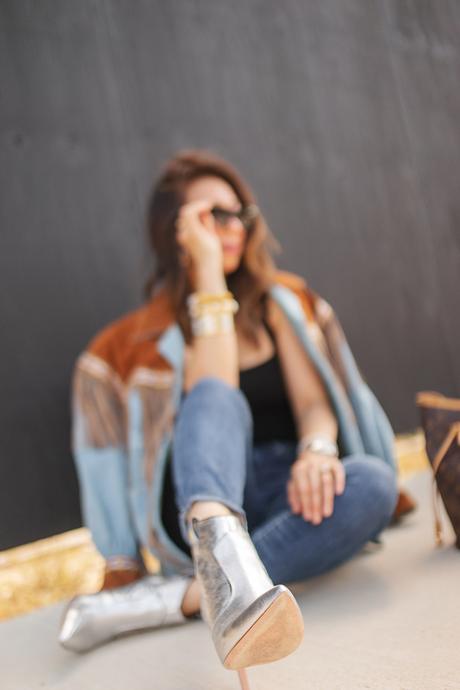 // Photography by Angie Garcia //Have you seen it? The Western trend is IN, so all of us in Texas are totally trending! LOL! I have been DYING to wear this fringe denim jacket, and now it's back in style to wear something so eighties and possibly right out of the original Dallas Show! In this post, I'm sharing two looks to show y'all how to wear the Western Trend.
THE STYLE Rx: Give the Western Trend a Yeehaw! You can go ALL IN or just wear an accessory for a touch of cowboy. ;)
LOOK ONE
This denim and suede fringe jacket is definitely a statement maker! You ARE instantly THE western trend when it's worn. To let it be the center of attention, I wore a simple foundation. The total look is ALL IN on the Western front but very easy when you break it down.
My jeans are from the NYDJ x Chico's exclusive collaboration. You've heard me mention NYDJ before and I'm SUCH A FAN of this collection. These jeans fit perfectly! I'm wearing the Cool Control Ankle Skinny Jeans in Baltic Blue in size 0 (normally size 26 in jeans). They are a slightly distressed wash and the 27′ inseam is PERFECT for my short legs. (I'm 5'4″ for reference.) What makes it so special is the combination of NYDJ's LiftTuck® technology to keep you "sucked in" and Coolmax® technology to keep you cool! It's a win-win people. BTW, the brand did gift me the jeans for an Instagram partnership, but this blog post is NOT sponsored. I just really love these jeans!
Bodysuits are a thing again now, and a black bodysuit is a great foundation piece to wear with jeans, skirts, pants, and basically everything. The fabulous thing is that you never have to worry about them getting untucked. I have a few vintage bodysuits (think big 80s sleeves) and can't wait to wear them.
These silver boots were a splurge and I caved under the pressure of my gorgeous girlfriends, Cathy and Heather, who got the same pair. Yes, we also own the same Gucci slides (MAJOR splurge) and I've worn them so many times now. I decided these are the WINTER version of my silver slides will get the same cost-per-wear for the colder months. They do have a bit of western flare but the silver and high heel give it a glam factor (which I love).
LOOK TWO
If you're not sure if Western is your thing, this is an easier way to dip your toes in it without going overboard. I'm wearing a modified version on my uniform, a tee and jeans, with those same silver boots which are my "Western" accessory.
Most things 80s are my thing so anything with puffy or statement sleeves are weaknesses for me! Enter this Veronica Beard puffy sleeve tee! It's a dressed up tee (similar to the white one I wore in this post) in a great basic color.
Instead of wearing jeans, I wore a denim skirt for variation. The final piece are those boots! Again, those were a splurge because I think of those as the Fall/Winter version of my Gucci slides but this pair and this pair won't break the bank!
What do you think of the Western Trend? YAY or NO WAY!
Happy Friday Friends! Hope you've had a wonderful week and managed to stay dry if you're in Texas. We had a wonderful time in New Jersey for my Grandfather's 1o2nd birthday! I think the kids were overwhelmed with ALL THE COUSINS that they met! I remember how fun and chaotic it was when I was growing up, and we visited almost every Summer. I hope to do the same so they can look forward to growing up with the family.
By the way, thanks for all the sweet and supportive words about my father for those who follow on Instagram Stories. He passed away when I was eighteen, but I miss him every day. Sometimes, I get really sentimental and a little sad because I wish he could have met Mr. S and the children. I know he would LOVE them so much. Anyhow, I've been wearing the jade necklace that was passed onto me, and it makes me feel like he's closer somehow.
I'm so excited about just hanging out this weekend! What are you up to?
Thank you so much for stopping by and supporting SOS! I truly appreciate it!
JOIN THE #SAMFAM // SIGN UP FOR THE NEWSLETTER BY CLICKING HERE.
CHECK OUT MY INSTAGRAM SHOP HERE TO SHOP ALL OF MY INSTAGRAM LOOKS!