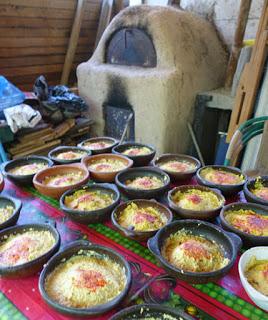 Individual bowls of Pastel de Choclo, a favorite Chilean dish, ready to bake in the clay oven.
On our recent trip to Chile it seemed that every meal was a feast–ranging from sumptuous hotel buffets to large family holiday parties to picnics in the country to meals in local restaurants–each time giving us tastes of delicious Chilean foods.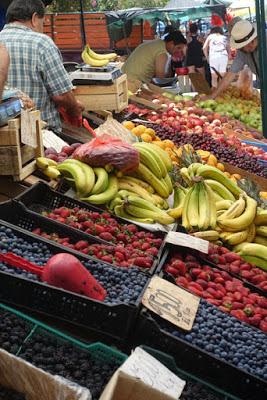 Blackberries, blueberries, strawberries and more fill the summertime farmer's markets.
It was December, the beginning of the southern summer, and the markets, or
ferias
, were full of juicy, locally grown, ripe fruits and vegetables. Many meals were eaten outdoors, often cooked on a barbecue or in a woodburning clay oven (
horno
.) And every meal included side dishes of tomatoes (
tomates
, always peeled), lettuce (
lechuga
), sliced cucumbers (
pepinos
) and avocados (
palta
.)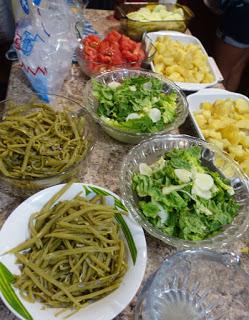 Typical side dishes. String beans, julienned and served as a cold salad, are a traditional Christmas dish.
A classic dish of Chile is
pastel de choclo
, a kind of casserole made of beef, chicken, onions, olives, raisins, and a wedge of hard boiled egg, which is then covered in a corn pudding topping and baked in a clay oven. We had
pastel de choclo
at a family party where guests formed an assembly line to prepare the ingredients. Each serving was cooked in the outdoor clay oven in its own ceramic bowl and then served steaming hot at a long picnic table.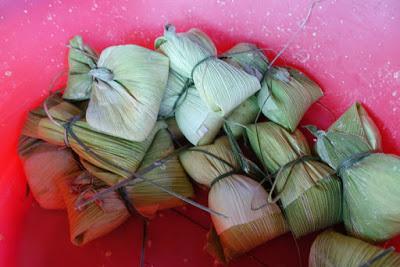 Humidas. They can be made savory, sweet, or sweet and sour, served with added sugar, chile pepper, salt and paprika
The same corn mixture was used to make
humitas
, similar to tamales, but cooked in fresh rather than dried corn husks. I helped to make the
humitas
–my job was to secure the husks with a string made from a thin strip of a long leaf, making them look like fat bowties. The
humitas
were then steamed in a large pot on top of the stove.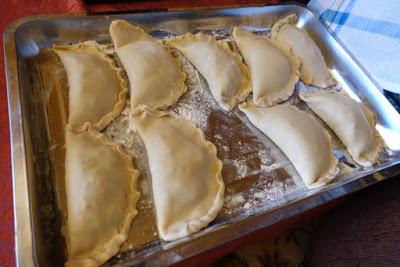 Empanadas ready to bake.
Another classic dish of Chile, and elsewhere in South America, is the
empanada
, a kind of individual meat pie. They are fried or baked (
empadanas del horno
.) 
Empanadas
can be filled with meat, cheese, vegetables or other ingredients, but the typical filling in Chile is
pino
, a meat mixture made of beef, onions and herbs.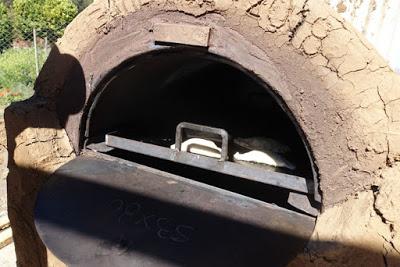 Clay oven with  empanadas inside.
During our trip, we spent three days in the country where our son-in-law's father lives, enjoying fresh milk and vegetables every day from his neighbor's farm and eating homemade
empanadas
.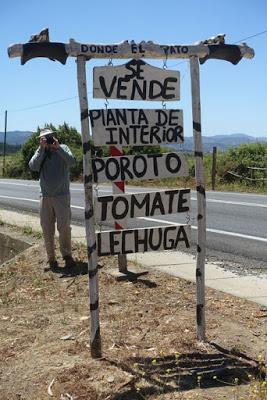 Roadside stand for "The place where you can buy houseplants, beans, tomatoes, and lettuce."
The project of the visit was not only to make the
empanadas
(I helped roll the dough) but to build the clay oven!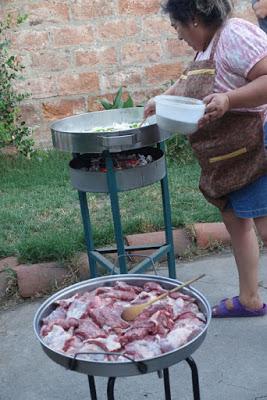 At another family party during our trip, the main dish was
cocimiento
, a rich stew of vegetables, beef, chicken, fish and seafood (clams and mussels), flavored with wine and cooked slowly in a large pot over a barbecue. It is a bit like paella without the rice. Fish is delicious in Chile and we enjoyed it at several meals during our stay. With a coastline 2,653 miles long, a wide assortment of fish and seafood is always fresh and available.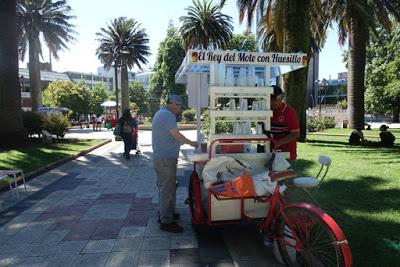 "The King of Mote con Huesillo" offers drinks at his stand in the main plaza in Temuco. In the background are Chilean palm trees, whose flowers are used by bees to make honey.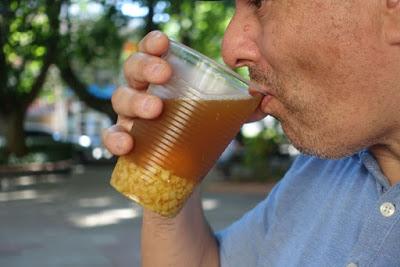 Mote con Huesillo. The barley and peach sink to the bottom.
A typical summer drink in Chile is called
mote con huesillo
, made from dried peaches soaked in water to make a kind of tea, to which sugar and cooked barley is added. On a warm day it is very refreshing!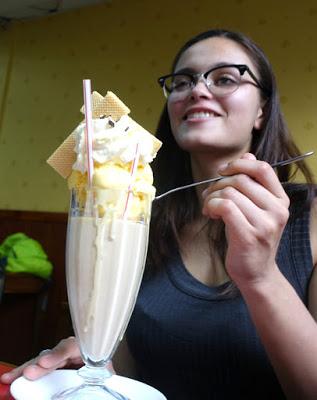 Enjoying a cafe helado.
On one of our restaurant visits my grandchildren ordered
café helados
another favorite Chilean treat. It sounds like it should be iced coffee, but
café helado
is actually an ice cream soda made with coffee, ice cream, and topped with whipped cream and wafer cookies–more like a dessert than a drink!
And, of course, on New Year's Eve we drank the classic pisco sours, a lemon flavored drink similar to a whiskey sour, but flavored instead with
pisco
, a distilled alcohol made from grapes that is unique to Peru and Chile. (My only photos are of empty glasses so you'll have to imagine what our pisco sours looked like!)
And these are just a sample of Chile's delicious foods!