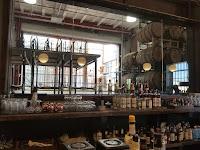 After a visit to the 
Franciscan Monastery of the Holy Land in America
we decided to visit a couple of distilleries in nearby Ivy City starting with
District Made Spirits
. For those familiar with the D.C. spirits scene, two weeks ago this distillery was known as One Eight Distilling. But owners, Andy Wood and Alex Lauffer, now want to emphasize, not only their location in Washington D.C., but also their use of regional grains grown in Maryland and Virginia.  I chose a flight of their Core Spirits featuring their 
Ivy City Gin
,
Straight Rye Whiskey
, and
Straight Bourbon Whiskey
.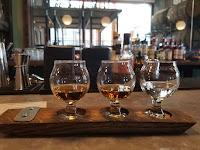 The Gin uses the
District Made Vodka
 ($30) mash bill of 66% Abruzzi Rye,  28% Corn, and 6% Malted Rye which is then steeped with ten botanicals. These include Appalachian Allspice and Grains of Paradise for aromatics and a lower juniper profile. And from what I can glean, Abruzzi Rye is a cultivar that has higher yields than other rye varieties.  The
District Made Ivy City Gin
 ($35) immediately brought thoughts of Negronis. Interestingly, we decided on purchasing a bottle of the vodka after a sample (1) because we didn't have any at home and (2) it contains noticeable creamy flavor.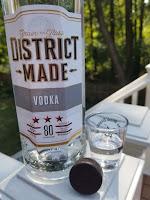 The two whiskeys were also quite solid with the
District Made Straight Rye Whiskey
 ($50) containing a little more malted rye than the gin and vodka with a mash bill of 57% Abruzzi Rye, 14% Corn, and 29% Malted Rye. This reminded me of Pennsylvania ryes, not a spice bomb, but reasonable levels of honeyed cinnamon and spice. I slightly preferred this over the
District Made Straight Bourbon Whiskey 
($50) which has a very unique recipe of 58% Corn, 16% Abruzzi Rye, 12% Malted Rye, 8% Hard Red Winter Wheat,  and 6% Malted Barley. Interestingly, the grains are distilled and aged in two batches, one with higher percentages of winter wheat and the other a higher percentage of rye. The final bottling uses a mixture of the different barrels.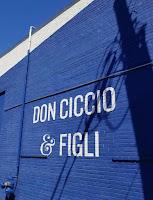 Our original destination for the day, 
Don Ciccio & Figli
, is located directly across the street from District Made. This distillery has been operating in the District for over ten years, starting in 2012 and moving to the larger location in Ivy City in 2019. Providentially, owner Francesco Amodeo was manning the Bar Sirenis on our arrival and walked us through their history and a 17 Italian Herbal Liqueur and Cordial tasting kit.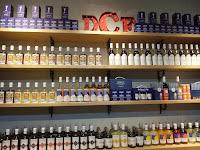 Amodeo was inspired to open the distillery based on a family heritage of distilling liqueurs on the Amalfi Coast. This tradition began in 1883 when Vincenzo Amodeo started creating liqueurs and devising a large collection of recipes.  The Amodeo family crafted these liqueurs up onto World War II when the stills were closed and the recipes locked away in order to rebuild the country. In 1951, Francesco Amodeo's grandfather Francesco, or Don Ciccio, resurrected the family tradition by building a distillery in the hills of Furore, near Positano and Capri. "The liqueurs are reborn, crafted exactly as they had been until 1931". Sadly, in 1980 an earthquake completely destroyed the distillery to rubble and it wasn't until 2012, in America, that the Amodeo family liqueurs were resurrected a second time.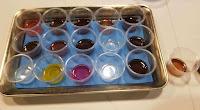 Today the distillery offers a plethora of herbal liqueurs, cordials, vermouths, spirits, and bottled cocktails. When you visit here some words of advice. (1) Do not order an Aperol Spritz. You will have your hand slapped. Bar Sirenis only serves cocktails using ingredients produced at the distillery. Instead, order an Ambrosia Spritz made using the Ambrosia Aperitivo -- a bittersweet Italian herbal liqueur made with turmeric, blood orange, cantaloupe, carrots and 9 botanicals. (2) Order the tasting tray. This provides a complete overview of their herbal liqueurs and cordials.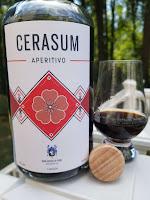 Three of my favorite herbal liqueurs were the Amaro Delle Sirene (1931 recipe), Amaro Don Fernet (1915 recipe), and Cerasum Aperitivo (1906 recipe). They are all dispersed along the bitterness barometer and like all the products they start with 190 proof neutral grain spirits that is then macerated at room temperature with the respective recipe and then proofed down using purified water . The Fernet is made using 25 roots and herb focusing on mint, dark chocolate, ginger and saffron. The amaro then rests for 12 months in 250-liter French oak barrels provided by the Marisa Cuomo Winery on the Amalfi Coast. The Delle Sirene is made using 30 roots and herbs highlighting eucalyptus, ripe fruit and licorice. The amaro is also aged for one year using the same barrels. Finally the Cerasum is based on an infusion of 3 different kinds of cherries, sakura blossoms and 10 selected roots and herbs. We've already used this in a spritz and will be using in a Negroni at a later date - and its also excellent on its own. Saluti.