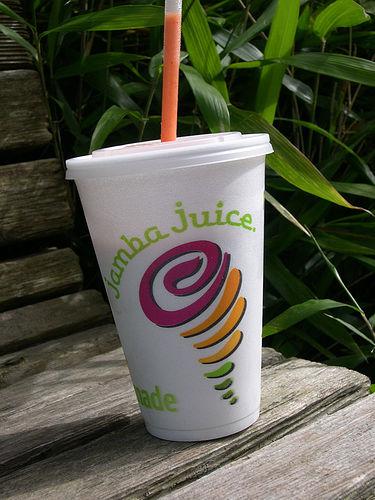 Photo credit: juliannem13
I am so excited to share that
Jamba Juice
is coming to the Philippines!
Max's Group
, the same people that brought us
Krispy Kreme
, has gotten a franchise of the popular US smoothie joint and has agreed to build 40 Philippine stores over the next ten years. 
Jamba Juice will serve smoothies made from real fruit juice and fruit juice concentrate with a choice of sherbet, frozen yogurt, sorbet, plain yogurt, low-calorie dairy base, chocolate base, or soy milk to go with the smoothies. They may also come with a supplemental "boost."
They will also serve freshly-squeezed orange juice, carrot juice, wheatgrass juice, and steel-cut oatmeal. Yes, they will pretty much support the growing dynamic lifestyle of Filipinos.
Jamba Juice Philippines will open their first branch at B
onifacio Global City Centrale
on 11-11-11. In the meantime, like them up on Facebook and follow them on Twitter.