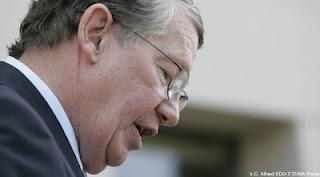 TPM reports
Randall "Duke" Cunningham, the disgraced former congressman currently serving an eight year sentence for his involvement in one of the biggest bribery scandals in congressional history, would like his second amendment rights restored when he leaves prison so he can hunt, fish and protect himself from rabid cougars, he wrote in a letter to a federal judge this month.
Unfortunately for 71-year-old Cunningham, that wouldn't happen because legislation passed during his time in Congress bans ATF from using federal funds to investigate whether felons should get their gun rights restored.
It may surprise some of my fellow gun bloggers on both sides of the argument, but I feel it's wrong to remove gun rights from a non-violent offender. What's even worse is a system which does not allow for easy review of the case. What's your opinion? Please leave a comment.