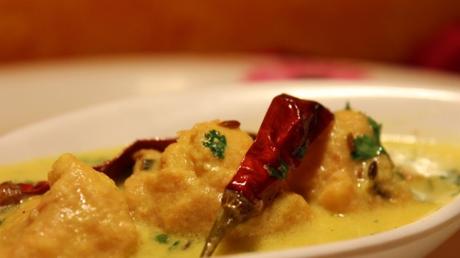 Fritter Curry/ Kadhi Wada
We all tend to look at some twist/change in our regular meals. This happens because our tongues love to taste something new and get bored with monotony. An Indian family has about 10 meals a week, having a combination of Rice/Bread/Roti along with Dal/Pulse and a Sabzi/vegetable. In order to break this monotonous eating, we should always look at new dishes which not just change the taste but also add more life to our cooking. So here is presenting this Kadhi Wada/Fritter curry which will be liked once in a week by all age groups. Moms, cooks and all who love to be in Kitchen at some point in time of their life will love to make this and bring a smile on the faces of the one's whom they have made this for. Let us see how to make it.
Ingredients for Kadhi Wada:
Curd - 200 ml
Gram Flour - 5 Tbsp
Ginger - Thumb long
Garlic - 10 to 12 pods
Green chili - 4 to5
Kashmiri Red chili - 2 to 3
Cumin - 1tsp
Curry leaves - 4 to 6
Coriander leaves - For garnish
Salt - as needed
Oil - as required
Fenugreek seeds - 1 tsp
Cloves - 2 to 3
Cinnamon - 1 stick
Turmeric powder - 1tsp
Cooking soda - 1 pinch
Small quantity of Ginger and onion - finely chopped.
Black Gram (udad dal) - 1 Cup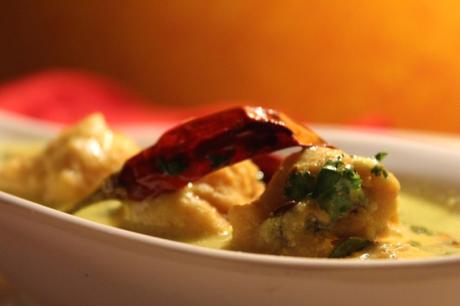 Preparation for Kadhi Wada:
Soak the Black Gram (Udad Dal) overnight. Remove water the next day and make a thin paste of this by using a grinder/mixer. Add a pinch of cooking soda, salt and the finely chopped Ginger and onion for enhancing the taste of the round fritters which will be made eventually. Keep aside.
Whisk curd in a bowl with little water. Get watery consistency. Keep aside. Take another empty bowl and mix the gram flour with little quantity of water so that a thick paste will be formed. Keep stirring to ensure no lumps are formed. Mix the curd and gram flour paste slowly. Keep aside.
In a Mixer make a paste of Green chili, Ginger and Garlic. Mix this in the curd infused with gram flour paste. Stir well.
Making the Kadhi Wada:
Heat a Pan/Bowl and pour this mixture and let it cook till the first boil. Add the above remaining dry ingredients ( Fenugreek seeds, Cinnamon, Cloves and curry leaves) while its cooking. After it gets the first boil, simmer on low flame for a few mins.
In a Tadka pan, heat 2Tbsp oil and add cumin seeds and turmeric powder along with the Kashmiri red chilies. Once the cumin seeds change color, add the hot Tadka to the other bowl with the simmering Kadhi/curry in it.
Take a deep wok and add oil in it. Take the Black gram flour mixture and make balls as per your need and deep fry them till they become golden brown on the outer side. Don't keep the flame on high as they may get too dark. We need a soothing golden brown color which won't strike the eye as we serve.
Remove from the Wok and straight away add to the simmering curry/Kadhi. Switch off the gas in less than a minute. Rest it for a few minutes before serving. Garnish with fresh coriander (optional) and serve hot. It goes well with Plain Rice/ Basmati Rice or Khichadi. This we will call Kadhi Wada in India and called Fritter Curry outside India.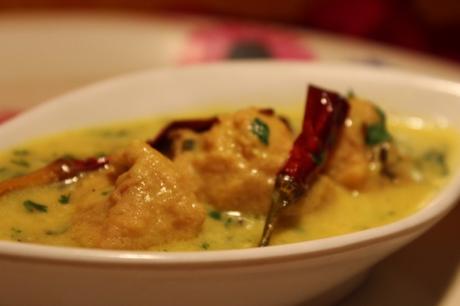 Uttpal K
Copyright Uttpal K
If you share this post, please give due credit to the author Uttpal K
Please DO NOT PLAGIARIZE. Please DO NOT Cut/Copy/Paste this post
Uttpal K., all rights reserved.
Copyright Notice:No part of this Blog may be reproduced or utilized in any form or by any means, electronic or mechanical, including photocopying or by any information storage and retrieval system, without permission in writing from the Blog Author Uttpal K who holds the copyright.

Comments
comments