Don't Stop Living - Jonny Blair - a lifestyle of travel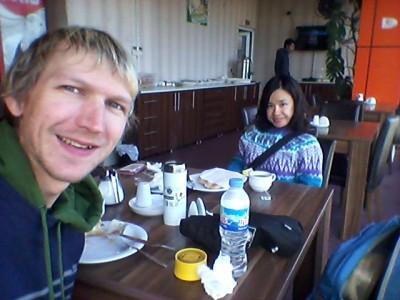 Breakfast in Iraq: Well at least in our hotel in Sulaymaniyeh, Kurdistan.
So you want to know what breakfast in Iraq is like?? Well my only real experience of this came in a hotel in the city of Sulaymaniyeh, which is in Iraqi Kurdistan and I've no idea how truly authentic this is, but here goes for you today none the less. Most hotels in the Kurdistan part of Iraq don't offer a free breakfast. You get used to street food, snacking and an early lunch, we often had lunchtime feasts like the Kurdish meal in Duhok.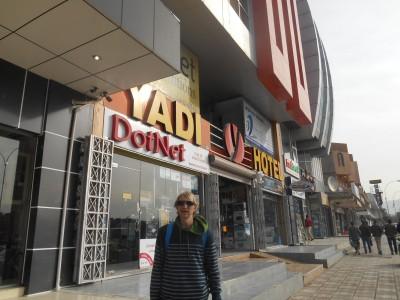 Outside the Yadi Hotel where we stayed in Sulaymaniyeh, Kurdistan, Iraq.
But we checked into the Yadi Hotel in Sulaymaniyeh and while the hotel was noticeably average and overpriced, they did have breakfast included. This may not be what locals Kurds or even Iraqis munch for breakfast, and not even authentically local but I don't care! It's my only "breakfast in Iraq" experience so far so here it is for you.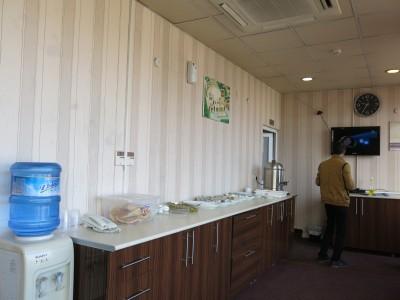 Our Hotel set up for breakfast in Kurdistan – Sulaymaniyeh.
1. Tea.
Same the world over my friends. Tea in the Middle East is what it has always been. Hot, tasty, sweet and sets you up for the day. Similarly to Iran, no milk, but lots and lots of sugar.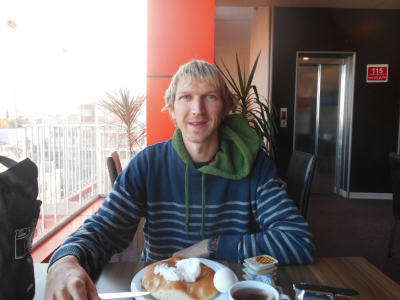 Loving my breakfast in Iraq experience in Sulaymaniyeh, Kurdistan.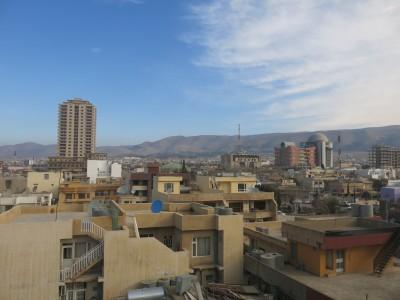 The quite cool view of Sulaymaniyeh in Kurdistan as we enjoyed our hotel breakfast.
2. Olives
Olives are popular in the Middle East and I have a few as a starter before launching into the main of bread, egg and cheese…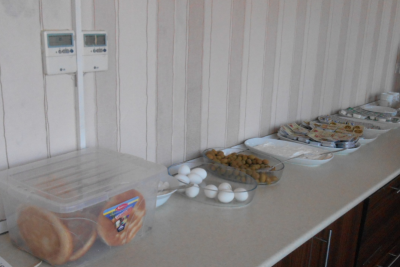 The breakfast including olives in Yadi Hotel Sulaymaniyeh Kurdistan Iraq
3. Bread, Cheese and Eggs
Again – it's bread, cheese and boiled eggs. As you can tell you walk up, get your plate then take the food you want. We ended up taking so much – enough to last for lunch and even dinner. Because that is how cheap we like to travel. I still had this bread and cheese when we got back to Erbil and used it for breakfast the next day. I always turn up to breakfast tables in hotels with a tupperware lunchbox and fill it up. A money saving tip.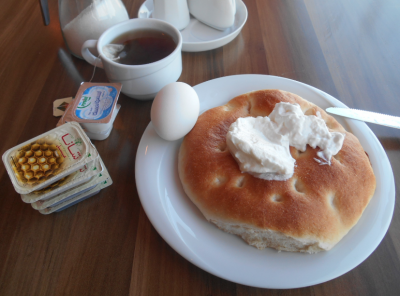 Part 1 of breakfast in Iraq – creamy cheese and boiled egg
The bread is soft and untoasted but partially heated. The cheese is processed packet cheese like Philadelphia but only a Kurdish version.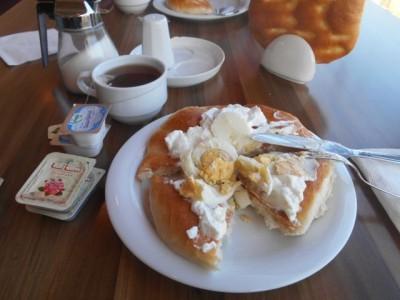 Friday's Featured Food: Breakfast in Iraq, Sulaymaniyeh, Kurdistan.
The egg is hard boiled and overall this a great first part of the breakfast!
4. Rose Jam on Bread
After having the savoury part, I decide on bread with Rose Jam. It's my first ever time to try rose jam. I mix it up with some honey as well and it goes down a treat!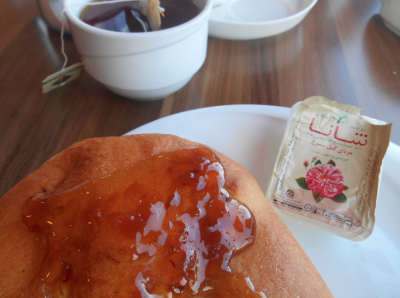 Part 2 of Breakfast in Iraq – Rose jam on bread
It was a breakfast with a view as well. Sulaymaniyeh is a cool city in Kurdistan and worth staying in to check out. The views over the city's growingly romantic skyline were a great way to start the day. Iraq was our last country in the Middle East tour we did and I highly recommend heading to the Kurdistan region to travel through. After breakfast it was time to visit the somewhat spooky Red Security/Amna Suraka – one of Saddam Hussein's torture houses…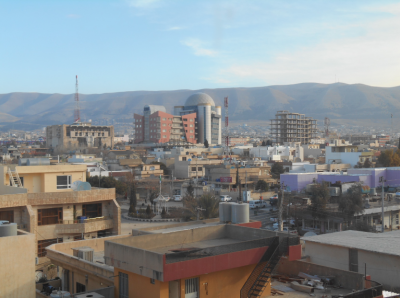 View from breakfast in Sulaymaniyeh Kurdistan Iraq
A video of our breakfast in Sulaymaniyeh, Kurdistan, Iraq:

Original article: Fridays Featured Food: Hotel Breakfast in Sulaymaniyeh, Kurdistan, Iraq
©2014 Don't Stop Living. All Rights Reserved.