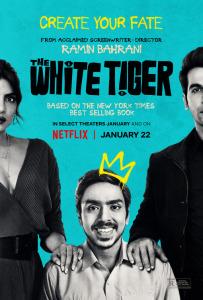 That's week three of Friday Fake Cinema Club complete and we watched The White Tiger which is another new Netflix film. Starring Adarsh Gourav, Rajkumar Rao and Priyanka Chopra-Jonas. Directed and written by Ramin Bahrani. This seemed to have a more positive response than Outside the Wire last week.
Reviews:
Let's Go To The Movies - https://letsgotothemovies.co.uk/2021/01/23/the-white-tiger-2021-review/
Cinematic Delights - https://cinematicdelights.com/2021/01/23/review-the-white-tiger/
Irish Cinephile - https://irishcinephile.com/2021/01/20/film-review-the-white-tiger/
Movie Reviews 101 - https://moviesreview101.com/2021/01/22/the-white-tiger-2021-movie-review/
The People's Movies - https://thepeoplesmovies.com/2021/01/netflix-review-the-white-tiger-2021/
Letterboxd:
PlainSimpleTom - https://letterboxd.com/plainsimpletom/film/the-white-tiger/
Caz - https://letterboxd.com/cazza7/film/the-white-tiger/
Twitter Reaction:
#FridayFakeCinemaClub Just finished The White Tiger. It was fine. Everything from a technical standpoint was good, and the acting is great as well, I just didn't like the framing device. It set expectations for the film that it simply didn't meet. I'd give it a C+

- Trewth (@TrewJosh0220) January 22, 2021
Snacks!
10 minutes till the film starts (aka trailer time)! I'm sure I'm late to the party but I watched the trailer for the Assassins documentary today, very excited for that to be available! (Yes I have already started the popcorn) #FridayFakeCinemaClub pic.twitter.com/J4ZQ9NsXud

- David Oakes (@DavidOakes8) January 22, 2021
Use the hashtag #FridayFakeCinemaClub on Twitter to join the conversation!