Don't Stop Living - Jonny Blair - a lifestyle of travel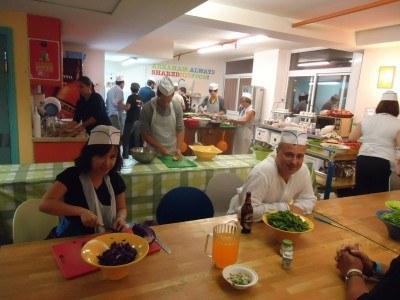 Friday's Featured Food: Shabbat Dinner in Jerusalem, Israel
A long overdue article on here today and one I have been buzzing about for a brace of years – Shabbat dinner in Jerusalem, Israel. One thing shocked me when I was in Israel – the food! It's amazing, it's healthy, it's nutritious, it's plentiful and it's diverse. Which is completely the opposite from I expected. I still have a load more to write about in terms of meals I had in Israel (and Palestine and Jordan), but the best overall food experience was when we had a Shabbat Dinner in Jerusalem. While staying in what has to be the best hostel in Israel, the Abraham Hostel, we decided to do the Shabbat Dinner. This also meant helping to prepare the dinner as well as enjoying the festivities and eating the stuff.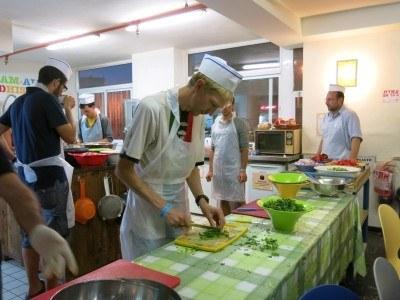 Preparing the Shabbat Dinner in Jerusalem
What is the Shabbat Dinner?
At first the idea seemed quite complex but my friends Ben and Itiel and the chef Or sat down and told us what the idea behind Shabbat Dinner is. It is a Jewish celebration that begins just a few minutes before sunset every Friday evening. It's written in the Halakha (Jewish religious law) documents and is celebrated by Jewish people the world over. Candles are lit, a blessing is recited or sung and a meal is prepared. The Shabbat time ends on the Saturday evening when three stars are visible in the night sky. This also makes the festival time unique and different each week. It may never be the same hat-trick of stars or the same time for the sinking hot ball. The idea seemed "similar" (hope that's an OK word to use given the sensitivity of it) to how Christians have Sunday as a day of rest from manual labour or paid work. Shabbat is a festive day when Jews live and easy and free time to contemplate the spiritual aspects of life and to spend time with family.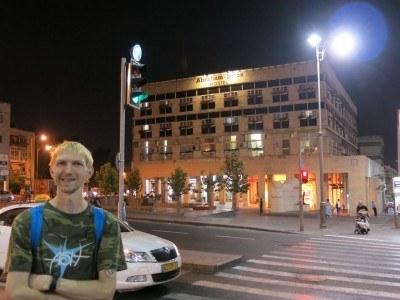 Nightfall in Jerusalem
Preparing the Shabbat Dinner
We decided to help out with preparation in the kitchen just like we did for the shakshuka meal for brunch, also in the Abraham Hostel in Jerusalem. Panny Yu and I donned our hats and aprons and headed into the kitchen to help prepare the Shabbat dinner. The chefs told us what to do – mostly we just chopped vegetables and tidied up. The head chef was called Or. As well as knowing how much of each food to prepare, presentation was also important as the guests of the hostel would be coming in to help themselves to a buffet. Everything ran smoothly! Here are some photos from our short shift "working" in Israel.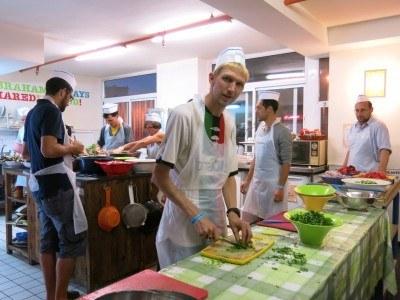 Slicing vegetables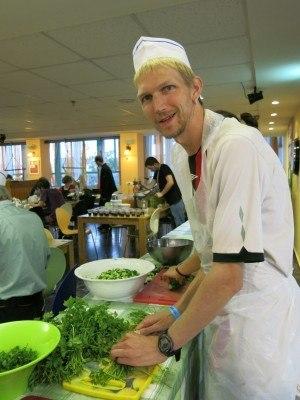 Slicing vegetables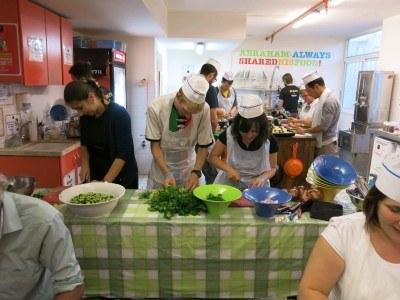 "Working" in Jerusalem, Israel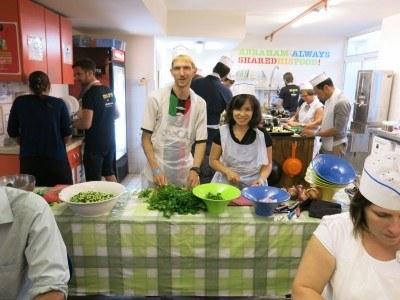 "Working" in Jerusalem, Israel
Having worked in a lot of bars, restaurants and hotels with chefs down the years, some chefs can be very arrogant, rude and generally not nice people. The chefs here were the polar opposite! Telling us we were doing a good job, keeping us right and being very well organised. We were preparing a dinner for over 50 people so things had to be done right. We had been in the kitchen and lounge area for around an hour or so, helping out and getting to understand the Shabbat dinner culture. Then we prepared the tables and poured the wine and then I relaxed with a beer (happy hour at the bar!) once we had the food prepared.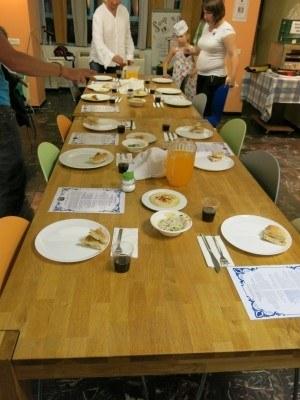 Preparing the tables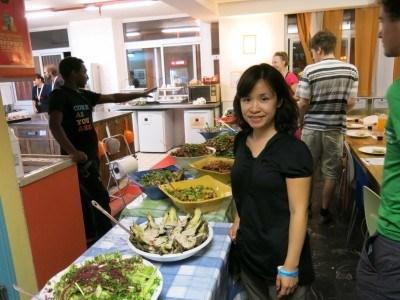 Preparing the food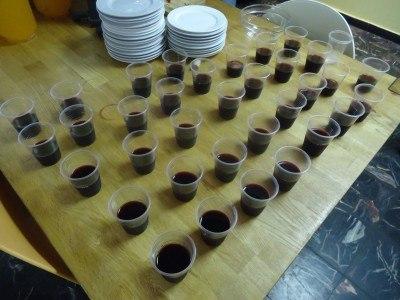 Preparing the wine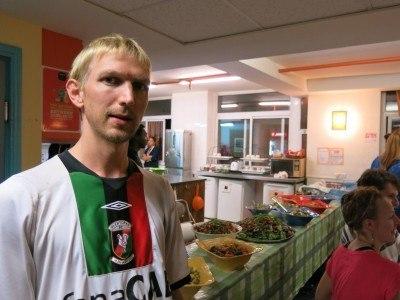 After preparing the food
By 7pm all the guests were in their seats and it was ready to start this special evening. This night was a food highlight from my travels for sure. I will never forget it.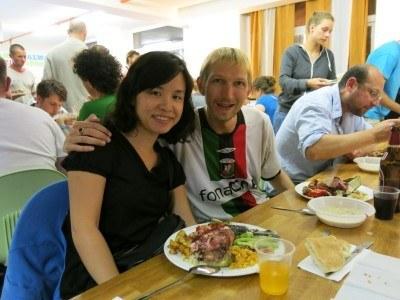 Panny and I on Shabbat Dinner night in Jerusalem, Israel
The Speeches before Shabbat Dinner
It's all incredibly well organised and formal here at the Abraham Hostel. There is a clear outline of events. Before we eat, there are speeches and singing. All of this is detailed in a leaflet in front of us, which has an English translation for guests that don't speak Hebrew. The title is Friday night service. Our host for the night is one of the hostel managers, Itiel Sharaby and Itiel opens the speeches and welcomes us all.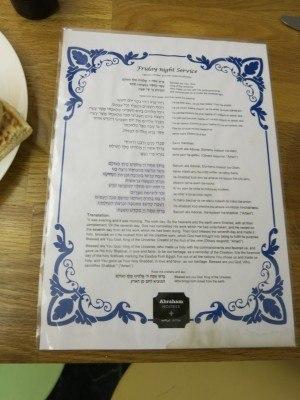 Order of events for the evening
Itiel introduces the idea of the Shabbat dinner and we sing/recite from the hymn sheet. The singing goes down well and we join in as best as we can. The videos at the bottom of this article will help piece the whole event together for you, if you are keen to see what it's like. After the singing, bread is passed around to be shared, another ritual. The bread is special and is called Challah. Then we raise a toast to each other and start to drink the wine and eat the food.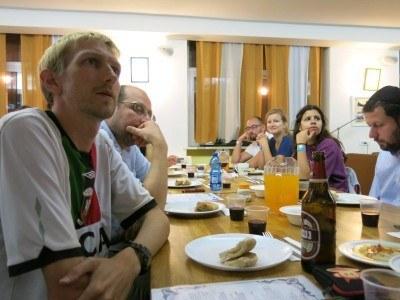 Listening to the speeches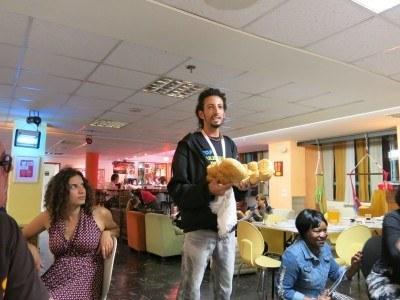 Itiel Sharaby gives a speech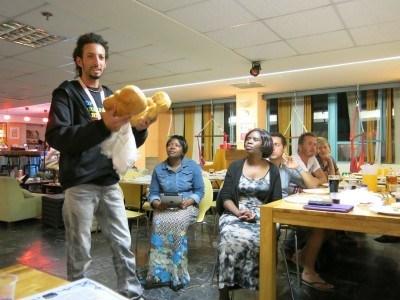 Itiel with the Challah bread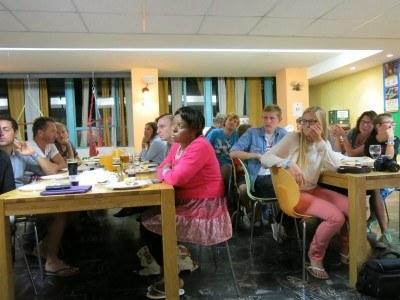 Happy guests listening intently to Itiel
Eating Shabbat Dinner
The dinner was an awesome experience. There were over 50 of us eating the Shabbat dinner that night so we had to wait until our table was called up. We went up in turns. It was an all you can eat buffet. The range of food was something special, here are just some of the things we put on our plates:
Whole cooked chicken including breasts with sauce
Potatoes
Aubergines
Potato Crocquettes
Beans
Tomatoes
Stuffed Peppers
Red Cabbage
Rice
Challah Bread (Israeli style)
Mushroom soup
Israeli wine
Israeli beer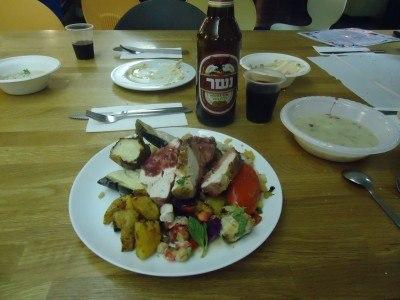 My feast at the Shabbat Dinner
At our table we met Luke, from California who chatted over dinner and we found out he was also on the tour with us the day after – we would be touring the best of the West Bank with Abraham Tours. I had another wine and then we retired to our room as we had an early start the next day. And here are some photos from the meal. It was a special time.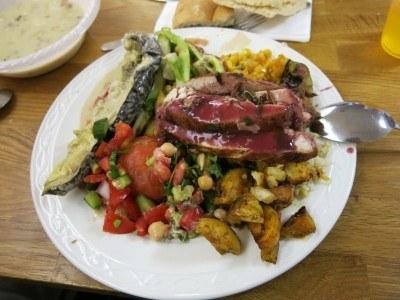 Friday's Featured Food: Shabbat Dinner in Jerusalem, Israel.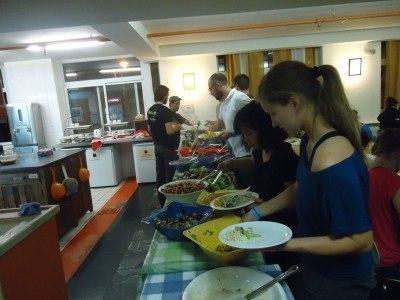 Getting the buffet food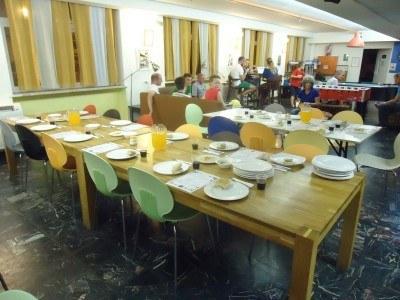 Tables ready for Shabbat Dinner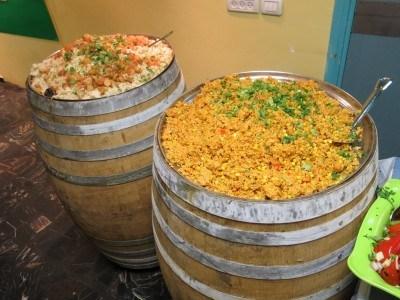 Dishes all ready for dinner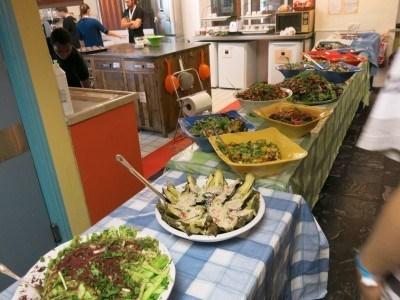 Dishes all ready for dinner
On my entire travels, this night in Jerusalem stands out as one the best food experiences so far. Here are some of my other enjoyable food experiences from my travels:
Eating guinea pig in Aguas Calientes, Peru for Christmas Dinner
Eating dog with Millwall Neil in Seoul, South Korea
Eating barbecued lamb in Pyongyang, North Korea
Making rice leaf dumplings in Chongqing, China
Eating wild partridge in the Forest of Dean, England
A winter barbecue in Yau Tong, Hong Kong
A pastie supper in Bangor, Northern Ireland
Dining out in San Cristobal de las Casas in Mexico 
A wee soda in Bushmills, Northern Ireland
Eating Adjarian khajapuri in Batumi, Georgia
The Longest night dinner in Shahr-e Kord, Iran
Eating walnut chicken in Shatslivetsa in Veliko Tarnovo, Bulgaria
Here are some videos from the Shabbat Dinner:
Original article: Friday's Featured Food: Shabbat Dinner in Jerusalem, Israel
©2015 Don't Stop Living. All Rights Reserved.