Don't Stop Living - Jonny Blair - a lifestyle of travel
When life takes you back to the town you were born in after backpacking incessantly to 85 countries around the world, you do often wonder what sparkle your original home has left for you.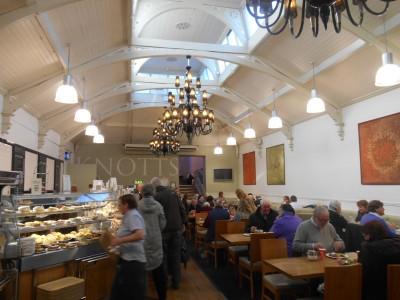 Knotts in Newtownards, Northern Ireland.
Straight from my adventures in the Middle East (touring Iran, Iraq, Azerbaijan etc.), I headed back with my Mum for a morning touring the main street of Newtownards in Northern Ireland. Back in 1980, I was born in Newtownards Hospital. This is where my journey really began. Time for a wee cuppa coffee and a scone so it is. Forgive the Northern Irish speak, I won't shy away from my cherished homeland ever.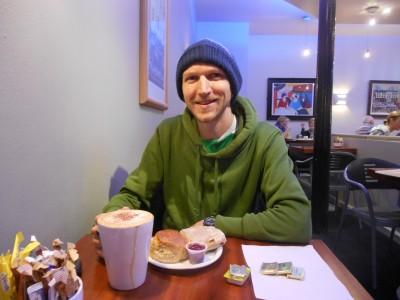 Back in my birth town of Newtownards enjoying coffee and scones.
"stepped off a train all alone at dawn, back into the hole where I was born."- Noel Gallagher
As much as I like Oasis, Noel Gallagher possibly got it wrong on this one. No doubt a bit of tongue in cheek involved there, but here I was, back in "the hole where I was born". Except I love it. I love Newtownards. I'm proud of it. I like the people, I like the vibe. I wouldn't choose to be born anywhere else. On this journey "home", in January 2014 it was time for a Friday's Featured Food.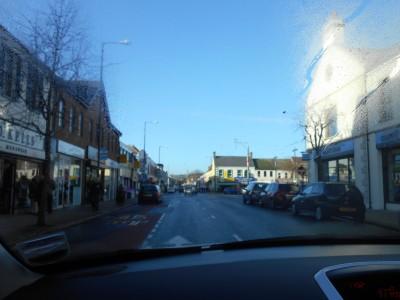 Driving through my birth town of Newtownards, Northern Ireland.
Incidentally if you are reading and you read before that I am from Bangor in Northern Ireland, then that is because I am. Please don't get confused. I was BORN in Newtownards, but I grew up in Bangor. Both are home and I have an affinity with both, just as I do with Belfast, the Northern Irish capital where I spent a lot of my childhood, teenage years and right into adulthood, I love Belfast too. But on arrival in Newtownards this year – it was my turn to take my Mum back to one of our favourite coffee shops in the world – Knotts.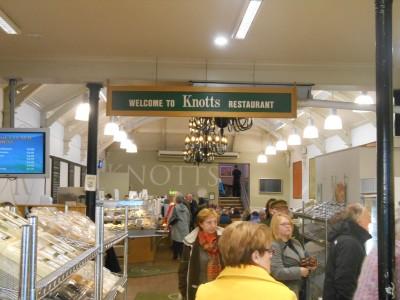 Friday's Featured Food comes from Knotts in Newtownards, Northern Ireland.
Where is Knotts?
Knotts is on High Street, the main shopping street in Newtownards, near Conway Square (Ards Square). It's beside Wardens of Newtownards and is the busiest and best coffee shop in town. I love it. It's always a special place and I've now had a coffee in here on every decade of my life. In we went. Full address and website:
49 High Street
Newtownards
County Down
Northern Ireland
BT23 7HS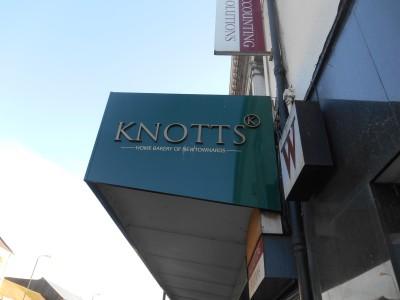 Knotts Restaurant and Cafe in Newtownards. A "quare wee spot".
What to drink in Knotts?
The selection is good here. A range of coffees and tea plus soft drinks. I normally go for an Irish tea or a cappuccino/latte. Today it was a large cappuccino. The coffee and tea is also served expertly, at reasonable prices and without the garbage or over commercialist nature of ridiculous companies like *bux [sic].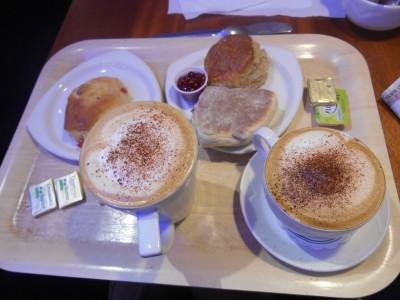 Mid morning snack for me and my Mum – scones and coffee. LOVE it.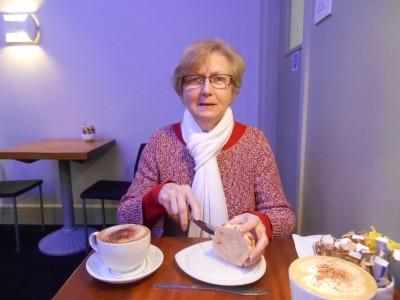 My Mum with her coffee and scone in Knotts, Newtownards, Northern Ireland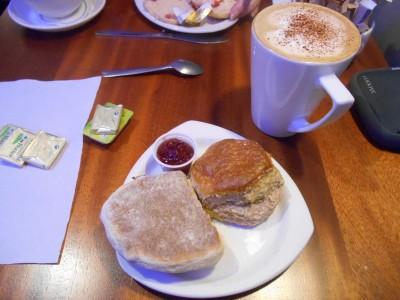 My raisin soda, scone and a coffee in Knotts, Newtownards, Northern Ireland.
What to eat in Knotts?
You have a huge range of treats – Irish and foreign. I normally go for a raisin soda and a wee scone if it's mid morning. These are local treats – scrumptious Northern Irish food. But they also do excellent salads, full on Ulster Frys (Northern Irish breakfast) and a range of cool lunch dishes. The range varies too and they often have soup of the day and dish of the day. If it's lunchtime I'll go for an Ulster fry or one of their specials. Scones in Knotts are excellent.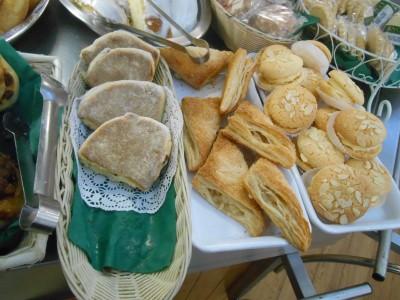 Range of bread including sodas in Knotts.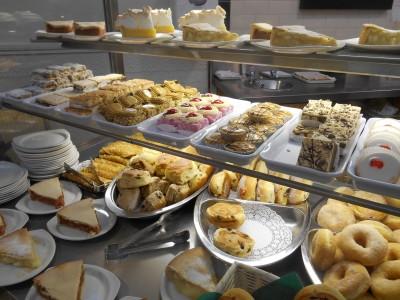 Sweet snacks and cakes in Knotts. The lovely wee scones.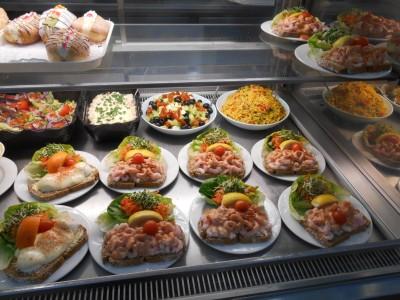 Amazingly delicious salads – welcome to Newtownards.
What Price is the food and drink in Knotts?
It's very very reasonable and affordable. Almost all breakfast items will be priced around £3 to £5. Full meals at lunch also between £5 and £10. Though please note that prices vary all the time. The menu below is the January 2014 prices.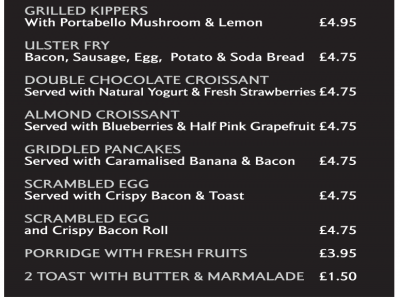 Menu at Knotts, Newtownards.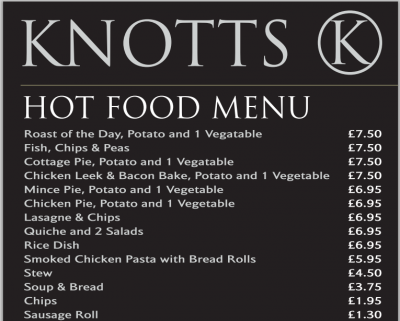 Menu at Knotts, Newtownards.
SO if you ever end up in Newtownards, Northern Ireland make sure you pop into Knotts Bakery! If any of the Knotts managers or staff are reading, I'd appreciate a free fry and a coffee next time

A video of me having coffee and scones in Knotts:
Original article: Friday's Featured Food: Morning Coffee and Scones in Knotts, Newtownards, Northern Ireland
©2014 Don't Stop Living. All Rights Reserved.