Don't Stop Living - Jonny Blair - a lifestyle of travel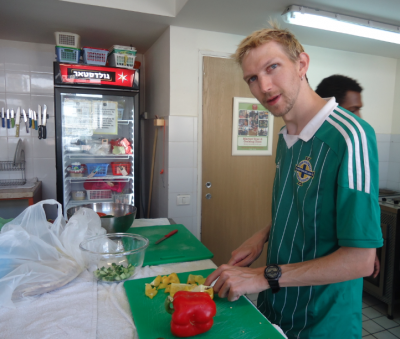 Friday's Featured Food: Preparing Shakshuka in Jerusalem, Israel.
This is the second part in a "brunch fest" we experienced while backpacking in Jerusalem in Israel recently. When you stay at the fantastic Abraham Hostel, the amount of different activities you can try and the range of foods available is amazing. Just thinking about it makes me miss the Israeli food. It comes with few flaws.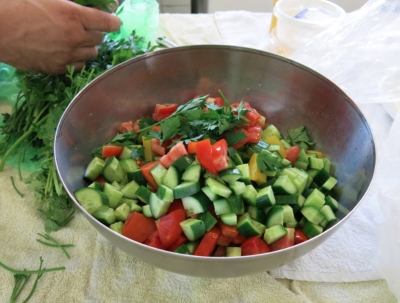 Preparing the vegetables for Shakshuka in Jerusalem, Israel.
Part one of the Shakshuka exercise involved walking round the vibrant and diverse Mahaneh Yehuda food market in Jerusalem. We wandered round with Orr, our guide and chef from the hostel. We picked the food for the Shakshuka feast and headed back to the hostel to prepare it. Despite my stints working in kitchens of hotels and bars (not to mention my cheeseburger selling era), I'm not the best person to have in a kitchen preparing food. But alas, Orr told us what to do, and we did it in preparation for the Shakshuka.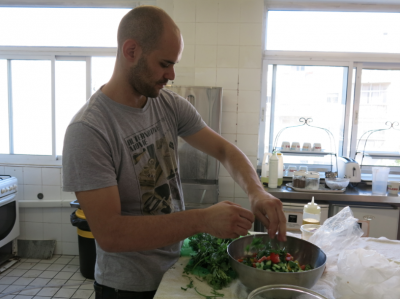 Our chef and Shakshuka expert Orr prepares the brunch meal for us in the Abraham Hostel.
Preparing Shakshuka
Our job involved setting the table and chopping vegetables. We did that OK, we reckon!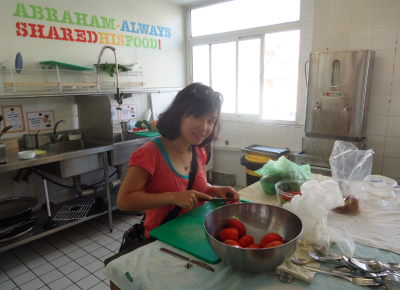 Panny prepares the vegetables for the Shakshuka in the Abraham Hostel in Jerusalem, Israel
Orr did the real cooking while we waited with eager taste buds. It was time to try the Shakshuka…
What is Shakshuka?
It's a fried breakfast or brunch meal that seems to be popular in Israel. It's egg, tomato, herbs and spices all served in a frying pan. In true Israeli fashion, it comes with olives, pitta bread and humus.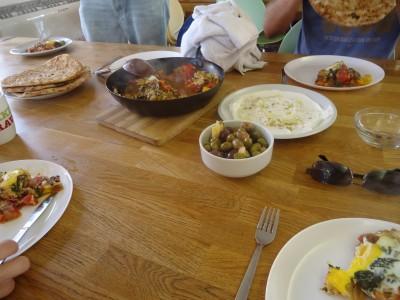 The table ready for the Shakshuka brunch treat
Where can you find Shakshuka?
It's highly popular in Israel of course so when you're in the country you should make an effort to find a local restaurant that does it. Head in mid morning on an empty stomach, as it's a decent helping and you'll want to finish it.
What did Shakshuka taste like?
I loved it. I honestly loved Israeli food. What I noticed was that the few countries I backpacked in just after Israel, they just couldn't compete with the Israeli food. We headed to Azerbaijan, Georgia, Armenia and Turkey next and Israel kicks them into touch for sure. Although the Georgian Adjarian Khachapuri was a great meal (admittedly it gave me diarrhoea a few times though).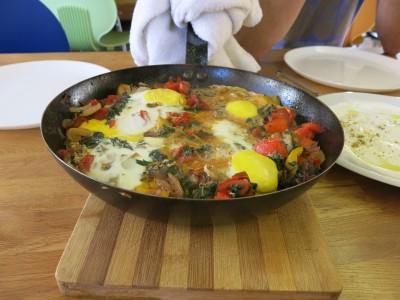 Friday's Featured Food – Delicious Shakshuka in Jerusalem, Israel.
My thanks to Ben from Tourist Israel for joining us for lunch to eat Shakshuka and to Orr for cooking the stuff. If you're keen to try Shakshuka, a Shabbat dinner and a range of Israeli cuisines, base yourself in the Abraham Hostel in Jerusalem and you'll have so many options available to you food wise.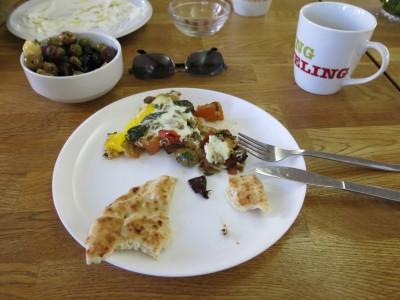 My plate – scoffing the Shakshuka.
Here is a video I made from the Shakshuka meal:
Original article: Friday's Featured Food: Helping Prepare Shakshuka for Brunch in Jerusalem, Israel
©2014 Don't Stop Living. All Rights Reserved.